By his own admission, Col. Edward P. Chamberlayne didn't know that much about oysters or what it took to get a permit for an oyster farm when he assumed command three years ago of the Baltimore District of the U.S. Army Corps of Engineers.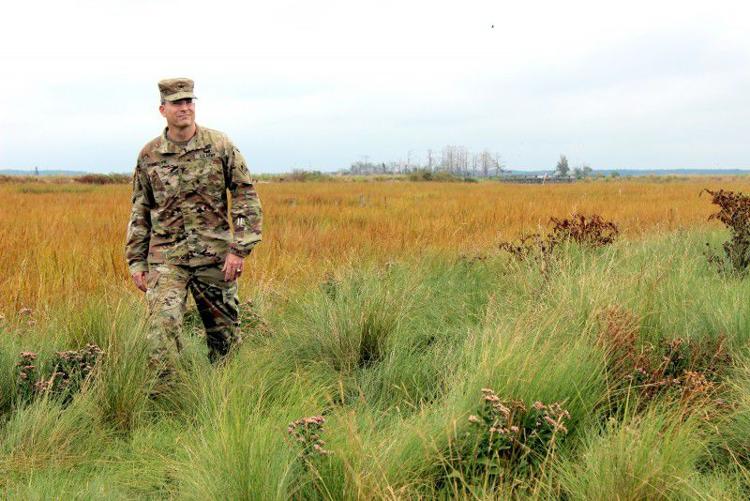 He proved to be a quick study, though. Maryland oyster farmers were hopping mad then about government red tape and delays they said were holding back the state's fledgling aquaculture industry, and the Corps' Baltimore District shared the blame for it.
Soon after taking command, Chamberlayne answered a summons from Sen. Ben Cardin, D-MD, to meet on the Eastern Shore with some unhappy oyster farmers. They complained of having to wait from six months to as long as eight years to get the state and federal approvals needed to lease water or bottom in Bay tributaries.
Chamberlayne acknowledged then that there was room for improvement in how regulators in the Baltimore District handled aquaculture permitting. And by the following spring, the Corps had streamlined its review process, with an eye to approving permits for small-scale oyster farms in as little as two months.
"We know how important oyster aquaculture is to the Bay and to the economy," Chamberlayne said last week. "We want to continue to grow it for both of those reasons."
It was just one of several Bay-related hot potatoes that Chamberlayne had to deal with during his tenure as head of the Baltimore District, which ended last Friday when he relinquished command and retired from the Army. In an interview on the eve of his departure, he described the past three years as the highlight of his 25 years in the military.
"I spent my entire career preparing for a position in the Baltimore District," he said. It's one of the Army Corps' largest districts, with 1,200 employees and responsibilities for military and civil works projects across Maryland and in the District of Columbia and parts of Pennsylvania, West Virginia and Virginia. (Chamberlayne grew up in the Baltimore District; he was born in Alexandria, the son of a longtime radio news correspondent, Pye Chamberlayne.)
The District handles construction for 14 military bases, manages reservoirs and other flood control projects and maintains nearly 300 miles of shipping channels. It also regulates disturbance of wetlands and waterways, including aquaculture leases. And it engages in environmental restoration projects, such as rebuilding the Chesapeake's degraded oyster reef habitat.
"I'm so very proud of what we've been able to accomplish so far on oyster restoration," Chamberlayne said, in addition to speeding up permitting of oyster aquaculture operations. Working with the Maryland Department of Natural Resources and other federal, state and private nonprofit organizations, he noted, the Corps has built 674 acres of oyster reefs in state waters.
That effort has generated friction with watermen, who objected to the Corps' use of granite rather than oyster shells to build reefs. The watermen succeeded in late 2015 in temporarily halting federally funded reef construction in the Tred Avon River, then got the DNR to bar further use of granite for ongoing reef building there.
The delays and restrictions prompted Chamberlayne to make a personal appeal to the DNR's Oyster Advisory Commission, where he warned that the Tred Avon project — and the Corps' future involvement in oyster restoration – were in jeopardy. The commission and DNR relented, once again allowing granite to be used for reefs in the Tred Avon.
But amid the controversy, the White House stopped asking for federal funding for Bay oyster restoration, and Congress stopped approving it; the Corps headquarters in Washington turned a deaf ear this year to requests from Maryland that it allot some of its discretionary funding to the effort.
"Admittedly, I was a little frustrated that we did not receive additional funding for oyster restoration in the Bay," Chamberlayne said. He said he believes that the DNR and Maryland's congressional delegation are committed to oyster restoration, and the District continues to seek funds for it.
The Baltimore District has also taken some flak from environmentalists and recreational anglers for its provisional approval earlier this year of a permit to dredge Man 'O War Shoal, an ancient oyster reef near the mouth of the Patapsco River. The DNR wants to use 5 million bushels of shells from the shoal initially — and up to 30 million bushels eventually — for replenishing reefs in oyster sanctuaries as well as in waters open to commercial harvest. Critics have said dredging would harm one of the last big natural reefs in the Bay, damaging valuable habitat for fish and potentially disrupting spawning.
Chamberlayne defended the permit approval, noting that the District's regulators had imposed a series of limitations and conditions on the dredging. "And if we see the adverse effects that folks are concerned about — that we don't believe will occur — we have measures that will stop [it]," he added.
One of the highlights of his three-year tenure, Chamberlayne said, was the recent completion of a pair of jetties on Smith Island to keep boating channels open for the watermen who live there. The $6.9 million project also includes dredging a boat channel and using the fill to restore about 5 acres of nearby wetlands. "If you consider jetties beautiful, and I do," he said, they represent a relatively small investment of public dollars that has a great value to the residents of the remote island. He said he was "visibly moved" by the islanders' excitement about the project.
The most satisfying accomplishment of his time in Baltimore, Chamberlayne said, probably comes with one of the smallest price tags — so far. The Corps' annual work plan for this fiscal year included $644,000 to begin design work on restoring two vanishing Bay islands — Barren and James — offshore of Dorchester County, MD.
Sand and silt dredged from shipping channels in the Bay will be used to rebuild the two islands to provide bird and wildlife habitat, continuing an effort begun in the late 1990s with the restoration of Poplar Island, another vanishing scrap of land off the Eastern Shore. With $30 million in federal funding recently approved, Poplar will continue to grow as it receives dredged material until 2028 or possibly 2030. But a new location or locations will be needed by then to take material dredged from Bay shipping channels, a process needed to provide shipping access to the port of Baltimore.
"We have a long way to go," Chamberlayne said, and a lot more money will be needed. The restoration of the islands is projected to cost a total of $1.75 billion over 30 to 40 years. The relatively small chunk of funding provided this year marks the beginning of planning to create new habitat for terns, terrapins and other wildlife, "and really leave an … environmental legacy that I'd be so very proud of."
Chamberlayne expressed confidence in his successor, Col. John T. Litz, with whom Chamberlayne said he worked in the Corps' Charleston District before coming to Baltimore. He said he hopes to transition into a second career in private industry and stay in the region, at least for now. Still, he acknowledged he'll miss the work he's been involved with in the Baltimore District, "It's a little sad to leave."