For the small city of Kingston, NY, snug along the banks of the Hudson River 90 miles north of New York City, Superstorm Sandy, which tore up the East Coast in 2012, was a wake-up call.
It was residents' first real taste of how climate-related upstream flooding imperiled the character and geography of their historic city, settled by Dutch immigrants in 1652 and at one time the state's first capital.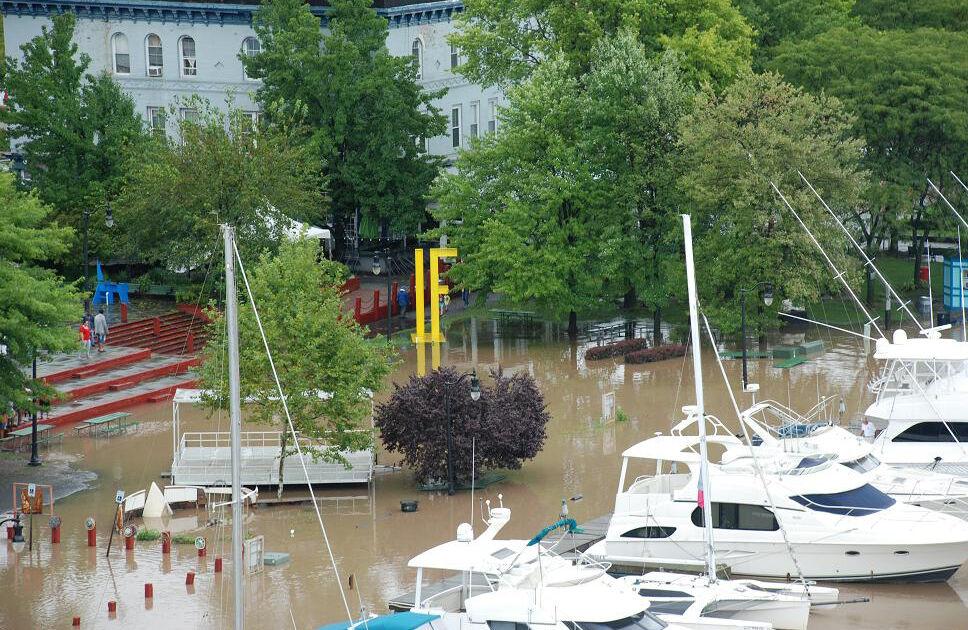 Kingston Mayor Steven T. Noble has both a degree in environmental science and a front-row seat to the growing threats that worsening storms and sea level rise pose for his hometown.
When Sandy hit, Noble said, "there was a storm surge that we all know happened in New York City — it flooded the subways, it flooded the tunnels. But that same surge came up the Hudson River, and we had almost 8 feet of water in our waterfront. And that's where our wastewater treatment plant is, that's where all of our restaurants are, we have housing in that area. And all of that was critically impacted.
"I think, for the first time, our community realized that, wait, this whole concept of having hurricanes is very new. And the fact that sea level rise is making this all worse — a lightbulb went off for folks."
The Hudson River community is not part of the Chesapeake Bay watershed, lying approximately 240 miles north of the mouth of the Bay and next to a river that flows into the Atlantic Ocean through New York Harbor. But Kingston's response to its flood problems drew the attention of the Local Government Advisory Committee to the state-federal Chesapeake Bay Program.
When the committee held a forum in September to look at resilience to climate-relating flooding, Kingston was spotlighted as a case study for its partnership with Cornell University that produced designs for a resilient waterfront. Other areas featured in the discussion included Maryland's Eastern Shore for regional collaboration; South Wilmington, DE, for comprehensive efforts; Anne Arundel County, MD, for financing and planning; and Norfolk, VA, for local ordinances.
The forum aimed in part to draw attention to the fact that climate-related flooding is not just a coastal problem from sea level rise and storm surges. Communities farther upstream are also in the crosshairs of flooding caused by increased precipitation and stormwater runoff.
The dialogue led to a report with a series of recommendations. They include increasing financial support for flood projects, promoting innovative partnerships, better incorporating resiliency into local planning processes and prioritizing equity and social justice when addressing climate-related impacts.
'Rising above the risk'
The Local Government Advisory Committee was formed in 1987 so that elected officials from towns, cities and counties across the region can share their concerns and views on watershed health, community resources and restoration efforts directly with state and federal decision makers.
Committee members are gubernatorial appointees from within the Bay watershed, which covers portions of New York, Pennsylvania, Maryland, Delaware, West Virginia and Virginia and all of the District of Columbia.
"It's an interesting mix of rural and urban communities," said LGAC member and Norfolk City Councilwoman Andria McClellan. "And, while we often have very different needs, it's very instructive and helpful to understand what's happening in a small county in Pennsylvania that's mainly agriculture-based versus an urban community downstream, like Norfolk."
Downstream communities are typically fixed on rising seas, storm surge and sunny-day flooding, but the challenges of upstream riverine communities can be just as critical.
"Their issues are related to these massive precipitation events," McClellan said. "And their stormwater systems, their river systems, just aren't able to handle this deluge of rain. And, honestly, the most damaging flooding that has occurred in the commonwealth in the last few years has happened in central and southwestern Virginia."
McClellan was elected to the city council in 2016. She also chairs the Hampton Roads Planning District Commission and its Coastal Resilience Subcommittee. She's running for lieutenant governor this year, and her campaign focuses in part on statewide flood mitigation projects.
In 2018, Norfolk adopted a major rewrite of its zoning laws to encourage more flood resilience — a concept it calls "Rise Above the Risk" and which LGAC considers a model for other communities.
The new zoning includes stricter elevations to keep a building's lowest floor above flood level, options to capture stormwater and to enable property owners and developers to choose from a variety of "green" alternatives, whether it's putting in native plants or permeable pavement or ensuring infrastructure for future solar panels.
Zoning upgrades to meet the moment is a key step for communities, McClellan said, as is educating the public. The fairly conservative neighboring city of Virginia Beach, for instance, was slow to embrace the concept of climate change until Hurricane Matthew, at one point a category 5, struck in 2016. By then, the hurricane had weakened considerably, but still dumped 11 inches of rain, downed hundreds of trees and caused massive flooding.
"After Hurricane Matthew walloped them, there was a sudden awareness and interest among the citizenry and elected officials to start to address flooding in a major way," McClellan said, "because we had such huge damage occur. And that damage was [more] inland. It was not coastal. And it was a function of precipitation."
The biggest need to build more resilient communities and manage all that water is funding, McClellan said. But funding is also "the longest wait."
"So, in the interim, when you can get communities and individual property owners to start becoming more invested and making small changes that collectively will add up to resilience, it's important," she said.
Kingston: 'Prepare for what's to come'
For places like Kingston and its population of 23,000, the price tags may be smaller, but they're still a stretch.
Kingston sits not only along the Hudson, but also its 63-mile-long tributary, Rondout Creek. These waterways supplied a large working waterfront for centuries, but today that waterfront mostly services a recreation and tourism-based economy.
"What that has done has shown us even more so that the floods that we're having today are coming at a much faster pace, and that we are intricately linked with the ecosystem of the area," Noble said.
Kingston now suffers waterfront flooding about every other year, and projections show his region can expect "multiple feet" of flooding from sea level rise over the next 50 years.
"For low-lying areas, a couple of feet of additional water will make a huge impact," Noble said.
To help combat their new normal, Kingston partnered in 2016 with the Climate-adaptive Design (CaD) studio at Cornell University, where students in the Department of Landscape Architecture work with flood-prone communities in the Hudson River watershed on design strategies for resilient waterfronts. The CaD is associated with the state Department of Environmental Conservation and nonprofit groups like Scenic Hudson.
Kingston has partnered on three CaD design projects, while the riverfront communities of Piermont, Hudson and Catskill each partnered on one.
Each project provides a variety of resiliency options, such as marsh migration and nature-based shoreline interventions, as well as elevating or even submerging rail lines. They also include repurposing industrial waterfront architecture to create mixed-use development that can withstand many feet of sea level rise, whether by dredging channels to control water flow, installing floating docks or building a cohesive network of terrestrial and aquatic sub-spaces. Another strategy is to relocate some flood-prone neighborhoods while reconnecting others to the waterfront to boost employment opportunities through increased tourism.
For each four-month project, Cornell students visit a chosen community to study the watershed, localized climate projections and steps already taken to design more climate-adaptive spaces. They also engage with community members on needs and expectations, and on social, financial and ecological impacts and benefits. In November 2019, Kingston held a High Water Festival to present student designs and gather public feedback and support.
Now the city is moving forward on a few of those concepts, particularly one for a tiered beach and climate-resilient public park.
"We have one of the only swimming beaches on the Hudson River between Albany and New York City," Noble said. "We know that's going to be severely impacted by climate change because not only do we lose our sand when we have these big storms, we also know that, as the water creeps up, we'll lose our beach."
The city is also working on plans to elevate trolley tracks and waterfront walkways and to replace century-old bulkheads.
As expected, the biggest challenge isn't community buy-in, but funding. Still, Kingston was able to secure a $200,000 grant from the state Department of Environmental Conservation to draw up a more detailed design for the tiered beach and is pursuing a grant for about $2.5 million toward construction.
The state also provided a $350,000 grant for the trolley tracks, walkway and bulkhead project.
Because of its decade-long climate resiliency efforts, Kingston was awarded silver certification in the state's Climate Smart Communities program, which provides municipalities with technical assistance and grants to reduce greenhouse gas emissions and adapt to a changing climate. Kingston was the first city to achieve silver status.
Noble's advice for similar flood-prone communities is to have a sustainability coordinator focused full-time on resilience, climate and energy issues.
"And from there," he said, "you're able to build a program, and then be able to get grant money. And you're able to help focus the community on the issues that are important to that community. It pays dividends well above and beyond the investment."
Read the LGAC report here: Building Local Community Resilience Against Climate-Related Flooding.