It's been a decade since the Chesapeake Bay watershed was put on a "pollution diet."
And while there's been some belt tightening since then, the regional effort to reduce nutrient pollution in order to restore a healthy Bay has fared about as well as many other diets: It is far from meeting its 2025 goal.
In the next several years, states, local governments and conservation districts would have to implement pollution control measures at unprecedented rates to meet the goals — and at a time when they're facing COVID-related budget cuts.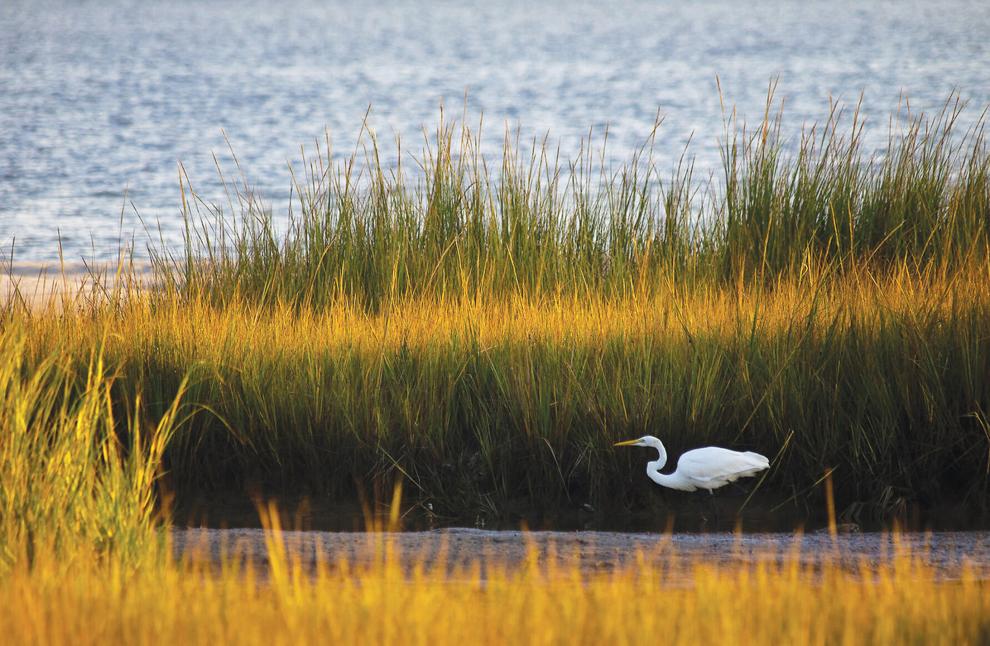 For now, leaders of the state-federal Chesapeake Bay Program maintain that they are committed to the 2025 cleanup deadline.
That date was established in 2010, when the states in the Bay watershed and the U.S. Environmental Protection Agency agreed to the pollution diet — formally known as the Chesapeake Bay's Total Maximum Daily Load.
The TMDL established the maximum amount of nutrients — nitrogen and phosphorus — that each state could send to the Bay each year to clear its water and end oxygen-starved "dead zones."
When too many nutrients reach the Chesapeake, they spur algae blooms that cloud the water and block sunlight needed by underwater grasses that shelter fish, crabs and waterfowl. When algae blooms die, they consume oxygen in the water and make areas inhospitable to aquatic life.
Computer models used to track cleanup efforts show that progress has been made in reducing phosphorus, although more reductions are needed during the next five years.
Reducing nitrogen, which tends to have a greater impact on Bay water quality, has been much more difficult. Nitrogen more easily runs off land, and it sinks through the soil and reaches streams through groundwater.
Over time, there has been some progress: Since 1985, when Bay cleanup efforts began, the region has reduced nitrogen pollution at an average rate of 2.4 million pounds a year. But in the coming years, that pace would need to jump to nearly 9 million pounds a year — a rate the region has never attained.
Locals have stepped up; more to do
Local governments have accomplished a lot. The wastewater treatment plants operated by municipalities and regional wastewater authorities are responsible for nearly all of the nitrogen reduction progress since 2010, according to computer model estimates.
Like many diets, the first pounds were relatively easy to lose: the nitrogen reductions were attained through technology upgrades at treatment plants. But shedding the remaining pounds will be more difficult because they require efforts to curb dispersed runoff from developed lands and farms.
Local governments and conservation districts will be called upon to do more to address those sources of nutrients. Developed areas will be further challenged because, according to Bay Program computer models, stormwater runoff from developed lands is increasing in all states.
Meanwhile, local conservation districts will be pressed to help reign in nutrient runoff from farms, where fertilizer and manure is the largest source of nutrients to the Bay.
Farm operations across the 64,000-square-watershed produced less than 1% of the nitrogen reductions achieved during the last decade, according to computer models. No state is close to being on a trajectory that would achieve its nutrient reduction goals for the agricultural sector.
Nonetheless, farm operations are being counted on to deliver 84% of nitrogen reductions in the next five years. This would require farmers to plant streamside buffers, fence livestock out of streams, build manure storage facilities and install other runoff control measures at a pace far beyond what they have achieved to date.
Doing so would require greater investments from federal and state governments for outreach, technical assistance and cost-share programs — including vastly more support for conservation districts, which typically take the lead in working directly with farmers.
Tensions building
The difficulty of reaching Bay cleanup goals has heightened tensions among the states, a development that could impact local governments.
Pennsylvania, which is the largest source of nutrients in the Bay, is farthest off track in meeting its goals, partly because of a chronic lack of funding to oversee — much less implement — its programs. Also, the vast majority of its nutrients come from agricultural lands, a source all states have struggled to control.
States in 2019 completed new "watershed implementation plans," which were supposed to show how they would meet their nutrient reduction goals by 2025. But neither Pennsylvania nor New York submitted plans that would achieve their goals.
Last year, Virginia, Maryland, Delaware and the District of Columbia, along with the nonprofit Chesapeake Bay Foundation, filed suit seeking to force the EPA to pressure Pennsylvania and New York to write plans that meet goals and to ramp up their pollution control efforts. New York subsequently submitted a plan that met its goals.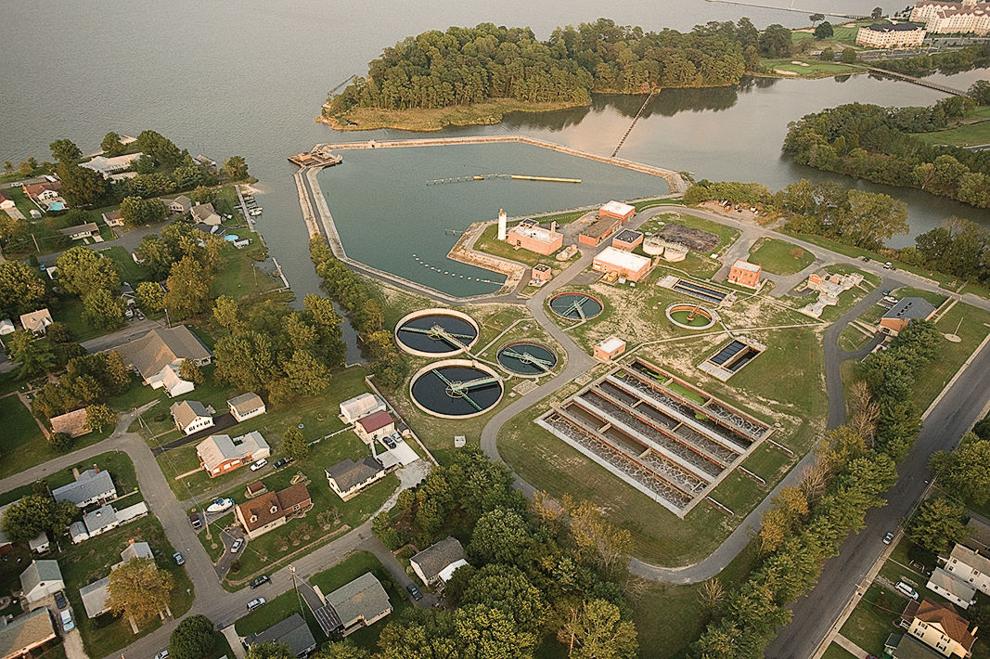 The outcome of the suit could have implications for local governments in Pennsylvania and potentially other states. The EPA has little authority to regulate farms, but it does have oversight of wastewater dischargers. Many contend that the EPA could force wastewater treatment plants to make even greater nutrient reductions in their discharges unless Pennsylvania's legislature ramps up funding for farm conservation efforts.
An EPA crackdown on wastewater discharges would mean greatly increased fees for local ratepayers — and still would only achieve a fraction of Pennsylvania's needed nutrient reductions. Wastewater treatment plant operators would likely challenge such an action in court and would likely be joined by those in other states because of the precedent it could set.
Touting local benefits
While the clean-Bay mandates present a financial challenge to local governments, the Bay Program has been stressing that those actions could provide local benefits as well. For information, see the series of factsheets on "co-benefits." Here are some examples:
Stormwater management and agricultural runoff controls also can trap toxic contaminants associated with urban runoff and erosion, helping to protect local waterways.
Streamside forest buffers not only remove nutrients and trap sediment in runoff, but also greatly improve local stream health and fish habitat.
Efforts to restore wetlands, plant stream buffers, slow stormwater runoff, conserve forests and restore streams can help reduce flood risks.
Increasing tree canopies in urban areas can reduce stormwater flows, improve fish and wildlife habitat, reduce energy consumption, increase stream health, clean the air, and reduce flood risks by slowing runoff.
But none of that will happen without money.
The Bay Program's Local Government Advisory Committee, in a recent letter to the program's leadership, highlighted the need for "more financial resources and technical assistance to local governments participating more fully in protecting and restoring water resources in our communities."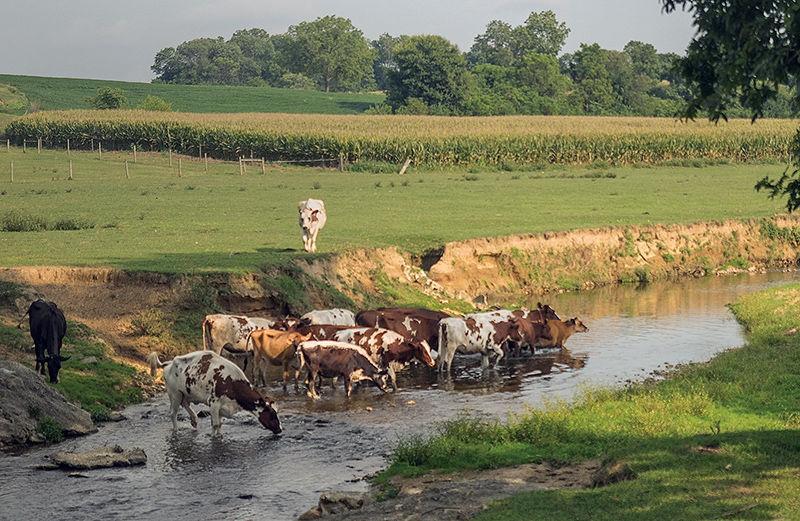 State progress summaries
Here's an update on where states stand in meeting their share of the Bay's pollution diet. It's based on recent reviews by the EPA and Bay Foundation, as well as data from the Bay Program computer model, which tracks cleanup progress as reported by the states.
PA nitrogen loads to the Bay
2019 estimated load: 110.4 million lbs. annually
2025 cleanup target: 73.17 million lbs. annually
2025 state plan outcome: 83.29 million lbs. annually
State plan does not achieve cleanup goal
Pennsylvania is far off track to meet its goals. Since 2010, it reduced its nitrogen load just 2.5%, from 113.2 million pounds to 110.4 million pounds. Its latest cleanup plan, completed in 2019, would reduce that to 83.3 million pounds. But the state's goal is 73.1 million.
The plan also identifies an annual funding gap of $324 million — and even if that shortfall was addressed, it would cover a plan that remains 9.8 million pounds short of its goal. Funding for the state's environmental programs has been steadily whittled away by the state General Assembly for more than a decade.
As in most other states, wastewater plant upgrades are responsible for almost all of Pennsylvania's nitrogen reductions in the last decade. But those plants account for only 8% of the state's nitrogen load and cannot be squeezed much more.
Fertilizer and manure runoff from Pennsylvania's 33,000 farms in the Bay watershed are the state's largest source of nitrogen reaching the Bay. Pennsylvania is counting on them for a 93% reduction by 2025.
State officials contend Pennsylvania's shortfalls are overstated and that many measures that would reduce nitrogen runoff are not included in computer model estimates, such as wetland mitigation projects, the reclamation of abandoned mine lands and controls that farmers installed on their own but did not report.
Besides lacking money to implement programs, the state also lacks funds to enforce existing rules. Farms are supposed to have erosion control and manure management plans, but no one knew if they actually did.
Pennsylvania also has more runoff from developed land than any other state. While it was successful in getting municipalities to submit plans to address the problem, it lacks the staff to review them.
The state does get high marks for working with local governments and stakeholder groups in writing county-specific cleanup plans. Those plans reflect a consensus of what is doable — if funded.
"What we see with our partners is a lot of energy and a lot of desire for us to clean up our waterways," said Pat McDonnell, Pennsylvania environment secretary. "People are very engaged."
VA nitrogen loads to the Bay
2019 estimated load: 58.35 million lbs. annually
2025 cleanup target: 55.72 million lbs. annually
2025 state plan outcome: 49.57 million lbs. annually
State plan exceeds cleanup goal
Virginia is largely on track to meet its nitrogen goal because of its success in reducing discharges from wastewater treatment plants, which were slashed 45%, or 10 million pounds a year, in the last decade.
The state plans to get the majority of its remaining nitrogen reductions from farm operations. That will require a huge acceleration of effort: In the last decade, computer model data shows the state had a net reduction of only 167,000 pounds of nitrogen a year from farms. Its plan calls for ramping that up to 7 million pounds over the next six years.
"We're going to need a lot more money to make it happen," said Joe Wood, the Bay Foundation's Virginia senior scientist. While the administration under Gov. Ralph Northam has increased spending, "when you stack that up with what we think is needed to get to our actual goals, it's still a small number."
Both the EPA and Bay Foundation flagged Virginia for falling behind on issuing stormwater permits, which include pollution-reduction requirements. Some permits no longer coincide with the 2025 cleanup deadline, meaning full implementation is likely to be pushed back.
Wood said the state may meet its goal if wastewater treatment plants continue to overperform and offset shortfalls in agriculture and stormwater.
MD nitrogen loads to Bay
2019 estimated load: 52.02 million lbs. annually
2025 cleanup target: 45.78 million lbs. annually
2025 state plan outcome: 44.72 million lbs. annually
State exceeds cleanup goal
Maryland's reductions largely stem from upgrades at wastewater treatment plants, which slashed discharges by 39%, or 5.4 million pounds, since 2010.
Agriculture, the state's largest contributor of nitrogen to the Bay, reduced nitrogen pollution by 3%, or about 719,000 pounds, during that time, according to computer model estimates. The slow progress was due in part to growth in the agricultural sector, which offset the impact of conservation practices.
In the next several years, Maryland plans to reduce nitrogen from farms by almost 5 million pounds, but many conservation districts have said they don't have staff to meet the needed increase in technical support for farmers. Maryland is planning to reallocate up to 53 positions to provide more assistance.
Still, the recent EPA review said the state isn't on pace to meet goals for practices such as planting grass buffers along streams and installing animal waste management systems.
Maryland also plans to get another 1.7 million pounds of reduction from waste-water plants.
While stormwater is a smaller contributor of nitrogen than agriculture or wastewater, it has been increasing since 2009, according to model estimates.
Many environmental groups expressed disappointment in the state's relatively small reductions set for stormwater — about 230,000 pounds by 2025. And that may not happen if it can be offset by wastewater treatment plants that exceed their goals.
DC nitrogen loads to Bay 
2019 estimated load: 2.05 million lbs. annually
2025 cleanup target: 2.42 million lbs. annually
2025 District plan outcome: 2.31 million lbs. annually
The District has already achieved its cleanup goals
The District has already achieved its 2025 target, mainly because of upgrades to the Blue Plains Advanced Wastewater Treatment Plant — by far the largest treatment plant in the region.
NY nitrogen loads to Bay
2019 estimated load: 13.87 million lbs. annually
2025 cleanup target: 11.53 million lbs. annually
2025 state plan outcome: 11.37 million lbs. annually
State plan achieves cleanup goal
New York has achieved a 4% nitrogen reduction since 2009 and is not on pace to meet its goals.
It had the steepest rate of decline in agricultural nitrogen runoff of any state — about 12%. But much of that was due to a drop in dairy farming.
A recent EPA review recommended that the state further ratchet down wastewater treatment plant discharges. Although the largest plants have been upgraded, they are still allowed to discharge a higher concentration of nitrogen than most other states.
Many New York communities in the Bay watershed are not covered by stormwater permitting programs. The EPA urged the state to explore expanding those programs. It also asked the state to detail how it would achieve the increase in nutrient reduction controls in urban areas. For instance, it only had 54 acres of developed land covered by bioretention controls in 2019 but calls for increasing that to 53,133 acres by 2025.
DE nitrogen loads to Bay
2019 estimated load: 6.7 million lbs. annually
2025 cleanup target: 4.55 million lbs. annually
2025 state plan outcome: 4.46 million lbs. 
State plan achieves cleanup goal
The vast majority of Delaware's nitrogen load comes from farms, and data show that it declined only 2.6%, or about 140,000 pounds, in the last decade.
The state needs to reduce nitrogen runoff from agricultural land by about 2.2 million pounds by 2025 — roughly 16 times what it's achieved since 2010. In a recent review, the EPA said the state failed to provide evidence that it had the capacity to install the practices needed to meet its 2025 goal. 
WV nitrogen loads to Bay
2019 estimated load: 8.07 million lbs. annually
2025 cleanup target: 8.22 million lbs. annually
2025 state plan outcome: 7.49 million lbs. annually
State has already met its cleanup goals
West Virginia already has met its 2025 goals. The state has achieved its overall nitrogen goal, largely by overachieving on phosphorus controls and applying that toward its nitrogen targets. Recent model estimates show nitrogen levels increasing in its agricultural sector, though.