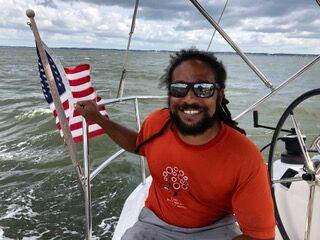 Nathan Burrell, deputy director of Government and Community Relations for the Virginia Department of Conservation and Recreation, grew up in Tappahannock, VA, playing in the woods, camping and building forts with his brother. He has lived in Richmond since 1999, earning a degree in Parks and Recreation Management from Virginia Commonwealth University.
In 2003, Nathan went to work for the city of Richmond. Over the course of 17 years, he served as the city's trails manager, the superintendent of the James River Park System and superintendent of maintenance and operations for the Parks and Recreation Department's Southern Division.
Nathan has received several awards in honor of his work, including Person of the Year from the Richmond Times Dispatch in 2018. He sits on a number of local boards and advisory councils, including Groundwork RVA, the Virginia Council on Environmental Justice and Essex County Conservation Alliance.
How is working for state government different from your experience in local government?
Nathan: It's definitely different. I could do something and see the change and the positive reaction almost immediately at the local level. Change is a little bit elongated at the state level.
Why are parks so important to a community?
Nathan: A park can define a community. Richmond has always been known as the capital of the South. Now, with the development of the James River Park, people are flocking to the area and the park is a defining feature of the city. It is a $33.5 million asset, and the return on investment to the city is crazy! And during COVID, parks are places where people are finding solitude, going for a walk in the woods to lift themselves out of depression. They're places where people can come together to learn, to gather and to protest. They're vital spaces to ensure a thriving community.
What are you most excited to work on in your new capacity at the DCR?
Nathan: The work that I'm doing at the state right now really is focused around issues of the day: diversity, equity, inclusion and environmental justice (DEIJ). I'm contemplating the role of a state agency in ensuring that all citizens have access to high quality recreation and conservation, not just in their communities or in their back yards, but to these types of amenities across the state. This means looking at how we do outreach that incorporates all Virginians, including Native Americans and Latinos. Looking at every single one of our programs to see, historically, who has taken advantage of our programs and who hasn't and figuring out how those communities who haven't had access to them can get access. And, looking at how we disseminate information to local governments and local park and rec agencies. Having not only the direct experience but the background understanding of some of the discrepancies and disparities in outdoor access in our underserved communities and Black and Brown communities, and understanding the way that minorities interact with public spaces, has been a big advantage.
What steps are you taking to ensure that people of color feel welcome in parks and open spaces?
Nathan: Telling stories of the land is one way we can ensure diverse populations see themselves in and feel that they're invited to parks and other public spaces. DCR has always done interpretation, but we haven't always dug down to some of the more challenging stories. They may be painful and may be difficult, but they reflect our diverse culture and our understanding of who we are as Americans. The more we tell these stories, the more people feel included and connected to these spaces. One example is Powhatan State Park on the James River. Back in the 1800s, it was a plantation. After the Civil War, the plantation was broken up, and some families who were enslaved on the land became sharecroppers there. It then became a state farm prison, which housed a majority African American population. So the story was "go back to the plantation, go back to the land, because that's where you belong." Burial grounds have been found on the property, including that of a U.S Colored Troop soldier. Now, it's a state park that has this history. So we invited the community to come in and help uncover the story of the land. Through gathering and telling the stories of who inhabited this land, and how the land was used, I now see myself there, and people of color are now better connected to that land.
What are some of the different ways people see or want to use open space?
Nathan: Different cultures use open space in different ways. If you're not doing the work to understand the different cultural sensitivities or ways that people or a community want to use the space, then you end up with cookie cutter open space that really isn't serving the needs of the community. You're just checking the box that you've met the open space needs for the given population.
How can residents get involved in this type of work in their communities?
Nathan: Most parks are very fortunate in that they have a group of people who care about them. James River Park has a strong support network. But not all of those efforts are effective. Some people don't understand how groups or boards work, so they flounder. Richmond created a volunteer coordinator position to help get the work done, to provide staff who can be a point of contact. Community members can have a voice.
What advice do you have for people who want to get started in DEIJ work?
Nathan: Some people don't feel like they have the right words or don't want to offend people they care about. This has inhibited folks from taking those first steps of admitting that what we've been doing hasn't been working for everybody. My advice is, don't get caught up in what the first step is, just take it. Everybody has agency, if you're an elected official or a front-line worker. We have agency with our friends, with our family. Some of us manage budgets, some manage staff. We're called upon to use our agency to ensure that equity is part of everything we do. Society is demanding more. And if we all use our agency to affect change, we're going to move the needle.
Do you have a favorite inspirational source or quotation?
Nathan: If you've heard me speak, you've heard me say "Listen, learn, act, repeat." When you know better, do better.