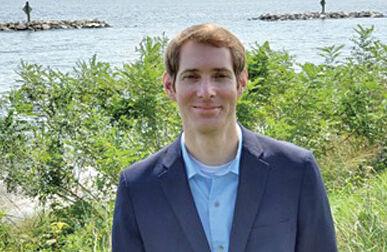 Matthew Johnston is the environmental policy director for Anne Arundel County, MD, and previously served as the Chesapeake Bay Program's senior environmental policy analyst. Matt grew up in Rolla, MO, at the edge of the Ozark Mountains. His parents nurtured his love for the outdoors, taking the family on many trips to national parks and encouraging questions and curiosity. He attended the University of Missouri, where he studied political science and history, and earned a graduate degree at the School of Public and Environmental Affairs at Indiana University. He enjoys kayaking, hiking and engaging with county residents on programs, restoration projects and policy issues.
What led you to this type of work?
Matthew: My first environmental job was a summer position working for a state environmental management agency.
I was the person who pulls off on the edge of the highway and drops a water quality monitoring device from a bridge down into the water. I saw the steel works of Gary, the speedway in Indianapolis, the forests along the Ohio River and cropland across middle America. It really drove home the differences across the landscape and their effect on water quality. I would be collecting water next to a farmer's field where nitrogen had just been applied to the corn crop and the nitrogen levels in that stream were high. Or I'd stand under a highway overpass and find nickel, cadmium and lead.
After graduate school, I got a call about a job from the Chesapeake Research Consortium in Annapolis. I didn't know anything about Annapolis but I talked to a professor who said there is no better place to do water quality work. So, I took his advice, moved across country and never looked back.
You are the first to hold the position of environmental policy director for your county. What was the start-up like?
Matthew: It was a tremendous opportunity. Anne Arundel County doesn't have an environmental department, but we have road crews and stream restoration crews, folks who design schools and parks. But we didn't have a single person whose job it was to go into the office every day and say, "I'm going to try to figure out how to deliver all of these things and protect the environment."
My job was really about breaking down silos and giving policy guidance. I quickly found that the best use of my time was simply bringing together people from different departments and talking about projects, learning about each department's role, sharing the county executive's vision and discussing how to achieve it.
You played a big role in the county's new forest policy. What was that process like?
Matthew: During my first year, the county executive and I really homed in on forest protection. We found that Maryland's Forest Protection Act, which dates back to the early 1990s, was resulting in the loss of our largest, most intact forests. We realized we were losing the 100-acre wooded tracts, not the 1-acre woodlots because of the way the law worked. That prompted us to take a very close look at the law. Then, working with the Chesapeake Conservancy, we found that Anne Arundel was losing hundreds of acres of forest every single year. So, we passed an ordinance that increased the amount of forest that must be protected and replanted. It also increased our fee in lieu to reflect the true ecosystem value of that land. I'm really proud of this work, and not just because the citizens wanted it. In fact, 80% of county residents supported the legislation regardless of party. But Howard and Frederick counties followed our lead and maybe even improved on what we had done. 
What role can residents play in influencing environmental policy?
Matthew: We simply cannot get legislation passed without large, vocal community support. We always depend on residents to speak up, to testify to the county council and send letters. When the council was considering the forest conservation ordinance, the chamber was packed. It was standing room only. In half of the room were lobbyists and attorneys for developers. In the other half of the room and lined up out the door were all the residents who had given up their weekday evening to testify in favor of the legislation. One councilmember remarked that he had never seen so many residents come out to testify or received so many emails and letters about an issue. 
How do you leverage other resources in the community?
Matthew: Sometimes my job is just to plant the seed and keep the conversations going to see if they grow. For example, we knew that we needed to plant trees to make up for the ones that have been lost. So, we sat down with the Anne Arundel Watershed Stewards Academy, an amazing nonprofit group. We shared our idea to "replant Anne Arundel" and asked what they could do with some seed money. They said, "a lot!" They said they could train individual volunteers to be "tree troopers" who would design plantings for their community, churchyard, streets, neighbors' yards, whatever it was going to take. Their director, Suzanne Etgen, went out and got more money from private donors and was able to train nearly a hundred citizens, during a pandemic, and ultimately got 5,000 trees in the ground.
What are you most excited to work on in the coming years?
Matthew: I've come to realize that almost everything comes down to land use decisions. Will we protect those farms so they'll be viable for the next generation? Will we protect those forests so that when the 17-year cicadas come back we will hear them? Will we focus on ending suburban sprawl and pursue true smart growth? Now that we've done something to protect our forests, it's time to focus on driving redevelopment to those areas where it is needed most, bringing in affordable housing and more green space, and transit and stormwater solutions and other things that the residents are asking for. 
Do you have a favorite inspirational source or quotation?
Matthew: "Look outside your window. Now change the view."