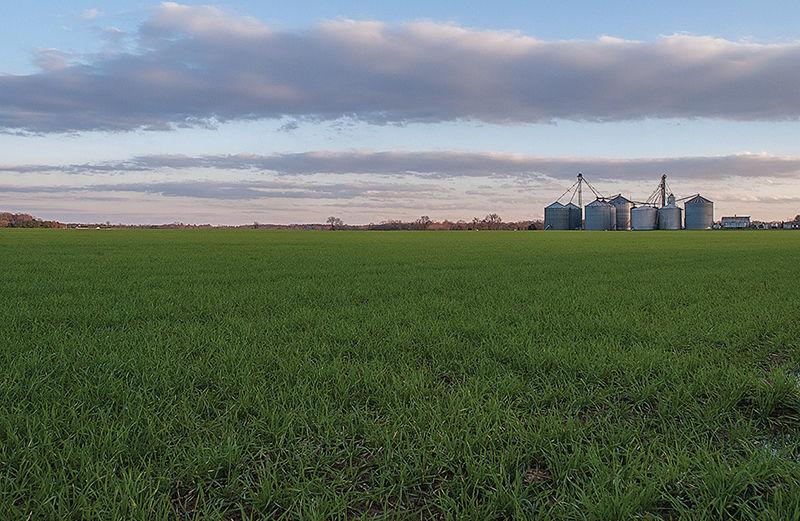 Local governments, farmers and everyone else working at the local level to protect and restore local waterways are also helping to achieve cleanup goals for the Chesapeake Bay. By 2025, the region as a whole is tasked with having in place all pollution control measures necessary to achieve those restoration goals.
It's a large, complicated effort. Success requires a system for documenting, reporting and verifying the work that's being done across the 64,000 square mile watershed.
Annual reporting has been in place since the U.S. Environmental Protection Agency established the Bay's Total Maximum Daily Load — the TMDL or "pollution diet" — in 2010. But the verification requirement is relatively new.
How does the reporting process work?
Each year, states collect information about the pollution reduction practices in place in their jurisdiction. They submit an annual report to the EPA, including detailed data about the installation and verification of the practices. As of 2019, only the practices that have been verified, using the process described below, can be reported.
Why is reporting necessary?
Ever heard the saying "you can't manage what you don't measure"? The EPA relies on state reports as a means of understanding the progress being made towards the 2025 cleanup goals and assessing the additional work that must be done.
What is verification?
Verification is the process of ensuring that a pollution reduction practice, more commonly referred to as a best management practice or BMP, has been properly implemented or installed, and then periodically checking to make sure that the practice is still in place and functioning as intended.
Why is verification necessary?
The need for verification originates from the TMDL's reasonable assurance and accountability framework. However, verification has local benefits as well. When it comes to stormwater practices, for example, regular inspections may identify problems early on and help a community avoid costly repairs or harmful flooding.
When does verification occur?
Verification is required when the practice is installed or put into service and then again at regular intervals, which vary depending on the type of practice. Some practices, such as planting winter cover crops, must be verified every year. Others, including most stormwater practices, must be verified every five or ten years. The schedules were established by the Bay Program partnership. Each state then developed its own verification program plan, which includes information on the method for verifying, the responsible party and the frequency.
Who conducts verification and who makes sure it takes place as needed?
Since states are held accountable for achieving the pollution reduction targets, it is to their benefit that they make sure verification is being conducted. Because some local governments are also responsible for complying with regulatory permits, such as MS4 stormwater permits, it is also to their benefit to ensure that their practices are being counted.
How is verification managed when the pollution reduction practices are on private property?
When practices are installed on private property, verification can be problematic if the party responsible for conducting verification doesn't have legal access to the property. This is a likely scenario when small projects, such as rain gardens, are installed by a homeowner. Stormwater practices installed as part of an approved land development plan are more likely to be subject to an easement that allows access for maintenance or for inspection by a local governing body, such as the municipality. Some states are exploring the use of aerial imagery, or remote sensing using Light Detection and Ranging (LiDAR) methods, for verification of practices such as agricultural and forestry practices.
How are reductions counted?
When a farmer, local government, watershed group or other entity implements a pollution reduction practice, the reduction in pollutants may be calculated in one or more ways.
First, the "loading rate" — the estimated amount of pollution generated by a particular land use — may change, hopefully for the better. For example, in an area that falls under an MS4 stormwater permit, the conversion of a parking lot to a lawn with trees reduces the base pollutant loading rate by changing the land use classification from MS4 Buildings and Other to MS4 Tree Canopy over Turf Grass.
Next, the loading rate may be adjusted to account for the effectiveness of the specific pollution reducing practices, such as raingardens or bioswales, implemented on a site.
Other measured reductions, such as pounds of manure transported or number of septic systems connected, may also apply. And, finally, reductions from treatment processes, such as wastewater treatment, are accounted for through direct measurement.
Who is responsible for calculating the pollution reductions?
The EPA uses data from the states about the number and location of practices installed, then applies the pollutant reduction efficiency or load reduction associated with each practice to calculate the pollution reductions. The states and the EPA Chesapeake Bay Program Office go through a series of quality reviews to ensure the data is accurate before making it available to the public on the web-based Chesapeake Assessment and Scenario Tool (CAST).
How do states know what to report?
States collect BMP implementation data from a variety of sources. Permitting and grant funding programs are the most common. Some states have set up electronic data warehouses to facilitate the collection of data from local partners, including local governments, conservation districts, watershed groups and other organizations. Some states, such as West Virginia, send letters to their local governments requesting reports on practices implemented.
How do I make sure my efforts are being counted?
States may submit as many as 12,000 records in any given year, so isolating a particular BMP may be difficult. Nevertheless, you can take steps to make sure your efforts are counted. First, be sure to complete grant reports and permit reports accurately. Second, check with your state or designated agency, such as planning district commission or conservation district, to make sure you're meeting the verification requirements for the practices you're reporting.
When are the state reports submitted to the EPA?
Annual reports from the states, covering the July 1 to June 30 time period, are generally due to the EPA in early December. That means that local governments should be reporting implementation and verification information to their states in the fall.
How can I learn more?