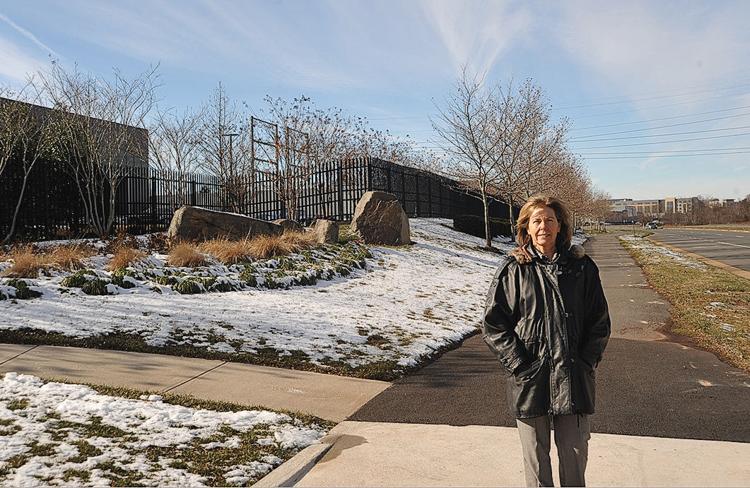 Take VA Route 267 west from the nation's capital and you'll head straight into a different sort of traffic — of the internet variety. About 70% of all online activity flows through this pocket of Northern Virginia, home to the world's largest concentration of data centers.
Across a Loudoun County landscape that was once farmland and forests, sprawling clusters of gray, flat-topped buildings quietly enable the technological machinations — from bank transactions to YouTube videos — that are central to modern life. If you have ever wondered what "The Cloud" looks like, this is it. Local officials call this "Data Center Alley," or, as one book put it, "the bull's-eye of America's internet."
It makes sense to bunch these data centers along established highways of fiber optic cables in the county. There, companies and agencies needing huge amounts of data storage can achieve economies of scale and energy efficiencies while tapping high-speed internet connections.
But big congregations of data centers, taken as a whole, could also bring environmental consequences.
The most widely recognized issue is their massive cumulative energy consumption. Private cloud companies such as Amazon tend to keep total energy consumption close to the vest. But a 2019 report by Greenpeace estimated that electricity demand from existing Virginia data centers and those under development is approaching 4.5 gigawatts, or roughly the amount of power it would take nine, large (500-megawatt) coal power plants to produce.
It's a "substantial" energy demand, as Dominion Energy put it in a 2019 application to build a pair of new substations in Loudoun County. A typical data center consumes "about the same amount of power as 7,500 residential households and requires a more reliable power source," the application stated. By that metric, the 100-plus data centers currently operating in Loudoun County would be using more electricity than 750,000 homes.
"Given the urgent need to transition away from fossil fuels as rapidly as possible to combat the most extreme consequences of climate change, the source of electricity deployed by the local utility in these data center hotspots takes on global significance," the Greenpeace report states.
Virginia regulators also are looking at the cumulative impact of the centers' natural gas– or diesel-powered backup generators, which run periodically to ensure reliability when needed. Should they all fire up at once, in the case of an energy emergency, their emissions would quickly pose air quality concerns in a region that has about seven times as many people living in it than it did in 1980.
Concerns have also been voiced about data centers' big thirst for water to use in cooling systems and about their consumption of land for facilities and parking areas. The conversion of open space and wildlife habitat into hardened surfaces contributes to polluted stormwater runoff in streams flowing to the Bay.
In 2019, Loudoun County had 13.5 million square feet of data centers in operation with another 4.5 million square feet under development, according to the county's Department of Economic Development. Another 10 million square feet of data center space were reportedly in the pipeline. Their combined footprint from these buildings would cover approximately 640 acres, but that's not including the parking lots that accompany them.
The pace of data center growth in Northern Virginia only seems to be accelerating, especially as Crystal City prepares to welcome Amazon's East Coast headquarters and data centers continue to crop up in nearby Prince William and other formerly rural counties.
Data center construction is spreading to other parts of Virginia, too, as Loudoun nears its current zoning capacity for new projects and other counties vie for the economic boost this industry represents. Access to fiberoptic cables and energy transmission lines extends into parts of Fauquier and Culpeper counties, where companies could find less expensive land in rural areas attractive.
Why Northern Virginia?
Northern Virginia's economy has long benefited from its proximity to Washington, DC, and so has the data center industry.
The federal government funded research that led to the internet's precursor, the U.S. Defense Department's ARPANET (Advanced Research Projects Agency Network), in the 1960s. That created the need for data storage near the nation's capital as more branches of the government began to share information electronically. But — though the U.S. government is still a major player in the region's data storage business — many would credit private companies with christening Northern Virginia as the "Silicon Valley of the East," as a 2011 article in The Atlantic put it.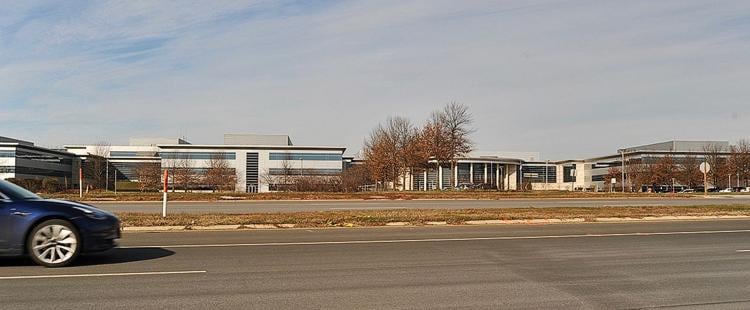 The internet pioneer America Online, later known as AOL, moved its corporate headquarters to Loudoun County in the 1990s, attracting talent to the region that would spin off to start other tech companies as the internet evolved. As Buddy Rizer, executive director of Loudoun County's Department of Economic Development told a tech publication, it wasn't long before "everyone started running their fiber out to AOL, because in those days, AOL was the internet and the internet was AOL for most people."
In the late '90s, internet providers put Loudoun County on the map by running the infrastructure of a major East Coast internet-access point, called MAE-East, through Vienna, Reston and Ashburn.
Soon, environmentalists began to worry about their impact.
Powered up, but how?
Dan Holmes, director of state policy for the Piedmont Environmental Council, said data centers came onto his radar around 2001. The nonprofit group was at the time tracking proposals of new natural gas power plants. Holmes started to see permit applications for natural gas generators as backup power for data centers.
"Even that long ago, I was shocked by their consumptive nature," he said. Now, Northern Virginia "represents the largest hub of new data center construction in the world. If you take the next four largest combined, we're still larger than that."
Industry and county officials point out that data centers achieve huge energy efficiencies by co-locating along channels of connectivity and energy transmission such as those in Northern Virginia.
Troy Murphy, director of policy for the Northern Virginia Technology Council, wrote in an email to the Bay Journal that "it is no secret that energy usage is a large factor of operating a data center." But, he said, aggregating servers into large data centers uses up to 84% less power than having servers located at each business or agency. The more servers per square foot, for example, the fewer feet in need of cooling as they operate around the clock.
Murphy said the scale of these data centers — most of them funded by internet behemoths that have made renewable energy pledges — has helped to push the state to improve its energy portfolio. Amazon Web Services, Apple, Facebook, Google and Microsoft have each announced a goal to eventually be powered 100% by renewable energy.
"In 2013, renewable energy was hardly a factor in Virginia," Murphy wrote. "But by 2018, Dominion Energy had more than 744 [megawatts] of solar generation capacity operational or under development — 78% of which is directly attributable to partnerships with data center companies."
Even so, data centers' energy demands continue to grow with the global growth in online activity.
"As everyone puts in a real-time digital monitor on their doorbell, that begins to overwhelm whatever efficiencies the [industry's] achieving," said Chris Miller, executive director of the Piedmont Environmental Council.
Even a 100% renewable energy portfolio can be problematic if the increased demand means that more of the state's land must be devoted to energy production.
A growing number of environmental groups have concerns about how solar energy facilities are being sited, especially when photovoltaic panels cover land formerly farmed or forested.
"When you add in a solar array that's big enough to provide clean energy for Microsoft or Amazon, we're talking tens of thousands of acres of land just for solar," Miller said. "There's a need for a larger look by the state as we pursue renewable energy, for offsetting data center construction that will have an additional impact elsewhere."
Maryland regulators denied permits last year for two solar projects that would have cleared 400 acres of woodlands, citing concerns about water quality. Similar concerns have yet to gain much traction in Virginia.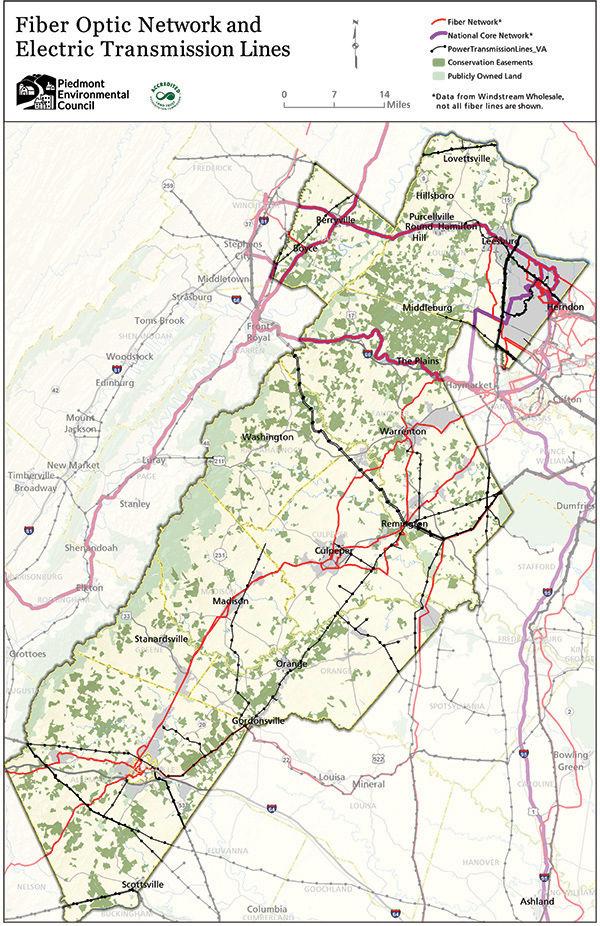 Residents of mostly rural Spotsylvania County 60 miles south of DC waged an unsuccessful fight last year against a proposal to clear 3,500 acres of private woodlands for the state's largest solar project to date.
While environmental groups consider solar an improvement over coal– or gas-based power generation, they also want the state to weigh the cumulative impact of such projects. If not constructed properly, so-called solar farms could contribute additional stormwater runoff to nearby streams and the Chesapeake Bay. Such was the case with one project constructed during a rainy 2018 in Virginia's Essex County, where the newly turned land contributed muddy runoff to the Rappahannock River.
Thomas Faha, director of the Department of Environmental Quality's Northern Regional Office, said both data centers and solar projects are subject to erosion and stormwater control regulations aimed at protecting local water quality. But the local government authority determines whether projects comply with the regulations. And often, the county also stands to benefit from the tax-boon that accompanies a new data center project.
Air concerns
The DEQ is looking into another emerging concern related to data centers in Northern Virginia: air quality. A report by the state Secretary of Natural Resources in 2019 listed air emissions from data centers' backup generators as a potential risk to air quality.
Every data center has several generators that are intended to be used in an emergency should the conventional power grid go down for any period of time. Faha, whose department issues air permits for the generators, said they kick on periodically for 15– or 30-minute periods to ensure they will work in an emergency.
The DEQ permits restrict when those tests can occur, avoiding hours when commuter traffic isn't also contributing to air pollution, for example.
"But even a minimum amount is an addition to what was there in the past," Faha said. "If the grid were to go down and we had a catastrophic emergency, these units are then allowed to run for longer periods of time."
Burning diesel or natural gas for power releases pollutants such as nitrogen oxides, which combines with volatile organic compounds to form ozone, which is a threat to human health.
That's why the department wants to conduct additional air quality monitoring in places like Loudoun County. There, he said, a confluence of data centers and growing residential population make it necessary to consider the cumulative impact these generators could be having on air quality.
Nitrogen oxides emitted into the air can also contribute nutrient pollution to the Bay when the pollutants fall back to Earth and wash into local waters.
Faha estimated that the number of generators already permitted for data centers in Northern Virginia could run up to 3,000, and the total is growing. The vast majority, he said, are in Loudoun and Prince William counties.
Economic incentives
One data center approved in 2018 despite strong opposition serves as an example of environmentalists' concerns.
In 2017, a Dallas, TX-based company asked the Loudoun County Board of Supervisors to rezone more than 100 acres along Goose Creek so it could build a 760,000-square-foot data center. The Piedmont Environmental Council argued the project didn't belong in the county's "transition zone" between its suburban east and rural west. They said it would encroach on a rare state-designated rocky, mossy area, one of 10 "Northern Piedmont mafic barrens" worldwide, and create additional hardened surfaces just upstream of an intake for public drinking water.
But the project's backers, on the other hand, said it would bring an additional $22 million in annual tax revenue to the county that could be used for education and infrastructure. The data center's futuristic design, they said, would use less than 1% of the water that a similarly-sized center might consume.
In the end, the board narrowly approved the project by a 5–4 vote. The Piedmont council's Holmes said the project shows how hard it can be to get a local government "to focus on environmental impacts when they're having $22 million of revenue waived in front of their face."
Loudoun County currently offers several incentives to data centers considering locating in the pockets of land still available for such commercial development. The county offers tax exemptions to data centers that invest at least $150 million, hire at least 50 employees and pay at least 1.5 times the average local wage. The county also fast-tracks such projects by providing a dedicated project manager for quicker development reviews.
"We'll get about a quarter of a billion dollars in local tax revenue this year alone from the data center industry," Loudoun's Buddy Rizer told GCN News in 2018. "Data centers are a really high return on investment for us. For every $1 we spend on services for data centers, we get $9.50 back."
In comparison, it costs the county more to provide services to single-family homes than it gets back, and for every $1 it spends on commercial businesses, it gets about $1.56 back, the article said.
Given the amount of revenue these projects represent, Miller said he'd like to see the county and state hold data centers to a higher standard for reducing their environmental impacts, rather than only offering economic incentives.
"What we would argue," he said, "is that these are the [companies] best positioned in the current economy to recapture the costs of investing in the best stormwater controls on the right pieces of land."