Farmland preservation has become an increasing priority in Cumberland County, PA, where residential and commercial development — especially for large warehouses — is putting steady pressure on what's left of the rural landscape. The drive to pick up the pace of farmland preservation has led to a budding partnership between the Cumberland County Department of Planning and the neighboring county's Lancaster Farmland Trust to see if the nonprofit organization might extend its work into Cumberland County.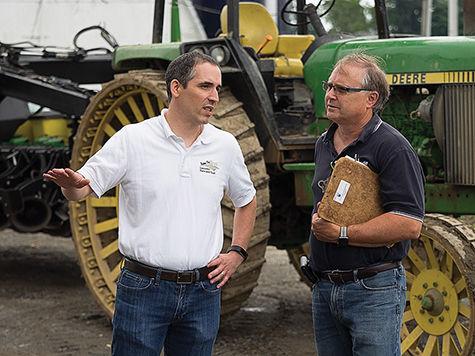 "There is definitely a need," said Jeff Swinehart, deputy director of the trust. "We heard from the community that the warehouse development is a concern of some farmers. They are worried about the growth pressures and what happens to these lands around intersections and exits as they convert to industrial and commercial uses."
Protecting more farmland in Cumberland County could also be good for the Susquehanna River and Chesapeake Bay because environmental stewardship practices can be required as part of the preservation agreement.
Cumberland County is located directly across the Susquehanna River from Harrisburg. According to the data center at Penn State University, it's been the fastest growing county in Pennsylvania for two years. Its commissioners attribute the growth to a high median income and low taxes, the attractions of approximately 55,000 acres of state parks and forests and a setting that includes approximately 154,000 acres of farmland.
The county's rich limestone soil hosts productive farms, most of which are cradled between the Yellow Breeches and Conodoguinet creeks on relatively flat, well-drained land. Plain Sect farms, including Amish and Mennonite, are common in the western part of the county. The state Department of Agriculture reports that one out of six jobs in the county is in agriculture or a business that supports it.
So far, approximately 19,000 acres of farmland have been preserved by a state-county program, funded by both sources and coordinated locally by the Cumberland County Agricultural Land Preservation Board. The program buys the development rights to the farm at an average price of $2,500 per acre, and the landowner signs a conservation agreement — a legal document attached to the land's deed stating that the property must be used solely for agriculture in perpetuity.
But farms have to meet stringent criteria to qualify for the program: Applicants are ranked by soil type, acreage and proximity to other preserved farms. The county accepts about five to eight farms from an average of 25 applications each year.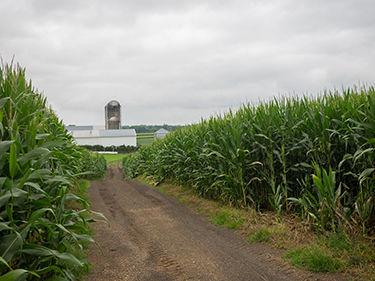 Stephanie Williams, county coordinator for the program, said that extra help may be needed.
"We wanted to see how we could preserve more farmland by means that work outside of the state program," Williams said. "There are farms in the county that don't rank well in the state program and there are farmers, particularly in the Plain Sect community, with a desire to preserve their farms but who are not comfortable working within a government program."
Private land trusts are funded through grants and private donations, and they can be more flexible in deciding which farms they accept into their program. So farms that didn't make it into the state-county program could be candidates for an easement with a land trust.
The county approached the Lancaster Farmland Trust because of its recognized success in protecting farmland, including agreements with the Plain Sect. The trust was founded in 1980 from a similar need to expand the efforts of the Lancaster County Agricultural Preservation Board. Since then, the organization has conserved 29,000 acres of farmland.
Armed with a $50,000 grant from the National Fish and Wildlife Foundation, the trust is exploring opportunities in Cumberland County by meeting with landowners and businesses, as well as municipal and county officials. They are looking to measure both potential financial support and the agricultural community's interest in working with a private land trust.
The trust expects to finish its study in early 2019. Based on its findings, the trust will then determine whether it can justify expanding services into Cumberland County, about an hour's drive from its headquarters.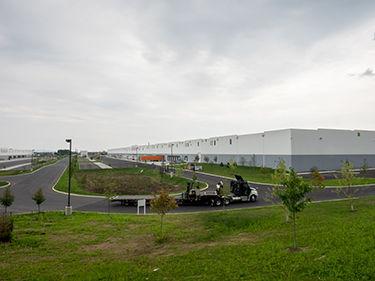 "We are excited about the possibility," Swinehart said. "We have really started ramping up our outreach. We are looking at where the opportunities are to raise dollars and to identify the highly visible leaders in the agricultural community."
So far, Swinehart said, the response has been positive. He spoke to farmers who prefer to work with a private group rather than a government agency and was surprised when one enthusiastic farmer was ready to donate an easement. Most of the county's 33 municipalities are on board.  County residents as a whole have also expressed support for farmland preservation. A 2017 survey showed that 67 percent of residents ranked farmland protection as "extremely important." The survey was completed by nearly 3,000 people as part of an update to the county's comprehensive plan.
Residents are especially concerned with the boom in large warehouse construction that has been transforming the landscape for years. Located within a few hours' drive of five ports and bisected by Interstates 81 and 76, the county has become a transportation hub for commercial goods.
This is especially true in the western part of the county, where open farmland makes for efficient construction sites. There, Amazon's warehouse alone covers 18 acres. It was built in 2010 just outside the county seat of Carlisle.
Citizens have expressed anger at the continued construction of warehouses along Interstate 81, dubbing the large structures "monster" warehouses, posting yard signs and arranging protests.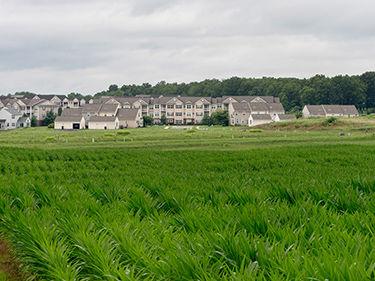 Conservation debates also heated up over the Cumberland Valley School District's recent proposal to use eminent domain to take a privately owned, 116-acre historic farmstead — which has been protected since 1986 through an easement with a private land trust — to construct a school. Crowds filled the school district's meetings in opposition. The district indicated that it would withdraw its plans after the state legislature passed a bill in June that made it harder for public entities to use eminent domain on preserved properties.
Along with addressing citizen concerns, protecting farmland can benefit the environment. That's because the preservation agreement can require the use of conservation practices that promote water quality in local creeks, the Susquehanna River and downstream in the Chesapeake Bay. Farms preserved with state funds, for example, must have a current conservation plan — a road map to needed improvements on the farm to protect soil and water quality. Cumberland County takes that one step further by requiring plans that detail manure management and erosion control.
Agriculture is the top contributor of nutrient and sediment pollution to the Chesapeake. According to the Pennsylvania Department of Environmental Protection, Cumberland County is one of five south-central counties that together contribute about 25 percent of the state's nutrient pollution load to the Bay. The others are Lebanon, Centre, Bedford and Franklin.
"When we're helping the farmer, we're also helping our waterways and the Chesapeake Bay," said Kirk Stoner, director of the county planning department, where the farmland protection program is located. "If they are going to use public dollars to preserve their farms, they also need to be good stewards of the land and water on that farm."
Owners of preserved farmland can also get priority consideration for funds that help put conservation practices in the ground. The state Department of Agriculture's Farmland Preservation Bureau recently signed a five-year $6.3 million cooperative agreement with the U.S. Environmental Protection Agency to help pay for agricultural practices on preserved farms in six southcentral Pennsylvania counties, including Cumberland.