The first inkling that something was afoot last September was the sound of thumping and whirring in the woods on the other side of Queens Creek in York County, VA.
"We could hear saws going in the morning and all day, but we couldn't see anything," said longtime resident Nancy Abbott. "And then finally one morning about 7:30 or 8 they broke through close to the creek where we could see it."
She rushed to wake her husband, Carlton. "I said, 'Oh, my God, they're cutting the trees down there at Camp Peary.' "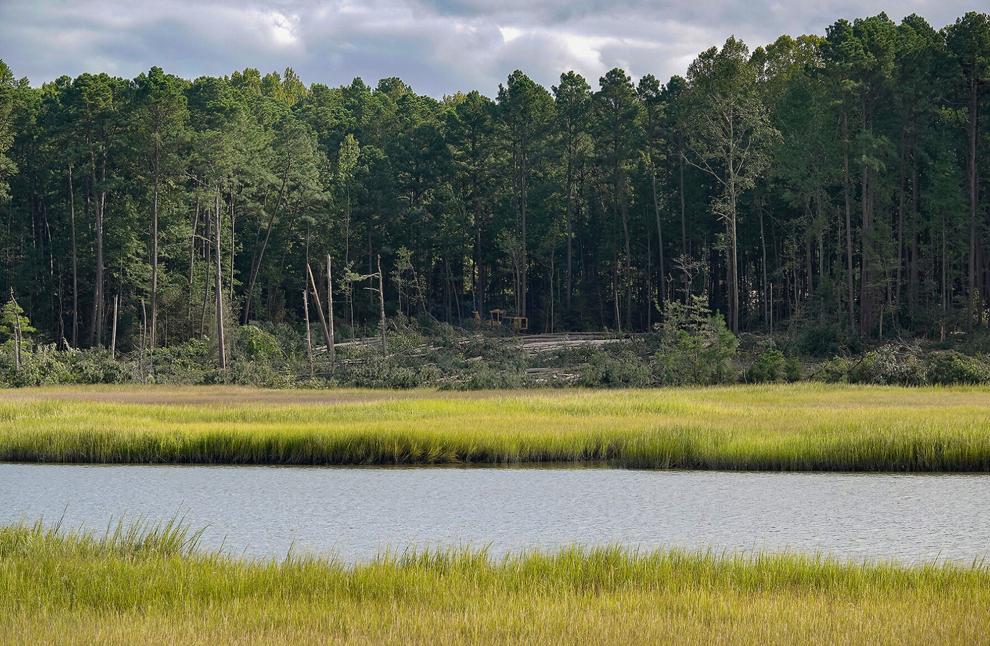 What they were witnessing from the 180-degree creekside deck of their home in the upscale, wooded waterfront Queens Lake community in Williamsburg was the removal of approximately 1,800 mature trees from 34 acres right up to the creekside wetlands.
For Camp Peary, a military installation, it was a mission critical operation, designed to bring its small landing strip into compliance with FAA regulations.
But for the Abbotts and other local residents, it was an affront environmentally and aesthetically. Their idyllic view — a wide, meandering creek with marsh on the far side and unbroken forest beyond — was scarred by the clearcut. And with no buffer between the tree felling and the marsh, residents worry about sediment and nutrients eroding into Queens Creek, which flows into the York River and, ultimately, the Chesapeake Bay.
Exceptions for federal agencies
Local and state officials said they have no oversight at military properties like Camp Peary and, if clearcuts are considered mission critical, the environmental regulations and guidelines that apply to anyone else —
like leaving a vegetated riparian buffer to protect wetlands and waterways — are pretty much irrelevant.
"We can't get on Camp Peary," York County stormwater engineer Anna Drake said. "We don't have any jurisdiction over the federal government. We don't have inspectors onsite — they have their own inspectors. And we have to assume that they're taking care of business. From what I see, they always try to, and [they] get all their environmental permits that are necessary, and from what I see they seem to follow all the laws."
"This is a federal installation," said Scott Bachman, a senior forester with the Virginia Department of Forestry. "Silvicultural water quality law is a state law. Federal properties do not have to comply with state law. They supersede state law."
On the other hand, Bachman said, every federal facility in his Blackwater Work Area,  which includes York County, has always requested that he inspect their forestry operations, anyway.
"We are not bound to do that," Bachman said. "We do that as a courtesy, and it's just the right thing to do."
He did conduct one on-site inspection at Camp Peary for the tree clearing, although it took so long to get clearance to get onto the base that the tree-felling was already over. Still, he's satisfied that best management practices for logging — like dispersing the harvest activity to prevent rutting, and scattering brush and debris to slow any overland flow — were followed to prevent erosion into the marsh.
Bachman conceded that the lack of a vegetated riparian buffer along the marsh was upsetting for residents. Virginia's Chesapeake Bay Preservation Act requires a 50-foot buffer between logging activity and water bodies. Cutting that takes place for land-use or zoning changes — removing trees to put in condos, for instance — requires a 100-foot buffer.
But this was Camp Peary, Bachman said, and "this is a mission critical thing. You might get a pass on that."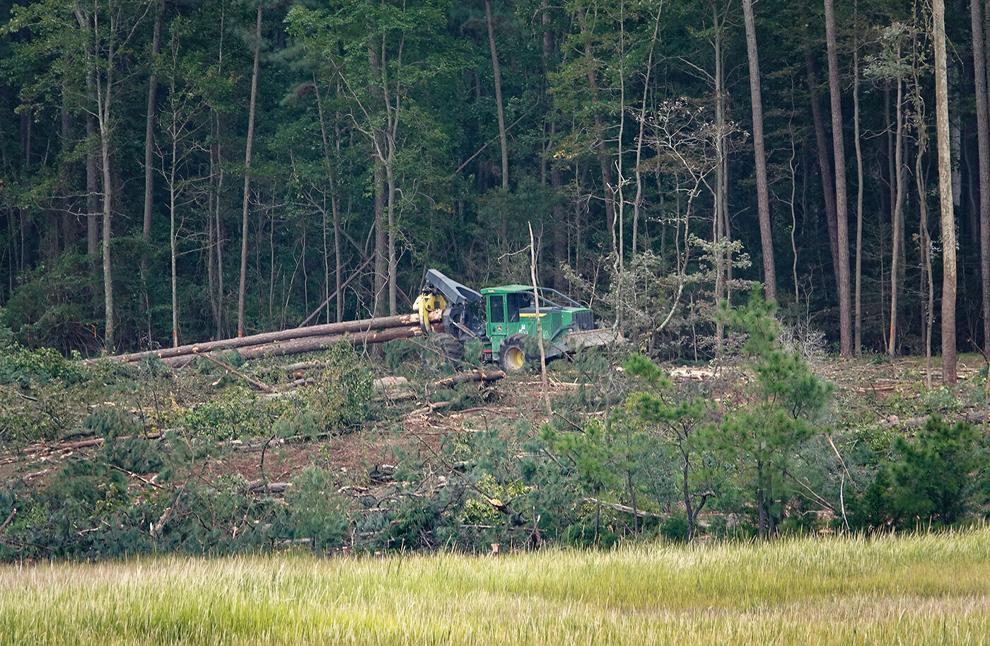 The Department of Defense is required, like all federal agencies, to make environmentally informed decisions, and the Department of Defense's Chesapeake Bay Program commits the DoD to the watershed restoration effort.
The DoD's stated goal is to "integrate restoration, pollution prevention and stewardship initiatives" for the Chesapeake Bay into its daily mission and to "partner with federal, state and local governments, and organizations and citizen groups to maximize resources and strengthen Bay restoration and protection efforts."
In 2010, the DoD signed onto a strategy written by representatives of federal agencies to help reduce nutrient and sediment pollution to waterways, restore forest buffers, restore and enhance wetlands and protect wildlife habitat, among other commitments. But pollution control exemptions are allowed on a case-by-case basis for military training or readiness for the sake of national security.
Back and forth
Camp Peary is a 9,000-acre military reservation between the York River and Queens Creek. It's named for Robert Peary, a rear admiral and Arctic explorer, but is officially called the Armed Forces Experimental Training Activity, or AFETA. It hosts a CIA training facility commonly known as "the Farm," which has earned mentions in films and in fiction. The Defense Intelligence Agency and U.S. Navy also have interests there.
The base and the private environmental consultant hired for the project didn't respond to multiple requests for comments for this article.
But an email summary provided to York County by the environmental consultant in response to residents' concerns states that the timber harvest was part of the base's ongoing timber management and forestry program and that the tree canopy's height had violated FAA flight rules.
"Trees … which adjoin the airfield have reached a height at which they are interfering with flight operations, such that the airfield is no longer in compliance," the email states.
Residents counter that the landing strip sees very little air traffic throughout the year, and they said the base didn't seriously pursue alternatives, like simply cutting back some canopy or at least leaving a riparian buffer.
The summary also claims that the tree clearing "does not require any habitat regulatory permits as no wetlands or waters of the U.S. will be impacted."
Residents strongly dispute this.
"It's a blatantly false statement," said David Malmquist, who holds a doctorate in Earth science and has lived in Queens Lake for years. "Trees obviously don't grow in the salt marsh, but runoff of sediment freed by their removal certainly impacts the marsh."
Sediment runoff is restricted under the "pollution diet" that Bay states agreed to as part of a watershedwide partnership to restore the Chesapeake.
As for the clearcutting, Malmquist said, "no private landowner would ever rightfully be given the right to do that, to cut down almost 2,000 trees within a Resource Protection Area, which is in direct contradiction to the spirit and the letter of the law about leaving a riparian buffer along a creek."
"And it's not just the trees," he added. "It's all the animals that live in the trees and the shorebirds and the viewshed."
Residents are also upset that they weren't notified in advance of the clearcutting plan and that Camp Peary and the environmental consultant wouldn't respond to their concerns once the logging began.
'It didn't have to be this disastrous'
Carlton Abbott is an award-winning architect who has worked on numerous national, state and urban parks, including projects on the George Washington Parkway and the "Historic Triangle" of Yorktown, Williamsburg and Jamestown.
His late father, Stanley Abbott, was a renowned landscape architect and primary designer of the Blue Ridge Parkway. Stanley Abbott bought a little more than 5 acres along Queens Creek in the 1950s, and in 1966 father and son designed and built the family home, which was once featured in Southern Living magazine. Carlton and Nancy Abbott have lived there since 1987.
The home's deck is fronted by walls of windows to take in the breathtaking view of a waterway that at one time took George Washington to the House of Burgesses.
When visitors see the view now, Nancy Abbott said, "their jaws drop. They gasp. It's such a scar."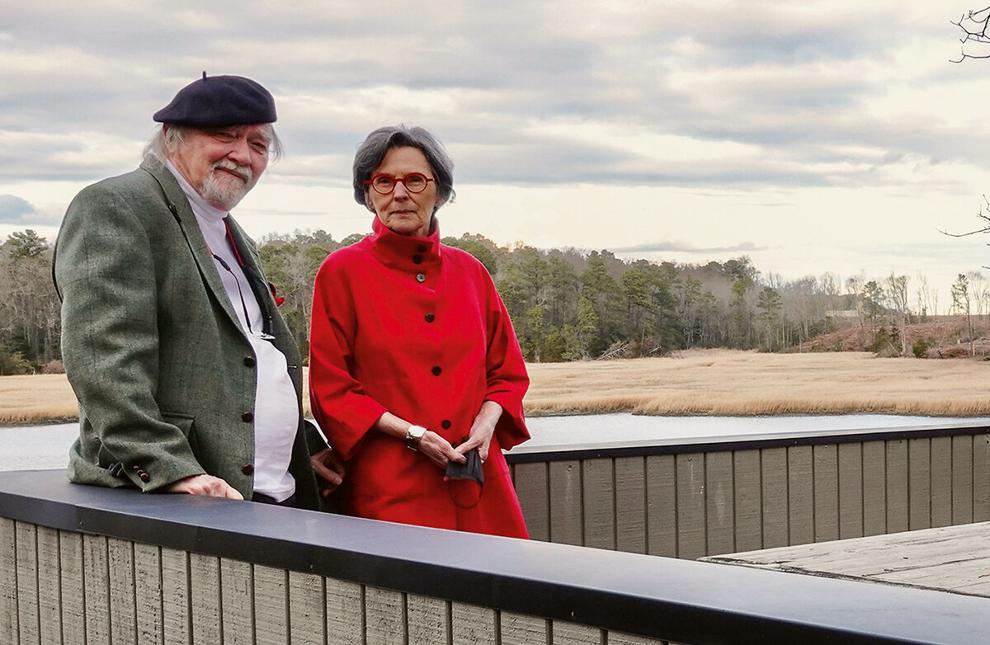 With the trees gone, the Abbotts now have a view of industrial buildings on the base. And, at night, safety lights shine across the creek.
Carlton Abbott says he avoids the deck now "because I don't want to get depressed about it."
"I love my government," he added. "But it didn't have to be this disastrous."
"For me, it's a punch in the gut," Malmquist said. "I feel like our neighborhood is under siege environmentally. On one side, we have the Interstate-64 widening, and they cut down all the trees on that side. And this is a place where the entire neighborhood recreates on the creek. There's our marinas. It's where everybody walks their dogs and the beautiful — the previously beautiful — view over Queens Creek. And the clearcut is right where you look. You can't avoid it."
Bachman says Camp Peary plans to replant the site with short-leaf pines that are slower to grow than the loblollies and other species that got harvested, reducing the need to clearcut again for a while. And the site will naturally regenerate over time.
"It's certainly a changed view," Bachman said. "And that view will change every year. But it's going to remain in woody vegetation. Will it be 80-foot tall? No. But it will be in woody vegetation. It's not going to be in concrete. It's not going to be riprapped."
But the Abbotts doubt they'll be around to see the trees return.
"By the time the trees grow back, our time here will probably be gone," Nancy Abbott said. "So it'll never in our lifetime be what it was. That's what's the most devastating. We've held this property as sort of sacred. I feel a little selfish in a way because we've had our own 'national park' for years. And I know that it'll never be, in our lifetime, the beauty that it had been."