Look closely as you stroll through Fairwood Forest, and you might spot a tiny fairy or gnome lurking in the greenery at the base of a big oak or poplar tree. The fanciful images are a bit of whimsy, planted by a neighboring resident who has long hoped to protect this sylvan oasis in Northeast Baltimore from the bulldozer.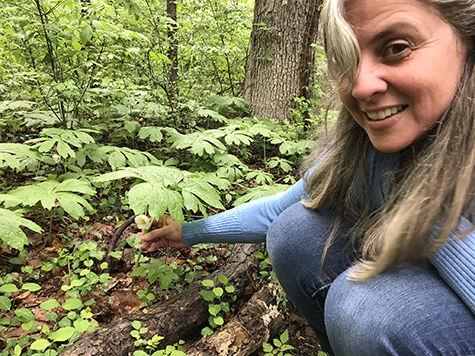 For years, Daisy Sudano-Pellegrini and her neighbors in the Glenham-Belhar community have tended to this once-neglected swath of woodland surrounded by homes and apartments. As unofficial forest stewards, they've repeatedly removed trash and invasive vines, blazed trails, documented its flora and fauna and strove to persuade its owners to spare it from being developed.
"This entire area was nothing but kudzu, all the way out to the street," Sudano-Pelligrini recalled recently as she stood just inside the copse of trees. It's been a constant struggle, she said, but with the vines cut back, they were able to harvest enough fruit from a wild cherry there to make a pie.
Now, the community's labors have paid off in a more lasting way. Most of this nearly 4-acre forest patch has been permanently preserved. On Saturday, residents will gather to celebrate the donation of three-fourths of the woods to Baltimore Green Space, a nonprofit environmental land trust that worked with them to reclaim and protect it.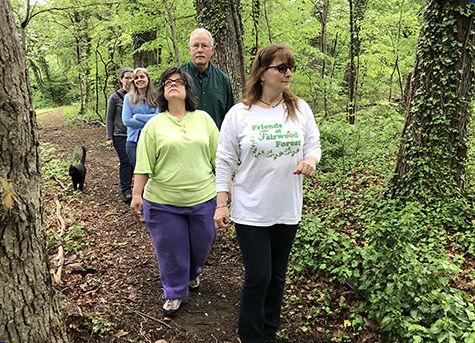 Since its founding in 2007, the land trust has succeeded in securing 15 community gardens and unofficial pocket parks across the city that were vulnerable to being developed.
Fairwood Forest is the first woodland the trust has acquired, but there are plenty more in need of such help. Twenty percent of Baltimore's tree canopy is in small privately owned forest patches. If they aren't protected and taken care of, the city will have a much harder time reaching its goal of covering 40 percent of the landscape with tree canopy — it's at just 28 percent now.
Many of these patches, left undeveloped because of rough terrain or lack of easy access to utilities and roads, are choked with litter and invasive plants. But they can still offer the same ecological benefits associated with larger forests, advocates say, and research tends to back them up. The trees absorb climate-warming carbon dioxide and filter out other air pollutants as well. Forest vegetation and soils help to reduce sediment and nutrient pollution in streams, and provide habitat and food for birds and other animals.
They also benefit people, offering cooling shade that reduces the "heat island" effect in paved-over cities, as well as supply food for those willing to forage for wild cherries and the like. Places like Fairwood Forest also offer city children and their parents a chance to experience nature.
"You know, there's a social justice component to this," said Eugenia Argires, another neighbor. "It shouldn't be that only families and children from affluent communities get to enjoy the benefits of a forest walk, and I think that's really important, because, you know, our community is not affluent."
Neighbors say Fairwood Forest, with 24 species of trees, is a natural gem supporting part of a hawk migratory flyway and a wildlife area where visitors can see foxes, raccoons, opossums and salamanders. One birder is said to have identified more than 200 species there since the 1990s.
"The dogwoods are so beautiful right now," said Miriam Avins, executive director of Baltimore Green Space, who is stepping down after leading the group the last 12 years.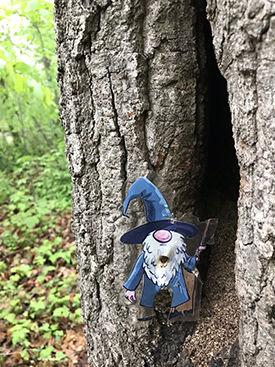 Through regular, twice-monthly cleanups, neighbors have been reclaiming the woods and nurturing the comeback of native vegetation, such as Solomon's seal, which covers the ground with long, arching stems and clusters of bell-shaped flowers. At another spot, Sudano-Pelligrini pointed to a patch of mayapples in an area she said was once overgrown with poison ivy.
To try to make the forest even more fun for people to explore, Sudano-Pelligrini tacked little fairy and gnome images to trees and set up a scavenger hunt, hiding coins in various places for children to seek out. Part of that, she explained, is to overcome perceptions built up over years of neglect that the woods are an unsavory place to be.
"We want to do more community events to show people this is not just an eyesore, it is cared for, it's not a scary place," she said.
The campaign to preserve Fairwood Forest began six or seven years ago when neighbors noticed some little survey flags in the woods and learned of one property owner's plans to build homes on a few of the lots there. With help from Baltimore Green Space, neighbors organized, began to clean up the woods and spread the word about its value to the community.
Then, a couple years ago, the effort kicked into "hair on fire" overdrive, as Argires put it, after she overheard two men standing by the woods discussing plans to cut down a big swath of the trees.
Katie Lautar, Baltimore Green Space's program director, recalled how the land trust and neighbors researched the ownership of the various parcels that make up the forest, and dug into the regulatory and economic hurdles any developer of the tract would face. They enlisted the Glenham-Belhar community association to help, as well as their local City Council member.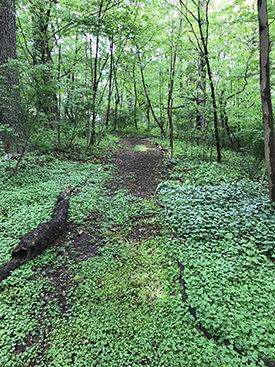 They ultimately succeeded in getting a pair of owners of three-fourths of the woodlands to donate the land, but then had to raise about $15,000 to cover property taxes, transfer fees and other costs to complete the handover. As part of the deal, the community signed a written long-term agreement to maintain the woods.
"The only reason we protect it is because the community is caring for it," Avins said.
The forest is not yet completely free of development threats. Parcels at either end remain in private hands. But residents say they intend to remain vigilant.
Lautar, who is slated to succeed Avins as executive director, said the organizing and tactics employed in securing Fairwood Forest now serve as a template for future campaigns to preserve other threatened forest patches. She said she also hopes to persuade city officials to tighten Baltimore's tree ordinance to protect the many small woodland patches. The city now only steps in when a landowner plans to remove at least 20,000 square feet of trees — but elsewhere the city code defines a forest as half that size or smaller, Avins pointed out.
In the meantime, residents plan to mark their success in preserving most of Fairwood Forest for the community. On Saturday, from 1 p.m. – 4 p.m. in the 5000 block of Fairwood, they're planning a variety of activities for children and adults, including hikes, bird-watching, crafts, a tree giveaway and another scavenger hunt.