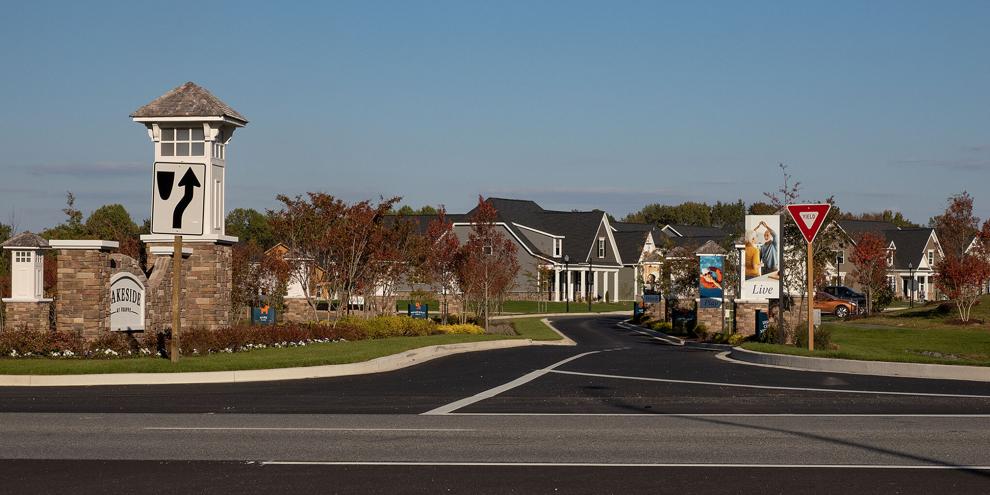 Plans to create what would essentially be a new city on Maryland's Eastern Shore have been put on a short leash, at least for now, amid public concern about its potential to pollute a Chesapeake Bay tributary.
The Maryland Department of the Environment has scaled back a key permit sought for the Lakeside development in Trappe, which proposes 2,501 homes and apartments and a small shopping center around an old quarry pond in southern Talbot County. If fully built, the project could eventually bring a sixfold increase in the town's population of about 1,000 residents.
MDE nearly two years ago had tentatively approved plans to build a new sewage treatment plant in Trappe to serve the Lakeside development. The developer proposed spraying an average of 540,000 gallons of treated wastewater daily on adjoining farm fields rather than the usual method of discharging it into a nearby creek. That's because the 800-acre tract on which Lakeside is to be built surrounds the headwaters of Miles Creek, a Choptank River tributary that is already overloaded with nutrient pollution.
State regulators said that through "spray irrigation," the nitrogen in the wastewater would never reach the creek because it would be consumed by crops of meadow grass to be cultivated on the adjoining farmland. But environmental groups and neighboring Talbot County residents challenged that, arguing that it risked seeping down into groundwater and eventually to the creek.
On Oct. 27, MDE, citing the public comments it had received, declared it would permit spraying of only 100,000 gallons of wastewater daily — limiting the Lakeside development to building just 400 homes for now. The agency also ordered groundwater monitoring and set additional conditions on the spraying.
MDE said any increase in wastewater spraying beyond that would require a "major permit modification" and would be subject to additional public review and comment.
Environmentalists welcomed MDE's action but said they remained concerned about the potential harm to water quality when spray irrigation is used to permit growth in an area where rivers and streams already are suffering from nutrient pollution.
Alan Girard, the Chesapeake Bay Foundation's Eastern Shore director, credited MDE with taking a "more measured approach" by approving only a fraction of the proposed wastewater spraying at this time. That way, he said, before the developer can get a permit to expand, regulators and the public can see if the system operates as promised and keeps nutrient pollution out of groundwater and the creek.
"It appears the agency listened to feedback from the community," Girard added, "although it's unfortunate that public outcry once again drove MDE to revisit its approach rather than fully ensure water quality is protected in the original draft permit."
The Bay Foundation and another environmental group, ShoreRivers, had both sued MDE after it tentatively approved the developer's spray irrigation plan. A Talbot County Circuit Court judge forced the agency to hold a new public hearing and take more comment on it. More than 100 people packed a public hearing in Easton a year ago to oppose the development, and many more submitted written comments. The foundation and ShoreRivers also jointly presented an engineering study contending that MDE had relied on outdated formulas and faulty assumptions in approving the permit.
Matt Pluta, the Choptank Riverkeeper with ShoreRivers, agreed that MDE's final permit is better than what it had initially approved. But he said he still does not believe MDE adequately addressed concerns about the risks of pollution from spraying wastewater on land. Studies show that 70% of the nitrogen in Eastern Shore rivers seeps in from groundwater, he noted, and records show that MDE inspections of other spray irrigation wastewater systems in Maryland found noncompliance with permit requirements 54% of the time.
"There are more limits in this permit than there were two years ago," Pluta said, "but in our view there's still too much unknown in terms of operating and weather conditions … Time will tell if the river is harmed by this."
MDE spokesman Jay Apperson said the agency "has always been clear that public participation is a crucial component of our permit application review process. In this instance, after careful consideration of the public comments received, MDE issued a science-based permit that placed further limits on when, where and under what conditions spray irrigation can take place, among other changes."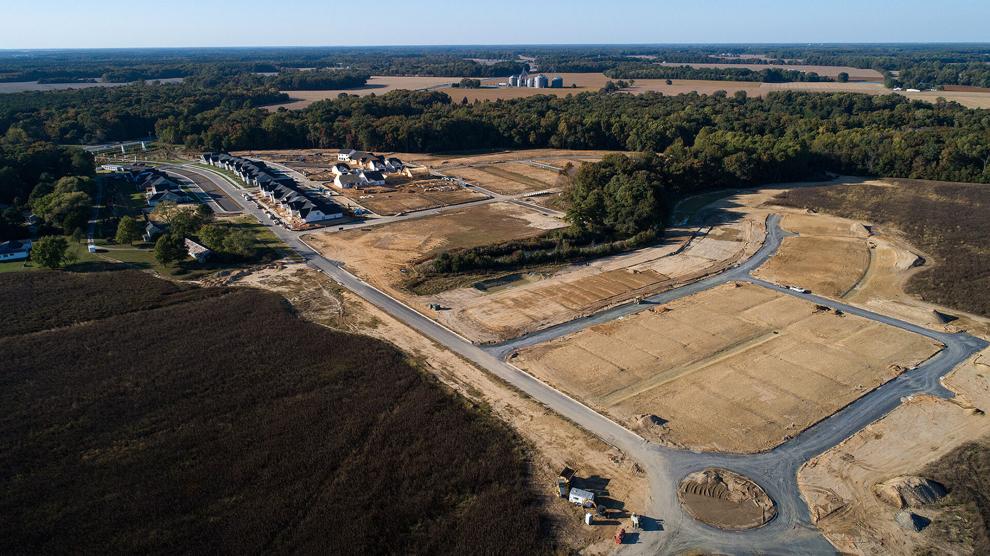 Apperson noted that the Lakeside project will require a series of other water-related permits, including those preventing stormwater pollution and harm to wetlands.
Ryan Showalter, an Easton lawyer for the developer, Trappe East Holdings, also welcomed MDE's decision, saying it wouldn't affect the timing of the project. The developer had always planned to expand the project in phases that would increase the daily wastewater volume in 100,000-gallon increments, he said. Having to go through additional public review for further development will demonstrate the soundness of spraying it on farmland, he said.
"The terms and conditions of the permit and the treatment provided by the new wastewater treatment plant will keep nutrients out of the Chesapeake Bay," Showalter added.
Even though MDE's final decision was just announced late last week, construction is already well under way because while the permit was pending, the agency allowed the developer to pipe wastewater from the first 120 homes to the town's sewage treatment plant. 
That added to the controversy. The town's treatment plant is outdated and discharges into LaTrappe Creek, another Choptank tributary that's likewise impaired by nutrient pollution. According to a U.S. Environmental Protection Agency database, that plant was in significant noncompliance in the first six months of 2021 after exceeding discharge limits for nitrogen, and another unspecified violation was identified there in the last three months.
In its final decision, MDE specified that the wastewater being piped to the town's treatment plant would have to go to the new facility once it's built because it is planned to have a better nitrogen removal system. Showalter said construction should be complete in about 18 months.
The Lakeside development still faces a lawsuit and political headwinds. A group of Talbot County residents sued MDE in May for letting construction begin after the county planning commission withdrew its approval of the development.
The five-member commission voted to rescind its 2020 endorsement of the project upon learning of the problems with the town's treatment plant. But the county council refused to go along with the commission and, in March, narrowly rejected a resolution that would have altered its previous support of the development.
Dan Watson, the lead plaintiff in the Talbot residents' lawsuit, said that while he's glad MDE responded to public concerns by scaling back the spray permit, it doesn't change the lawsuit's contention that MDE improperly allowed construction to begin by ignoring the planning commission's revocation of its endorsement of the project. 
A hearing on the lawsuit is scheduled in December. Meanwhile, Lakeside has become an issue in the upcoming county election. Watson and some other like-minded residents have endorsed a slate of candidates for county council who have pledged to revisit the council's backing for the project if elected.
MDE's Apperson stressed that "local land use decisions governing development are the responsibility of local jurisdictions." But he added: "For a locally approved project, MDE is committed to ensuring all necessary safeguards are in place to protect the environment and public health."
Nicholas Newnam, president of Trappe's town council, made it clear that the development has the support of town officials, who believe the growth is necessary.
"We support MDE's decision on issuing the discharge permit for The Lakeside Development with the conditions noted," Newnam said, "and we will continue to support the development moving forward."