When a hiking guide stops dead in his tracks on a trail, it's often to point out a rare salamander crossing the path or an endangered bird singing in the treetops. But, at Crow's Nest Natural Area Preserve in Stafford County, VA, the experts pause for plants.
On a recent hike, they stooped over the leaves of a yet-to-bloom orchid and pointed out the expansive crowns of chestnut oaks and tulip poplars that survived Colonial era farming. Gary Fleming, a vegetation ecologist with the Virginia Department of Conservation and Recreation, stopped to marvel at a groundwater seepage wetland, vibrant with skunk cabbage leafing out of the soggy soil in late March.
Each of these plant communities — some of them globally rare — helps to explain why this property of more than 3,000 acres became a top priority for state preservation funding in 2008 and 2009. But none of them tells the story as well as the data.
Big data and the systems that help make sense of the numbers now form the backbone of modern life, orchestrating everything from shipping containers to the NFL draft. Natural resources are no exception. Increasingly — with the help of organizations like NatureServe — an abundance of biodiversity data is being harnessed to preserve landscapes with value that is otherwise hard to quantify.
"It's not just the plants" that are unique at places like Crow's Nest, said Sean O'Brien, president and CEO of NatureServe, an umbrella organization that manages the type of biodiversity data that helped set this landscape apart. "It's the soil, the insects, the associated animals, the whole community."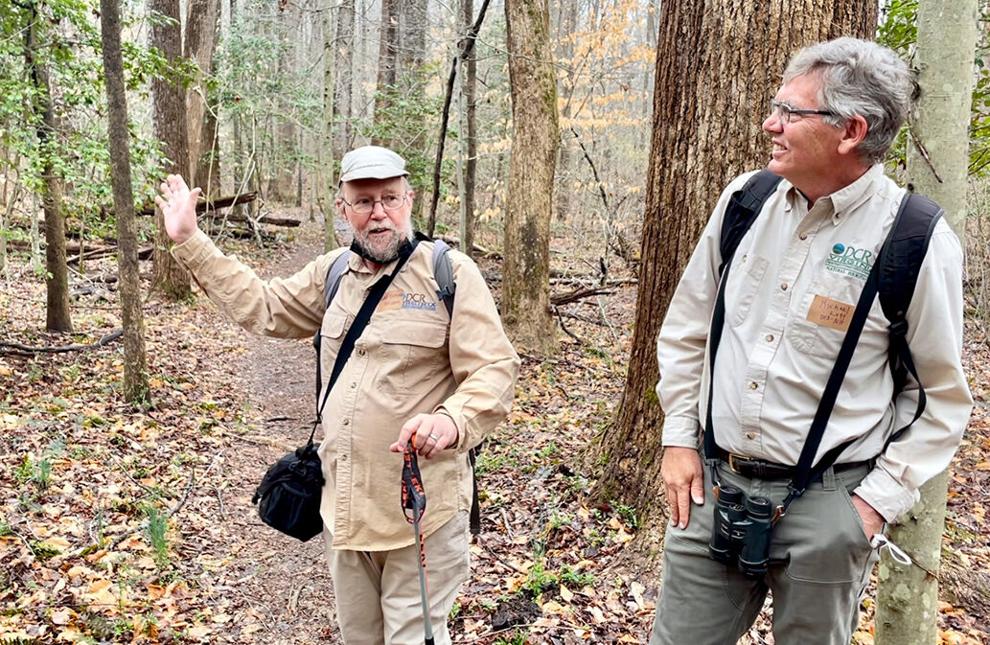 Similar to the methods that determine whether a species is considered endangered, NatureServe uses a classification system to assess entire ecosystems or habitat types. That system was used, for example, to identify the biodiversity value of Crow's Nest. Synthesizing huge amounts of biodiversity data — NatureServe scientists processed nearly 100 million data exchanges in 2020 alone — allows decision makers to determine which places are most in need of saving, even if they don't have an iconic species steering the way toward preservation.
That was the case, at least, at Crow's Nest. The state and Stafford County paid $34 million to preserve the land from development in 2008 and 2009 after a regional trust brought it to their attention. The now mostly preserved peninsula is carved out from Stafford County in Northern Virginia by a pair of large creeks on their way to the Potomac River. While portions of the county have been developing at a breakneck pace, this piece of land remained relatively untouched and somewhat undiscovered, with ridges and ravines making it difficult to traverse in places.
"So, when they were trying to determine the future of this place," O'Brien said during the hike at Crow's Nest, "they were able to use [ecological] community information, not just species information, to say that this was an interesting and important place to save."
Tom Smith, deputy director of operations for the Virginia DCR, remembers working at The Nature Conservancy in the 1980s when, he said, conversations revolved almost entirely around whether a rare animal or plant existed on a landscape. It could be frustrating to make a broader case for saving a unique ecosystem.
"As a vegetation ecologist, we spent a number of years arguing that we could also identify these significant [plant] communities, and that they need to be as high or a higher priority for biodiversity conservation," he said.
NatureServe has championed that idea since its inception 50 years ago, originally as a collaborative project between the Natural Heritage Network and The Nature Conservancy. Built on the idea that the ecological diversity of places could be measured and, in some cases, improved, NatureServe's database now informs land-purchasing strategies as well as restoration work across the Western Hemisphere.
Road trip
NatureServe's O'Brien, who lives in Arlington, VA, invited officials to join him for the Crow's Nest hike in late March to kick off a road trip to similar sites across the country. O'Brien converted a utility van into a camper — complete with woodgrain-fabric seat covers made by his brother — for the occasion, deeming it "Van Humboldt" as an homage to the German naturalist Alexander von Humboldt.
One of O'Brien's goals for the trip is to remind partners in each state — and the funders of NatureServe's programs — of the inherent value of these natural areas.
What sets NatureServe's data apart, O'Brien said, is its symbiotic relationship with state-based Natural Heritage Programs. Those on-the-ground experts collect and confirm environmental data; NatureServe then analyzes the data, makes it comparable with other data points and helps communicate it back to stakeholders. Every state has a Natural Heritage Program, but some are more robust than others, reliant as they are on state funding.
Mike Lott, Northern Regional Natural Areas Stewardship Supervisor for Virginia's DCR, was one of those state partners who helped map natural resources at Crow's Nest when it became clear the land could be conserved.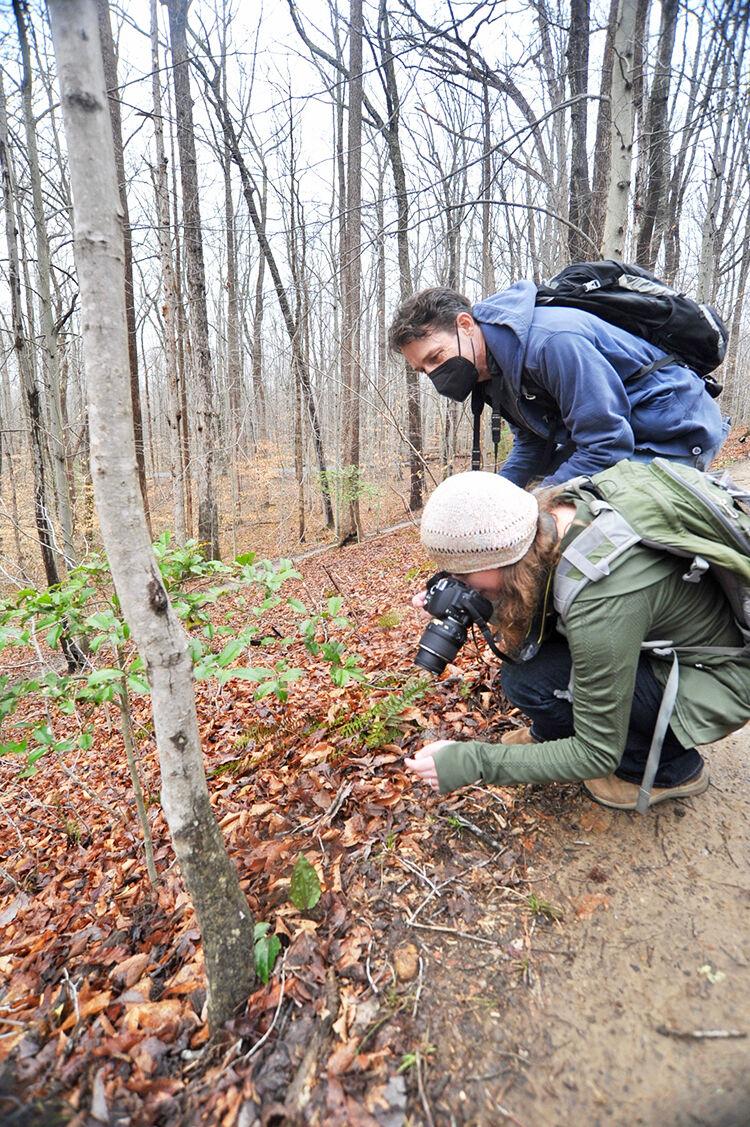 The movement to protect Crow's Nest started back in the 1970s after a project that never got financed in the '60s proposed placing pyramid-like housing along the shoreline with marinas, a golf course, airport and convention center. Another project to place approximately 700 larger lots for homes on the land gained steam in the early 2000s. Somehow, one owner remained for nearly 3,000 of the peninsula's acres when the state made the two-part purchase.
"This trail would have been the main road, and then every ridge would have had a cul de sac," Lott said.
Now, visitors can explore a trail network that winds through the woods from a small parking lot straight into globally rare types of forests. On either side of the trail, towering oaks make breathing room for a leafy understory of pink-flowered mountain laurels, black huckleberry bushes and wild azaleas, creating a textbook example of an oak-heath forest.
Around a bend farther down the trail, the understory opens up, revealing an entirely different type of forest. This one is rare, too, in part because so many others like it across the Coastal Plain were cleared or logged.
"What's unique about Crow's Nest is the topography here didn't lend itself to farming across a wide scale," Lott said, "so the forest out here is pretty mature for the Coastal Plain. It was considered maybe the best Coastal Plain hardwood forest in Virginia that wasn't protected when we purchased it in 2008 and '09."
That means a few of the "relic trees," as vegetation ecologist Gary Fleming calls them, are up to 200 or 300 years old. Many nestled in the ravines are about 100 years old. Now that those trees are on protected land, they are part of a landscape that's trending toward old growth.
Fleming, who is also with Virginia's DCR, said that, "In another 50 years, it will be a legitimate old growth forest by any definition."
O'Brien remarked on how unique it is to protect such an old landscape so close to ever-changing Washington, DC. Data, he said, helped conservationists realize the value of the landscape even before it could be fully plumbed on foot.
"It's really exciting to be in suburban Washington and see globally endangered habitats," he said.
Conserve or not?
These are the types of places Virginia conservation officials want to be ready to preserve when the opportunities present themselves. And big data is the tool they intend to use more and more, said Joshua Saks, Virginia's Deputy Secretary of Natural Resources.
The state consults ConserveVirginia, a tool that uses data to identify landscapes that are worthy of preservation for any number of criteria. Layers of digital maps help decision makers hone in on properties that could protect endangered ecosystems while preserving history and enhancing resiliency to flooding, for example.
"We don't want to just stop development. We want to protect water quality, wildlife, recreation areas, scenic vistas — all of that," Saks said during the Crow's Nest hike. "Everybody thinks the place they live is that, but we can use this science and data to show us."
Saks said the technology, which came online in the last couple of years, could help identify "the next Crow's Nest." It will also help to identify areas that do not meet any preservation criteria but might be good places to locate solar panels and help meet energy goals for the state.
Pennsylvania is also using data-based maps to guide development and preservation, requiring new projects to run their concepts through the NatureServe-backed network to make sure there aren't conflicts with endangered spaces or species before they break ground.
"For a long time, in the land conservation space, the concept was 'more is better,'" Saks said, noting large acreage preservation goals of previous governors. "But now we know that more isn't better.  Better is better."
Not every piece of land will produce the same reductions in nutrient and sediment runoff, for example. One that hits all of the marks could help the state save money on wastewater treatment upgrades elsewhere in that watershed, while protecting a space that is culturally or ecologically valuable.
As more of the landscape gets developed, those decisions will continue to get more complicated.
"None of these things just spit out the answer," Saks said. "But having this and understanding what's good and bad about the land you're dealing with is like, what power! You can make really informed decisions."
Cover photo: Northern spicebush blooms golden yellow at Crow's Nest Natural Area Preserve in Virginia during late March. (Whitney Pipkin)