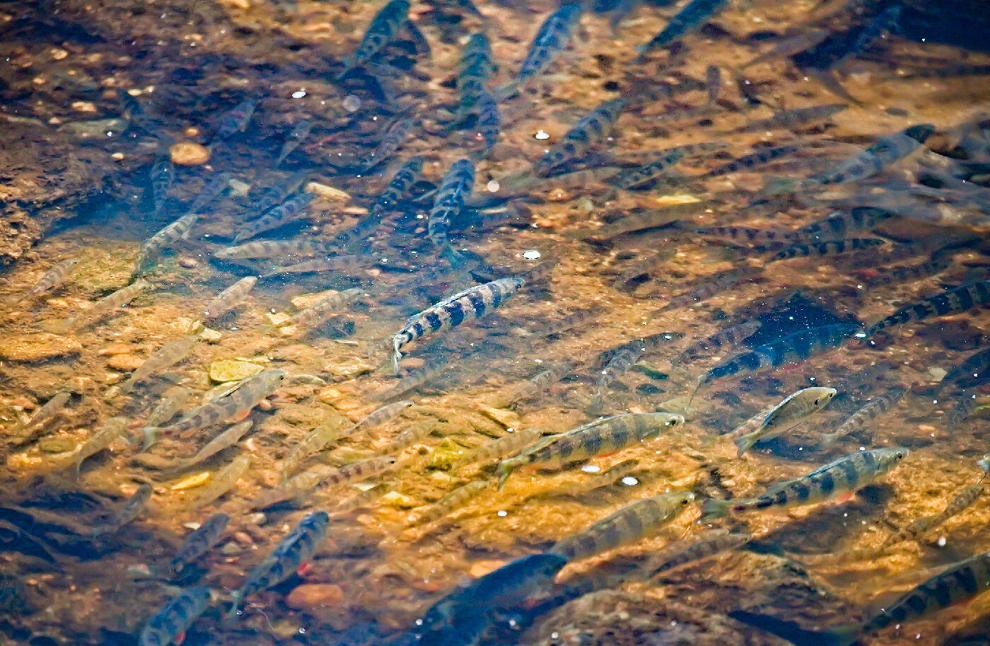 If hope springs eternal, spring brings eternal hope to Paul Spadaro.
As winter wanes, Spadaro, longtime president of the Magothy River Association, patrols this Chesapeake Bay tributary north of Annapolis to look for the return of yellow perch. Those golden yellow fish with dark vertical stripes herald the approach of spring by swimming up the Bay's rivers and streams to spawn in freshwater.
Decades ago, their reproductive runs drew anglers out of their homes in droves for their first fishing trip of the year. They would line creek banks or go out in canoes or skiffs and try to fill a creel with the panfish.
The fish are less plentiful now, and so are their pursuers.
But the annual mating ritual persists, as do the watchful eyes of Spadaro and members of the Magothy watershed group. They are trying everything they can — against long odds and some official skepticism — to restore yellow perch to their historic abundance in the river. 
"It's a keystone species," he explained. "If the river is producing yellow perch, it does mean the river is on a comeback."
Perca flavescens, as they're known to scientists, are found in tidal rivers and streams but also in freshwater lakes and reservoirs from Canada to the Carolinas. In the Chesapeake, they supported a robust commercial fishery in the early 1900s, but catches dwindled over time.
From the late 1970s into the early 1990s, yellow perch reproduction was "very, very, very poor," said Paul Piavis, finfish program manager for the Maryland Department of Natural Resources.
In Maryland, the population had dropped to such alarmingly low levels by 1989 that the state imposed a catch moratorium in some Bay tributaries. Recreational anglers blamed the commercial fishery, and watermen blamed pollution and development.
Striped bass, the Bay's most prized finfish, was already under moratorium at the time because of perilous declines, so the state shut the yellow perch fishery down out of an abundance of caution. A few years later, after observing a couple of springs of robust spawning, DNR partially reopened yellow perch fishing.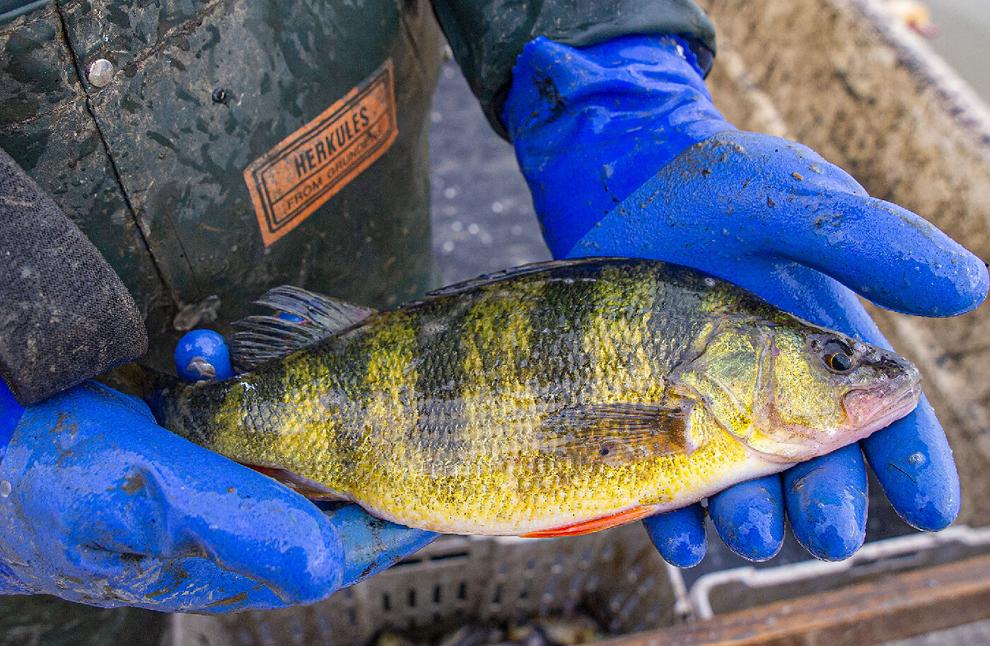 The fish have rallied, and an uneasy truce has been reached over their management, with size and creel limits for anglers and limited commercial netting allowed only in the Upper Bay and the Chester and Patuxent rivers.
"The perch are up and down, but I think they're fairly stable," said Mike Benjamin, who with his father runs a tackle shop in North East, MD, once the home of an annual yellow perch fishing tournament.
Benjamin said the fish don't seem as plentiful as they were a dozen or so years ago, but the ones they're catching are as big as they've ever seen. "It's a lot better than when I was a kid," he said, adding, "You just couldn't catch them. They weren't there."
Creel limits have increased for anglers from five to 10 fish per day. The commercial fishery remains tightly regulated, with a "slot limit" on the size range of legally catchable fish and catch quotas for the Upper Bay and its tributaries, adjusted annually based on trawl surveys done each winter.
Ups and downs
In recent years, the yellow perch population has been essentially stable, Piavis said, with a bountiful spawn every few springs offsetting poor reproduction in other years.
Since 2017, the roughly two dozen commercial fishermen licensed to net yellow perch in the Upper Bay haven't come close to catching their limit. Likewise for the much smaller fisheries in the Chester and Patuxent.
Paivis said the population is "in a declining phase" now, without a banner reproduction the past few years to generate a rebound. As a result, DNR cut the commercial catch limit by more than 40% for the 2021–22 season. By the end of March, with the spawning run largely over, it still had not been reached.
"We're still holding our breath for a good one, for a good spawn," Piavis said. "I don't have a whole lot of hope for this year. It should be OK. We'll see."
Steve Lay of Havre de Grace, who fishes for yellow perch both commercially and for personal consumption, blamed the subpar harvests not on a scarcity of fish but on unfavorable weather and reduced market demand for fresh fish of any kind.
"The last two years, we haven't had winter," he said. As a result, the water didn't get cold enough to prompt yellow perch to school up, which makes it easier to fill a fyke net.
But fishermen are seeing more yellow perch in the Choptank and Nanticoke rivers, Lay said, which have remained closed to commercial harvest.
"It's kind of a shame that there is a sustainable population there, and it could be harvested on a limited basis."
Mike Luisi, acting DNR fisheries director, said the department hasn't been willing to do that so far because it lacks sufficient data on the yellow perch populations in other rivers.
"We've got to prioritize," he said. "We can't survey the entire Bay specifically for yellow perch. It takes too much staff time and resources."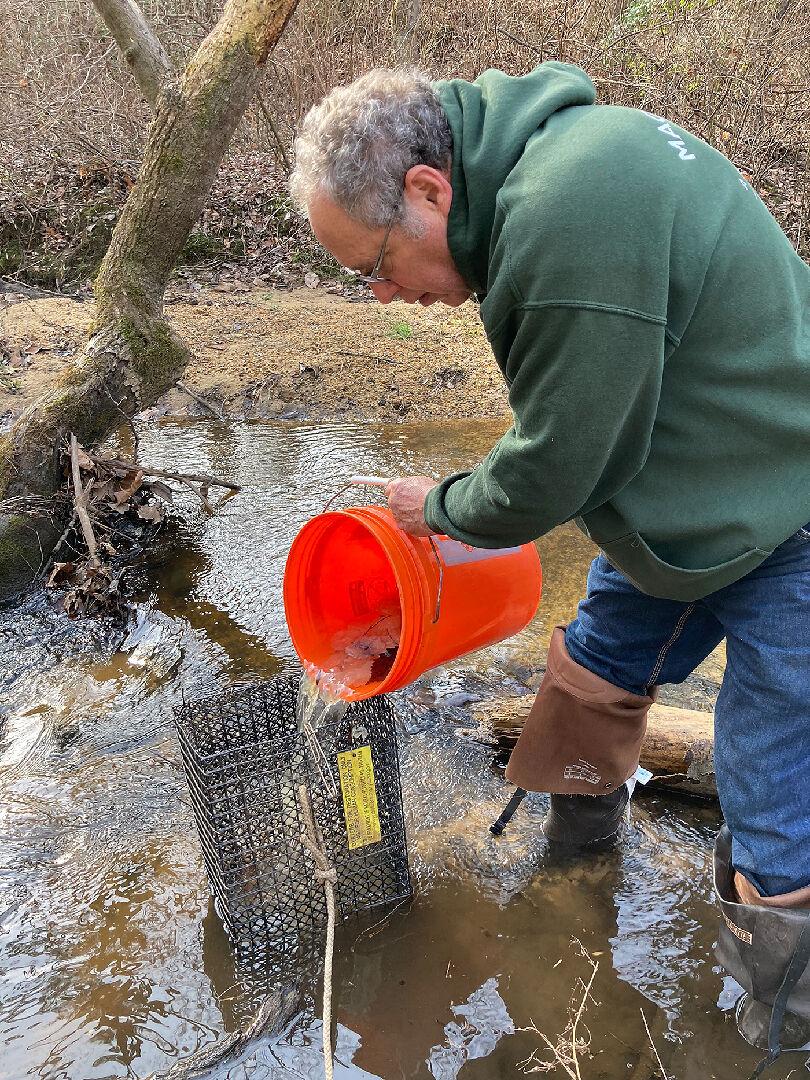 That aside, Luisi said he considers DNR's management of yellow perch a success story. By varying the commercial harvest quotas based on regular surveys, he said, the population in the Upper Bay has essentially stabilized.
"We can't always control the reproductive success and recruitment success [of fish]," he said, "but one thing we can control is the harvest."
There is a cloud on the horizon, though. Piavis said there's been a dramatic increase in the number of blue catfish found in the Upper Bay trawl survey. The nonnative fish is a top predator, which could literally eat away at populations of yellow perch and other native fish there.
"It has us all on edge as to what the impacts are going to be over time," for yellow perch and other species, Luisi said.
Tenacity on the Magothy
On the Magothy, the outlook for yellow perch is even murkier. The recovery seen in the Upper Bay and on the Eastern Shore didn't seem to occur in Western Shore tributaries. The translucent streamers or ribbons of eggs released by female yellow perch for the males to fertilize were scarce, and of those that could be found, comparatively few hatched.
"We could find egg chains, but the eggs were dead," said DNR fisheries biologist Jim Uphoff.
Scientists saw abnormalities in some eggs, which suggested the fish might be suffering from contaminants in the water. Uphoff said the tributaries with the most abnormalities had the most development in their watersheds, though the precise culprit or culprits remain a mystery.
Yellow perch show up every spring in the Magothy and other Western Shore tributaries, but genetic analysis indicates they were spawned in the Upper Bay rather than locally, scientists said.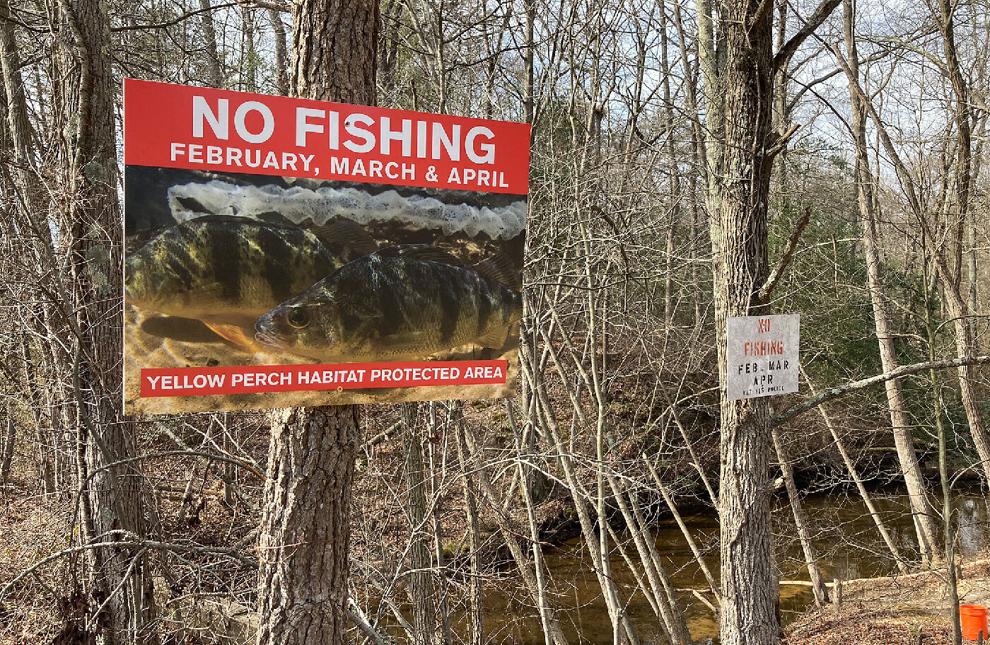 Even so, Magothy advocates have refused to give up. They began doing annual counts of the telltale egg sacs, then collected some for DNR to try raising in a hatchery. About half proved viable, but doubts remained about whether those hatchlings could survive to adulthood. When association leaders worked with DNR to sample the river for nearly microscopic fish larvae after the spawning run, they found that about 10% were alive.
"That's not great,'' said Sally Hornor, the Magothy association's vice president and a retired ecology and microbiology professor from Anne Arundel Community College. "You'd like to see more, but it's something."
The basic problem, Hornor said, is that more than 20% of the Magothy's watershed is covered by pavement and buildings. Those "impervious surfaces" produce flashy runoff that can carry sediment, oil and other contaminants. Perhaps more significantly, it also alters stream flow and temperature and causes the banks to erode — all potentially factors affecting the survivability of fish eggs and larvae.
A recent study, yet to be published, did not find any clear differences in the viability of yellow perch eggs from the Eastern Shore and from the Severn River, just south of the Magothy, which has a similar degree of development.
Alex MacLeod, a University of Maryland graduate student, said his research found a small number of abnormal eggs, a possible indicator of chemical contamination, from fish sampled on both sides of the Bay. After seeing less natural debris and vegetation to which fish eggs might attach in the Severn, he said he believes that a lack of habitat also could be hampering reproduction in those Western Shore tributaries.
"These are low-hanging fruit compared with trying to remove contaminants," MacLeod said.
That gives hope to Magothy advocates. Spadaro notes that Maryland's Critical Area Act, which limits shoreline development, calls for localities to protect water quality in Bay tributaries that have or had spawning runs of popular fish, including striped bass and yellow perch.
"Our biggest problem with the Magothy is overdevelopment," he said. "I could use [the yellow perch run] as leverage with the county to not build so many houses."
The county has stepped up, he said, by acquiring and preserving land along the upper Magothy to buffer stormwater runoff and by posting signs forbidding fishing during the spring along a key stretch of the river.
But last year's run was a disaster, one Spadaro attributes to lack of enforcement of laws governing polluted runoff. Just as yellow perch spawning peaked, heavy rains flooded the upper Magothy with a torrent of muddy water from the parking lot of a waste management and recycling company. The state attorney general subsequently sued, seeking record penalties of more than $2 million for multiple stormwater violations. Spadaro said he'd been complaining about that company for a year before the incident.
This year, in an attempt to expand the spawning run — and protect against another such catastrophe — Spadaro and association members decided to "plant" yellow perch eggs in a couple of different places. They collected the milky egg sacs in buckets and transferred them to a pair of creeks feeding the river. One, Cattail Creek, had undergone a $1 million stream restoration a few years ago to curb erosion.
The other, Muddy Run, ran crystal clear the morning Spadaro placed a small metal cage in the shallow water and poured the egg sacks into it. The cage, made for raising young oysters, was intended to keep the egg stringers from washing away and to perhaps protect them from fish and other predators.
The run this year hit another glitch. A beaver or beavers had piled branches inside a road culvert, and Spadaro feared they were preventing yellow perch from getting upstream to their usual spawning ground just below a milldam that creates Lake Waterford. Fish were depositing their eggs just below the beaver dam instead.
Spadaro summoned county staff to pull the branches apart, and within a few hours schools of yellow perch could be seen venturing upstream.
"Oh, yeah, you can see the fish are coming up here," Spadaro said as he walked through the brush along Magothy Branch, the river's upper reach. "I just saw one dart through."
Within about 10 days, the run was over and, in late March, Spadaro reported that the transplanted egg sacs appeared to be staying put. And some showed up in Cattail Creek just downstream of the restored section.
"The fish have said, 'We're still here,'" he said.