Maryland's Bloede Dam is no more. Fish and people alike have wasted little time taking advantage of the newly liberated 8.4-mile stretch of the Patapsco River, which now flows unhindered for the first time in more than a century.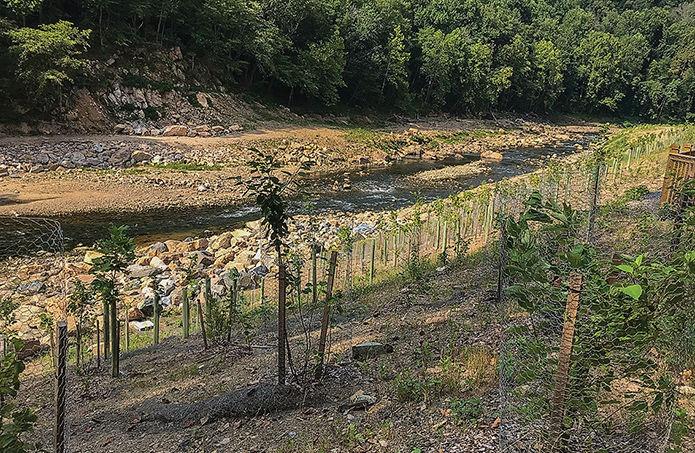 State and federal officials and the nonprofit American Rivers announced in August that the weather-challenged project to remove the 112-year-old dam is officially complete, and the riverside trail in Patapsco Valley State Park that had been closed for the demolition has reopened to a steady stream of hikers and bicyclists.
"The Patapsco River is free, after years of hard work by so many," said Serena McClain, river restoration director for American Rivers and manager of the dam removal project. "It's wonderful to see the Patapsco rushing back to life and to watch park visitors discover and enjoy the free-flowing river."
Built in 1906-07 to supply electricity to the nearby communities of Catonsville and Ellicott City, Bloede Dam stretched 230 feet across the river and stood 26.5 feet high. But it stopped generating power in 1924.
The dam continued to stop spawning fish and eels from getting more than 9 miles up the Patapsco, which flows roughly 38 miles around Baltimore's western outskirts before reaching the Chesapeake Bay. Moreover, it became a dangerous attraction for people — the Maryland Department of Natural Resources has tallied nine drowning deaths there since the 1980s.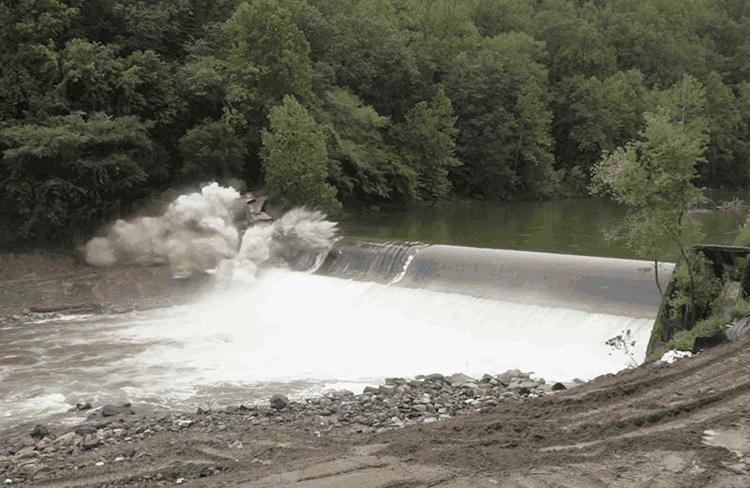 Beginning more than a decade ago, pressure built to remove the dam. American Rivers joined the effort with state and federal agencies, including the DNR, U.S. Fish and Wildlife Service and National Oceanic and Atmospheric Administration.
Preliminary work on the dam's removal was disrupted by a catastrophic flood in May 2018. The actual demolition finally began in September but was dogged throughout the fall and winter by heavy rains. The job, which also required moving a major sanitary sewer line, proved a bit tougher and more expensive than originally planned, coming in at $900,000 over the original estimate of $17 million.
"Once we actually began excavating down to replace the Baltimore County sanitary line," McClain explained, "the volume of rock at the exact alignment we needed the pipe to be was significantly more than we anticipated."
Even so, she added, "I think everyone was generally pleased."
As part of the long-running campaign to free the Patapsco's flow, Bloede is the third large fish barrier to go. Union Dam upriver was taken out in 2010, followed by nearby Simkins Dam in 2011. Advocates say Bloede's removal restores a total of 65 miles of the river and its tributaries to spawning blueback herring, alewife, American shad and hickory shad, and more than 183 miles of habitat for American eels, though ecological conditions to support fish remain fair to poor in significant portions of the watershed.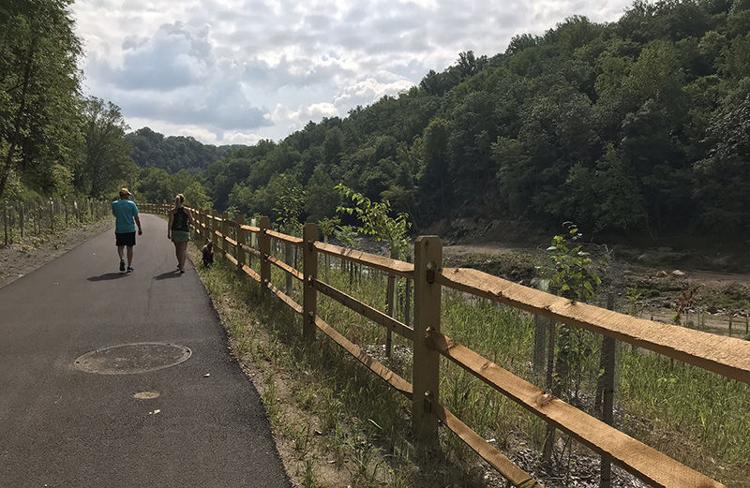 Beyond a historical marker on the Grist Mill Trail near the dam's location, there's no sign or remnant left of Bloede. A pile of boulders on one bank marks where blasting took out one end of the dam. There are plans to install new interpretive signage.
"The site looks awesome, American Rivers' McClain said, "It's just amazing how it's changed."
The river flows clear this time of year. On a recent Saturday morning, a gaggle of resident Canada geese paddled around in its shallows, while two young men dove and swam in a bend where the channel deepens. The stretch where the dam once stood had to be cleared of trees so heavy equipment could get to the site and relocate the sewer line. The gently sloping rebuilt riverbank has been replanted with hundreds of saplings and shrubs.
"It looks different," acknowledged Ranger Joe Vogelpohl, assistant manager of the park.
The Grist Mill Trail, a portion of which had to be closed for the demolition, has also been rebuilt and was reopened in June. Hikers — solo, in pairs and groups, at times with leashed dogs — strolled by on a recent morning, occasionally stopping where the dam used to be. Others branched off into the woods on some of the 220 miles of trail that wend through the park, which covers 32 miles of the river's length.
Other trails are still being rebuilt after being washed out by the flash flood of May 27, 2018, Vogelpohl said.
Kayakers have already taken advantage of the dam's removal, though the American Whitewater website urges paddlers to "be careful" because the river is "constantly changing" as it adapts to its unimpeded flow.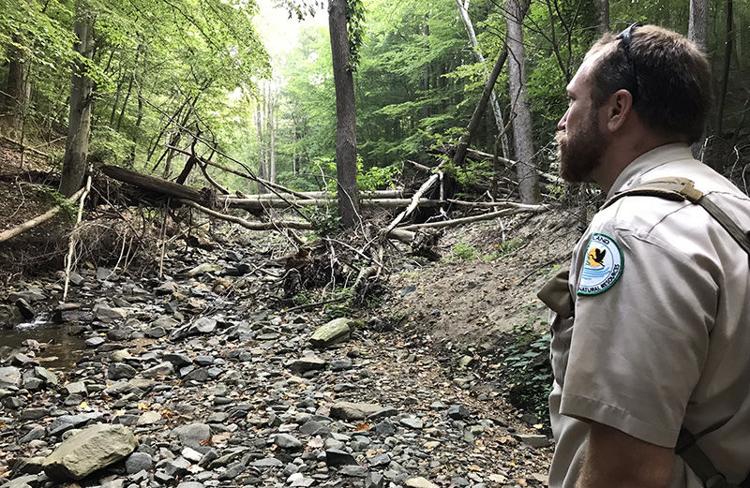 Some fish also responded quickly. DNR staff conducting the Maryland Biological Stream Survey collected white perch and gizzard shad this spring more than 8 miles upriver just below Daniels Dam, the last major blockage on the Patapsco, said the DNR's Jim Thompson.
And at least a few river herring may have made their way upriver to Daniels Dam, according to Matthew Ogburn, an ecologist with the Smithsonian Environmental Research Center in Edgewater, MD.
Obgurn, who's been monitoring the Patapsco for spawning runs in recent years, said his research team this spring spotted what they thought were a couple of herring just upriver of the former site of Bloede Dam. They didn't catch them, though, so identification is unconfirmed. But they did find circumstantial evidence of herring making it upriver this year; water samples collected at four sites upstream of Bloede contained "environmental DNA," or genetic material, specific to herring, Ogburn said.
"It doesn't seem like they wasted any time at all," Ogburn said. His team is still analyzing all of their water samples to see if they can determine how many fish might have made it upriver and whether spawning actually took place. But he said the DNA detected so far is "pretty clear evidence" that herring "took their opportunity and cruised on upstream — at least some of them."