The long-running effort to get American shad back to their historic spawning grounds this year enlisted a tool that had been abandoned two decades ago: trucks.
With operation of the multi-million dollar fish lifts halted at Conowingo Dam, biologists resorted to capturing shad below the dam and trucking them upstream before releasing the fish back into the Susquehanna River to continue their spawning migration.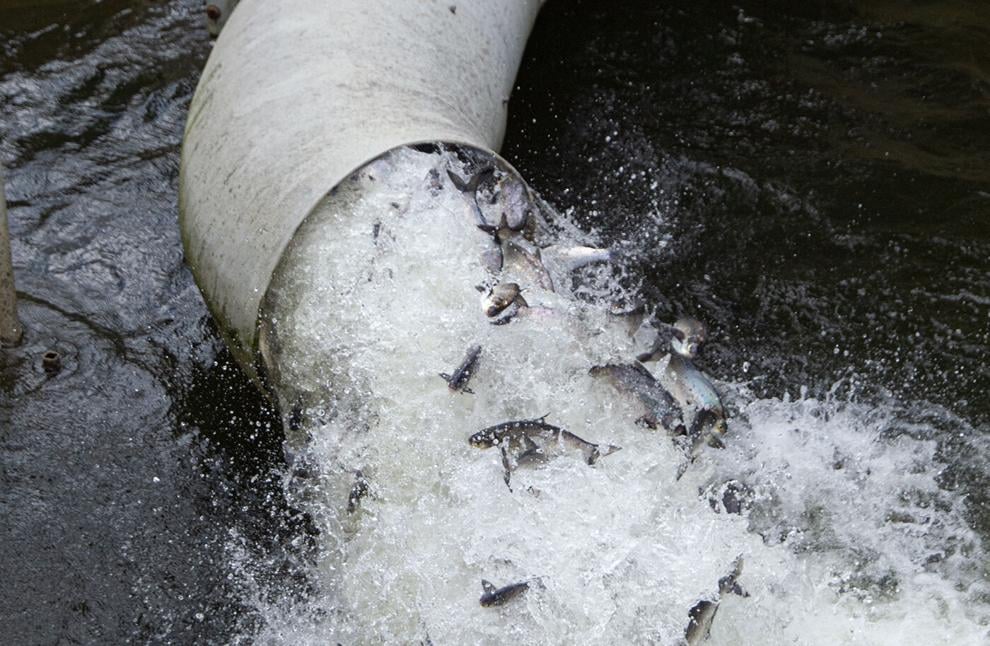 By the time the trucks stopped running on June 5, they hauled more than 6,300 shad upstream. That's a fraction of the number that swam upriver during historic shad runs, but it's the most that got past the first three dams on the river in more than a decade.
And it wouldn't have happened without the trucks. Fish lifts at the 94-foot-high dam have not operated for two years because of concerns that invasive species such as northern snakeheads and blue catfish were moving upstream through the fish lifts, too.
"From a shad perspective, we feel like in the short term it is best to get as many to the spawning grounds as we can," said Sheila Eyler, who coordinates fish restoration efforts on the Susquehanna for the U.S. Fish and Wildlife Service.
American shad definitely needed the helping hand.
Shad are an anadromous species, which means they spawn in freshwater but spend most of their lives in the ocean before they return to their native rivers to spawn. Their migrations once numbered in the tens, even hundreds, of millions. But overfishing, dams, water pollution and other problems have devastated the population.
Shad were the Bay's most valuable fishery as recently as the 1950s, estimated numbers have plummeted along most of the East Coast and most Bay tributaries. Major efforts in recent decades have tried to boost populations, either by getting more fish past dams to spawning grounds or releasing hatchery-raised fish into rivers.
Those efforts have been hampered by the poor performance of fish passages and by reduced funding for hatcheries. As recently as 2000, roughly 36 million hatchery-reared shad were stocked in as many as nine rivers around the Bay, but that number has plummeted as hatchery operations have been cut back.
Last year, no shad were stocked as hatcheries were closed by COVID-19. This year, stocking efforts resumed in Delaware and Maryland, where a combined total of about 2.5 million small shad were stocked in the Nanticoke, Choptank and Patapsco rivers.
But Pennsylvania's Van Dyke Hatchery, which stocks the Susquehanna, did not produce any shad for a second year because it was unable to obtain eggs.
Josh Tryninewski, who oversees the hatchery for the Pennsylvania Fish & Boat Commission, is hoping new contracts and funding will be in place next year to collect eggs on the Potomac River for the hatchery.
Fish passages on the Susquehanna have failed to get significant numbers of shad upstream to reproduce on their own despite tens of millions of dollars spent by utilities since 1990 to build giant fish lifts that scoop shad out of the water and hoist them over Conowingo and two upstream hydroelectric dams. A fishway was built at a smaller fourth dam to allow fish to swim by.
Trucks had been hauling shad upstream, sometimes tens of thousands in a year, until 2000 when all of the passages were completed. But because the passages never operated as well as anticipated, the number of fish moved upstream declined.
In a new operating license, Exelon Corp., which owns Conowingo, committed to spend millions of dollars to improve fish lifts at the dam. Biologists hope those improvements, coupled with upgrades at passages at the other dams, will eventually help get more shad to spawning grounds.
In the meantime, Exelon has committed to trucking up to 100,000 shad a year upstream. But Eyler said it will take several years to reach that number because infrastructure at the dam needed to catch shad and move them to trucks must be upgraded.
State and agency officials, she said, wanted to get started this year so that people could be trained to move larger numbers in future years.
Meanwhile, biologists are hoping the trucked fish released near Columbia, PA, this spring produce young of their own to make up for this year's lost hatchery production.
Many of the Chesapeake's rivers depend heavily on stocking to maintain shad populations. On the James River, Patrick McGrath, a VIMS biologist who works on its annual shad survey, said their data suggest that the strength of the spawning run is closely tied to the number of hatchery fish released five or six years earlier.
VIMS' annual shad index for the James this year showed the worst numbers since it began in 1998. The state stopped stocking shad in the river in 2018, and McGrath expects the figures to get worse in the next few years, when hatchery-reared fish begin making up less of the spawning run.
"What dismal numbers we see are still propped up by the hatchery," he said. "In the next two or three years, it's unfortunate, but we should see further declines."
The nearby York River had its second worst shad run this year, according to the index.
On the Nanticoke, Johnny Moore, a fisheries biologist with the Delaware Department of Natural Resources and Environmental Control, said shad seem to be increasing. Hatchery fish continue to account for about a third of the shad surveyed. Which, he said, is the goal.
"We just want to supplement the actual wild population," Moore said. "I don't want to get to the point where our system is depending on our hatchery."
Chuck Stence, a fisheries biologist with the Maryland Department of Natural Resources, said recent surveys show that the Patuxent River, where the state stopped stocking shad a decade ago, continues to have shad. The numbers increased this year, he said, and surveys suggest hatcheries are helping populations rebuild on the Choptank and Patapsco rivers, where stocking continues.
But two rivers are doing well without any stocking. The VIMS data show that the Rappahannock River population seems to be rebounding. That could be the result of the removal of Embrey Dam in 2004, which reopened the river to migrating fish, McGrath said.
"The Rappahannock makes me feel good after I fish on the James," McGrath said.
And, the Potomac River Fisheries Commission reported continued strong shad runs on that river this spring, which has maintained the most robust population in the Bay region.