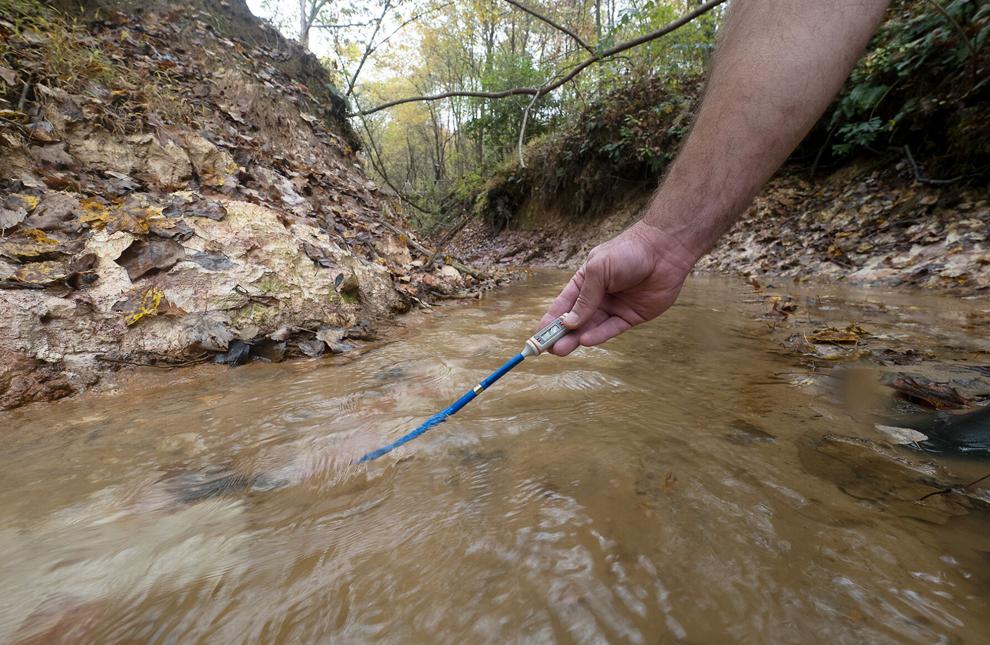 By all accounts, Jabez Branch needs help.
How to help it, though, has triggered a fierce debate, pitting those who want to help it for the sake of the Chesapeake Bay against defenders of native trout habitat, who worry that what's planned could come at the expense of the region's most prized freshwater fish. A fish that is also officially targeted for help under the 2014 Bay restoration agreement.
A tributary of the Severn River in Maryland, Jabez Branch is the only stream in the state's Coastal Plain that is — or maybe was — home to brook trout.
Unlike the nonnative and more adaptable brown trout, brook trout — or "brookies," as they're fondly known by sports anglers — are typically found in clear, cold streams and rivers in the Piedmont region or higher elevation headwaters of the Bay watershed. Downstream, in the Coastal Plain, the water gets too hot in the summer for brook trout to survive. Jabez Branch, however, has been an anomaly, with cool springs feeding it and the shade-casting boughs of forest along much of its banks.
But trout have been struggling to hold on there since the late 1980s, when stormwater runoff began pouring in from the surfaces of new highways and suburban development. The surges have warmed the water, making it tougher for brookies to survive. The pulses also have poured sediment and nutrients downstream, adding to water quality woes in the Severn River and the Bay.
The state Department of Natural Resources and the Severn Riverkeeper have applied for permits to restore a degraded half-mile stretch of one of Jabez Branch's tributaries that is crossed by Interstate 97and a pair of other roads.
Sara Caldes, the Severn Riverkeeper, called it a "completely broken" stream reach. "The banks are eroding, the wetlands are drying out, the ecosystem is dying," she said.
The plan, proponents say, is to raise the deeply incised stream channel and slow the flow down by spreading it out, reconnecting it with its floodplain and creating wetlands along its banks.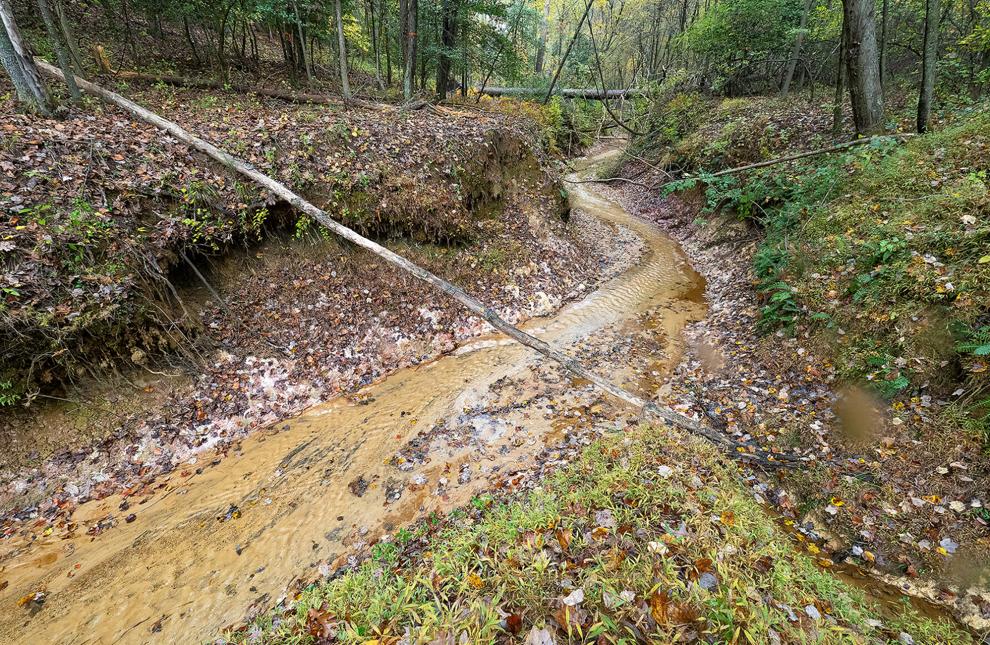 And, they stress, the DNR has never found brook trout in that tributary of Jabez Branch, despite repeatedly sampling it by electrofishing — a process that briefly stuns fish and brings them to the surface for easy counting before they recover and swim away.
But Art Senkel, conservation chair of the Patapsco Valley branch of Trout Unlimited, said that the DNR's surveys have missed notoriously reclusive brook trout before. The only way to be sure, he insists, is to sample the stream for traces of trout DNA, which the DNR has not done.
If the proposed restoration project goes through as planned, he contends, it would cut off cold water springs and remove shade trees, warming the stream to the point that brook trout couldn't live there. Even if they aren't there now, Senkel argues, that doesn't mean they can't be brought back if the stream is properly restored.
Trout in Jabez Branch
First discovered in Jabez Branch in 1977, brookies have been fighting for survival there ever since, as highway construction cut through the watershed in the 1970s and '80s, followed by residential and commercial development. Brook trout require clear, cold water no warmer than 68 degrees Fahrenheit year-round; they are rarely found in any area with even a little development.
Electrofishing surveys in 1986 found a few dozen brook trout overall in two of the tributaries of the stream and in its upper mainstem, which were somewhat less impacted by highway construction. "Tributary 3," as the stretch targeted for restoration is known, had none. About 16% of that tributary's watershed is blanketed by pavement and buildings; brook trout aren't generally found in any stream with 5% or more of its uplands covered by impervious surfaces.
A year later, biologists found far fewer trout. Looking for a reason, they found that a runoff retention basin installed along I-97 was piping naturally solar-heated water into the stream. The State Highway Administration plugged it, but it turned out that wasn't the only source of thermal pollution. Further investigation showed stream temperatures spiking by up to 10 degrees in other places immediately after summer rainstorms.
By 1990, DNR couldn't find any trout anywhere in Jabez Branch. Biologists subsequently restocked it with wild brook trout from other Maryland streams, and the fish seemed to do well for a time. In 1997, the headwaters of a different tributary underwent restoration to shore up eroding banks and reduce sediment pollution downstream. The DNR also acquired and protected about 1,700 forested acres in the Severn Run watershed, of which Jabez Branch is a part.
But conditions continued trending downward. In 2013, the Severn River Commission contended that sediment washing down from Jabez Branch was creating navigation problems in the upper river. The SHA commissioned a study of the stream in 2015, which recommended a series of projects to reduce runoff and restore various segments of the stream. The project being debated now grew out of that study.
Dispute over methodology
To an extent, the dispute over restoring this stretch of Jabez Branch is about restoration methodology. The DNR and Severn Riverkeeper are backing a proposal by an Annapolis-based environmental consulting firm to create a "regenerative stream conveyance."
The plan is to fill the incised channel — 8 feet deep or more in one place — with sand, gravel and wood chips to reconnect it with its floodplain. A series of riffles and pools would be created in the channel to slow the flow and help it handle big storms. The existing 2.6 acres of wetlands bordering the stream would be enhanced and doubled in size.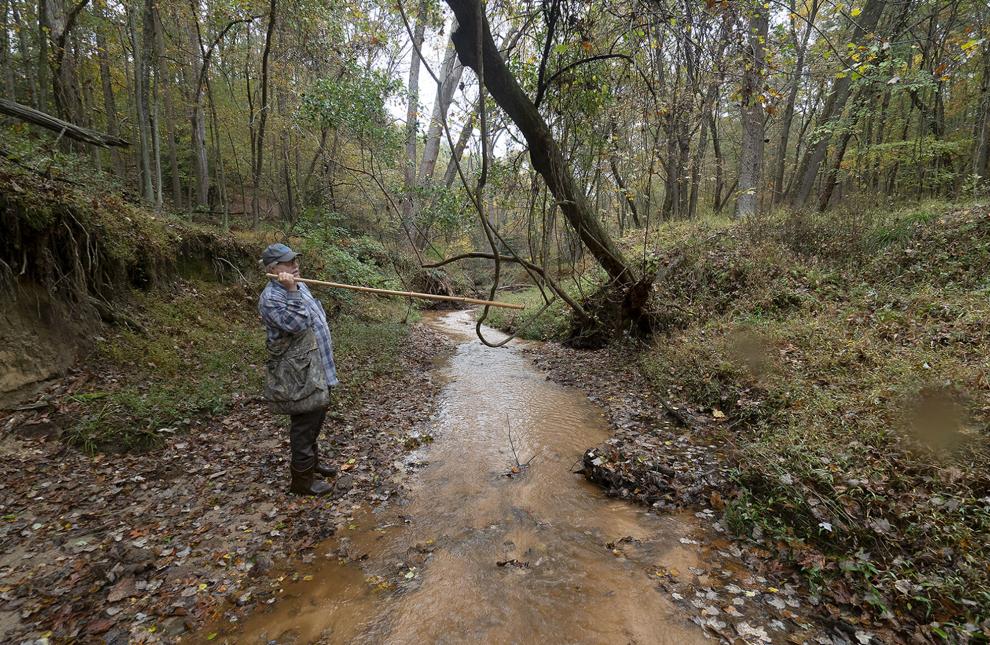 But Senkel of Trout Unlimited objected to the plan in an October letter to the DNR and to the Maryland Department of the Environment, which must decide whether to permit the project. He contended that the project could create a barrier to brook trout, altering the flow of cold water from springs into that stretch and killing off some of the streamside trees shading it.
If that happens, he said, the DNR would be violating the Clean Water Act, which prohibits allowing the degradation of a stream — in this case one designated by the state as habitat for coldwater species such as trout.
Trout Unlimited favors what's called "natural channel design," a method first developed for restoring coldwater streams in the Rocky Mountains. It too would raise the incised stream bed to reconnect with floodplains, but it would attempt to reduce erosion by introducing meanders into the channel, armoring the banks with stone and tree trunks.
There have been several regenerative stream projects undertaken in Anne Arundel County, and proponents say they have not only been successful at reducing sediment and nutrient pollution but have also improved habitat for frogs, fish and other aquatic creatures.
But Senkel counters that regenerative stream projects have never been used in this region to restore trout habitat, while natural channel design has been repeatedly undertaken in Piedmont streams.
"It's a freak. It's unique," Senkel said of Jabez Branch as a Coastal Plain trout stream. "To go ahead and design a system that stands any reasonable chance of endangering that … is to me perplexing. There's no way back once you've done that."
The source of the problem
Arguments over technique aside, Senkel contends that no restoration should take place until more is done to address the cause of erosion and rising temperatures. The SHA consultant's report in 2015 identified 96 stormwater management projects to curtail runoff into the stream. Among them were new or expanded detention ponds, tree plantings and grassy swales to soak up rainfall. The consultant recommended doing those either before or in concert with stream restoration projects.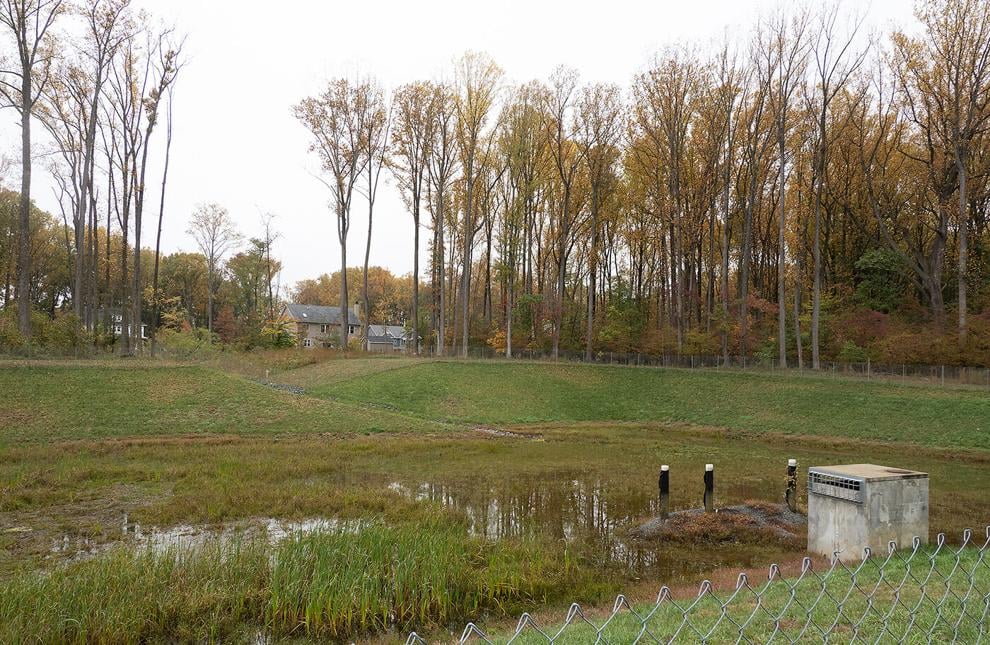 It's unclear exactly how many of those have been done. SHA spokesperson Shantee Felix said the agency looked at 32 of the proposed runoff control projects that were in highway rights of way but concluded most were not feasible because of other potential environmental impacts. The highway agency did plant trees, retrofit a stormwater pond and create grassy swales to treat runoff from a total of 60 acres of pavement in the watershed, she said. Anne Arundel County also has completed a couple of stormwater projects in the watershed and is planning more, said Erik Michelsen, deputy public works director for watershed protection and restoration.
Project proponents say the stream needs restoring regardless of how much runoff can be reduced. They contend that bank erosion will continue even if the flashy flow is reduced. Michelsen, who supports the planned restoration, said he wouldn't expect brook trout back in that tributary anytime soon, but he believes it "opens the door" to creating habitat suitable for their eventual return.
Bill Anderson, assistant DNR secretary, said habitat improvement is secondary — the chief goal of the restoration, he stressed, is to reduce the flow of nutrients and sediment to Severn River and the Bay. He said DNR officials believe the proposed project is the best option for handling projected increases in runoff, given the development that is continuing there. Construction was under way last fall on new homes in a subdivision called the Preserve at Severn Run, which is being carved out of woods in the headwaters of two Jabez tributaries where trout had been hanging on.
"Based on the rising temperatures of the water, we believe no matter what is done in Jabez [Tributary] 3 that the chances of trout coming back are very, very low, no matter what you do," Anderson said. "It's not an achievable result."
Indeed, he said, water temperatures have been trending upward lately throughout the rest of Jabez Branch. DNR biologists have been unable for the last two years to find brook trout anywhere in the stream complex. Anderson called their disappearance "disturbing" and said the future of brook trout in the rest of Jabez is "getting a little sketchy."
In that regard, for all its uniqueness, Jabez Branch is facing the same fate as many of Maryland's other trout streams. Although the 2014 Chesapeake Bay Watershed Agreement calls for increasing occupied brook trout habitat 8% by 2025, Maryland's populations of the fish are headed in the other direction. A statewide survey from 2014 to 2018 found they had vanished from 27% of the stream catchments they had historically occupied. The decline since 1987 was greatest, 49%, in densely developed central Maryland.
Biologists say rising temperatures associated with climate change pose an existential threat to brook trout populations in many areas, but Senkel said the fish could be gone from central Maryland before climate change could get them.
"Where there's development pressure," he said, "brook trout seem to lose all the time. We've been losing these streams since the '90s and we're still losing them. At some point we have to say 'wait a minute.'"