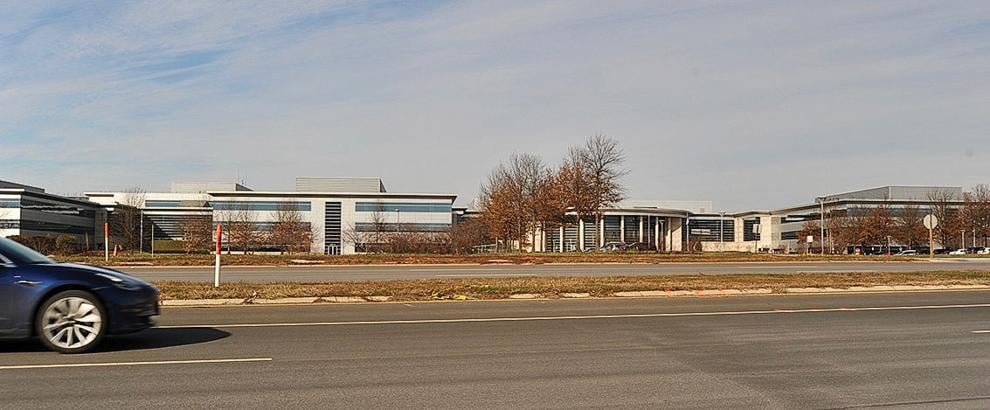 Virginia regulators have proposed allowing nearly 300 data centers in Northern Virginia to use backup generators over a five-month period during which energy "transmission problems" are anticipated.
Many of these backup generators produce power by burning diesel or natural gas, which releases pollutants that pose risks to human and environmental health. They can also generate a lot of noise, which is a growing concern to nearby residents. To protect regional air quality, Virginia's Department of Environmental Quality regulates when and how frequently data centers can run their emergency on-site generators to ensure they are working while limiting their cumulative impact.
During normal operations, data centers can be powered by a variety of sources, ranging from the municipal electric grid to their own solar panels. In Virginia, natural gas and nuclear power were the top sources of electricity in 2021, but that is changing, fueled partly by data centers. Google and Amazon, which operate many of the region's centers or contract with them, have each committed to source energy entirely from renewable sources by 2030 and 2025, respectively.
During past interviews with the Bay Journal, state regulators said they imagined multiple data center generators running at the same time only in the case of a major emergency impacting the regional power grid. Environmental groups, meanwhile, have been increasingly concerned about the rapid and regionally concentrated growth of an industry that uses massive amounts of energy to satisfy the world's appetite for electronic data.
The Northern Virginia counties of Loudoun, Fairfax and Prince William are home to nearly 300 data centers that are crucial to moving about 70% of the world's internet traffic. Those centers, and the reliability of the internet, by extension, could be impacted by upcoming power transmission issues that are anticipated from March to July of this year, DEQ Director Mike Rolband said in a statement explaining why the agency was proposing a temporary variance from its own regulations. Responding to questions by email, DEQ Spokesman Aaron Proctor said demand for electricity from data centers in that region "could potentially exceed the capacity of the area's electric transmission system" during that time period. 
"We are proposing this temporary and redundant variance out of an abundance of caution to maintain the reliability of the internet and the electric grid while enabling data centers to continue serving their customers," Rolband said in a press release. "We will closely follow this developing situation and will use our robust compliance and permitting programs to ensure our environment remains protected." 
Proctor said the agency hopes the variance, once approved, will not be invoked and that it is "intended only as a precautionary measure." PJM Interconnection, the organization that coordinates electricity transmission in 13 states and the District of Columbia, issues warnings when conditions indicate that stress on the grid in a particular area is high and could lead to a declaration of emergency, he said. "Such warnings are rarely issued," and, when they are, it is "for very short periods of time." Since 2015, Proctor added, the duration of such warnings has averaged 17 hours a year. But he also said the variance for the region's data centers, which operate around the clock, would be the first issued "for this type of facility." 
The agency will be accepting public comments on the proposed measure for 45 days, beginning Jan. 31. A public hearing will take place at DEQ's Northern Regional Office in Woodbridge at 11 a.m. on Feb. 27.
DEQ officials a few years ago began looking at the cumulative impact of data centers' backup generators should they all fire up at once. A report by the state Secretary of Natural Resources in 2019 listed air emissions from data centers' backup generators as a potential risk to air quality. In 2020, the agency began requiring new data centers to use emergency generators with the "best available control technology" to limit emissions, according to an industry report.
During an interview with the Bay Journal in 2019, Thomas Faha, the director of DEQ's Northern Regional Office, which issues air permits for the generators, said the equipment is permitted to kick on periodically for 15– or 30-minute periods to ensure they will work in an emergency.
Each data center facility includes dozens if not hundreds of backup generators to keep it operating around the clock. Faha estimated in late 2019 that the number of generators permitted at the time for data centers in Northern Virginia could run up to 3,000, and the total has grown since.
DEQ permits typically restrict when those tests can occur, avoiding hours when commuter traffic isn't also contributing to air pollution, for example.
"But even a minimum amount is an addition to what was there in the past," Faha said. "If the grid were to go down and we had a catastrophic emergency, these units are then allowed to run for longer periods of time."
Burning diesel or natural gas for power releases pollutants such as nitrogen oxides, which combines with volatile organic compounds to form ozone, which is a threat to human health. Nitrogen oxides emitted into the air can also contribute nutrient pollution to the Chesapeake Bay when the pollutants fall back to Earth and wash into local waters.
The latest proposal from DEQ would permit exceptions to those requirements during the temporary variance period starting in March. DEQ's statement said the operators of generators must still calculate and report the emissions created by the equipment during these times. When asked what assurances residents living near the data centers would have about their local air quality, Proctor said that DEQ operates real-time, continuous air quality monitors at a half-dozen locations near these data center hotspots. Information from those sensors can be viewed on DEQ's website. 
The variance would become effective after being signed by DEQ director Rolband following the 45-day comment period, which will end in mid-March. The variance would expire on July 31.