The Virginia Air Pollution Control Board in a 6–1 vote on Friday denied a permit to the proposed Lambert compressor station that would pump gas for the contested Mountain Valley Pipeline, already under construction in parts of the state.
The permit decision was seen by some as a test of the state's commitment to environmental justice because of its potential to impact on local and regional air quality.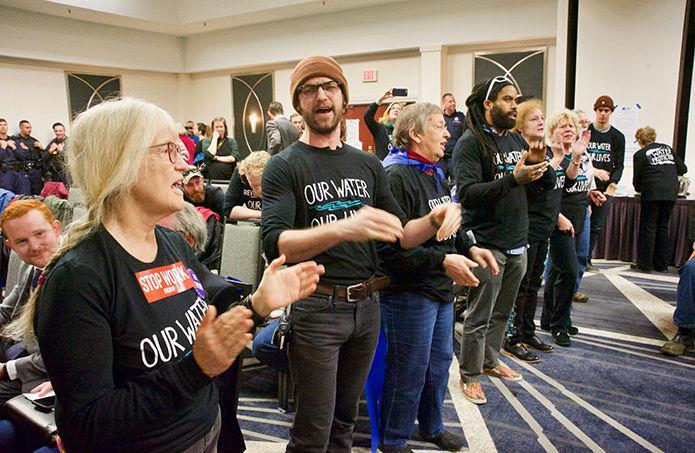 In contrast to that decision, on Tuesday, the State Water Control Board voted 3-2 to approve a state-level water permit needed for the Mountain Valley Pipeline to continue construction across streams in the commonwealth. The pipeline cuts across the southwest corner of the state outside the Chesapeake Bay watershed.
Questions from board members during a lengthy public meeting Tuesday showed that some still had concerns about the project. One centered on potential impacts to groundwater, especially in porous karst geology. But another board member and staff from the Department of Environmental Quality contended that the Virginia Water Protection permit in question only pertained to state surface waters, not groundwater, and that impacts to surface waters would be temporary.
Federal approvals for aspects of the project from the U.S. Army Corps of Engineers and the Federal Energy Regulatory Commission are still needed.
A federal judge had ruled in early 2020 that the Virginia air board previously failed to properly weigh environmental justice concerns in issuing an air permit for one of the pipeline's other compressor stations in Buckingham County.
The Lambert station would be located outside the Chesapeake Bay watershed in southern Virginia's Pittsylvania County, where it would connect the natural gas pipeline to North Carolina. But Bay advocates have cheered the decision to deny the air pollution permit as setting a new precedent.
"This is a major step forward. In denying this permit, the air board recognized the serious concerns with this facility and understood the Fourth Circuit's mandate. We hope this shows that Virginia is prepared to make environmental justice a reality," Taylor Lilley, environmental justice staff attorney for the Chesapeake Bay Foundation, said in a statement.
"The safety of marginalized and vulnerable communities must continue to be a prominent consideration in these proceedings," she said. "This is also an opportunity to prevent a new source of air pollution to the Chesapeake Bay."
The permit will go back to the Virginia Department of Environmental Quality to be potentially rewritten to better address environmental justice concerns.
Advocates for clean water have increasingly been fighting new natural gas infrastructure, too. Pipeline construction can impact waterways, forests and wetlands and has caused water quality violations.
The sprawling Atlantic Coast Pipeline — planned to run through the Chesapeake watershed but opposed all the way to the U.S. Supreme Court — was canceled last year.