For decades, the old municipal landfill west of Annapolis, MD, sat — closed, capped and carefully monitored to ensure that the buried refuse wasn't generating air or water pollution. Now, the once-grassy hilltop is covered with row upon row of thousands of shiny photovoltaic panels. In April, they're scheduled to begin generating power — up to 16.8 megawatts on each sunny day.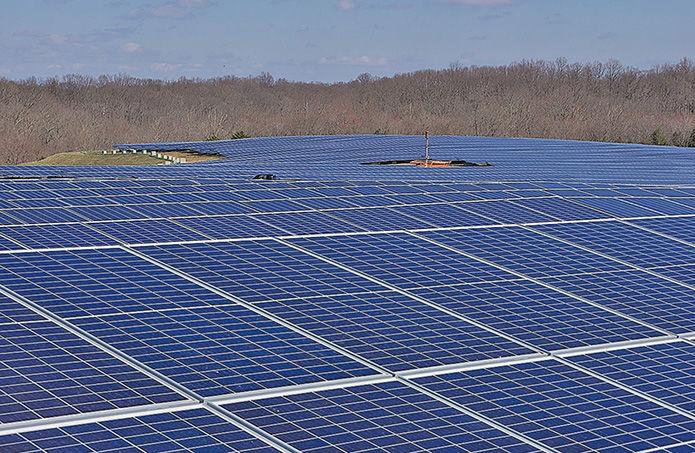 The Annapolis Renewable Energy Park, as it's known, stands out because of its location: The project's developers say it's the largest landfill-based solar electricity project in the United States. Some say it's a model for resolving a growing conflict over how to transition to a more climate-friendly energy future without sacrificing precious farmland and scenic rural vistas. Whether it's the first of many such installations, or an anomaly, remains to be seen.
It's an important issue for the future of the Chesapeake Bay, which is polluted by nitrogen. Roughly a third of the nitrogen reaching the Bay stems from burning fossil fuels, so the switch to renewable energy sources such as solar indirectly helps to clean up the ailing estuary while also fighting climate change. But if many cornfields turn into solar fields, it could have unforeseen consequences on land use, local economies, wildlife habitat and maybe even water quality.
Solar energy is spreading, albeit unevenly, around the Chesapeake region. In Virginia, lawmakers impatient with the slow pace of solar progress adopted legislation this year declaring the development of 5,000 megawatts of large-scale solar and wind power "in the public interest." (One megawatt of electricity generated by photovoltaic arrays is enough to power about 100 homes in Virginia, according to the Solar Energy Industries Association.) Building has already taken off, fueled by low panel prices; corporate and government demand; and ample access to transmission lines. Dozens of additional projects, some quite large, are queued up for regulatory review.
Solar energy development has been held back in Pennsylvania by unfavorable rules and, apparently for now, remains so. A legislative attempt last year to spur in-state projects has been derailed by the state's utility commission. A broad group of stakeholders is nevertheless talking about how, by 2030, to get 10 percent of the electricity used in the commonwealth from the sun. David Althoff, principal investigator for the broad-based group engaged in an initiative called "Finding Pennsylvania's Solar Future," said it should produce recommendations by mid-June for how to achieve the goal.
In Maryland, though, photovoltaic panels have gone on so many rooftops and in so many farm fields that the state already has an estimated 958 megawatts of solar-powered generating capacity, according to legislative analysts — more than any other Bay watershed state except for New York.
But some communities, worried about the loss of farmland and scenic landscapes, are applying the brakes to limit future large-scale solar projects. And despite intense lobbying from environmentalists, state lawmakers balked this year at dramatically boosting Maryland's already ambitious solar energy goal. The chief reason cited was concern about costs to ratepayers, though some lawmakers also have expressed concerns about landscape impacts.
Whoever gets there first, wins
Angst over solar energy's appetite for rural real estate arose two years ago as the industry enjoyed a record building boom. Though the pace has abated somewhat since then, growth continues. And some fear that, with pressure from environmentalists and even corporations to expand the state's solar capacity, thousands of acres of cropland and pastures could eventually be lost. There's a long list of proposed projects awaiting regulators' review in Maryland as well.
"It's almost like the wild, wild West out there, and whoever gets their stake in the ground first wins," said Colby Ferguson, government relations director of the Maryland Farm Bureau.
Solar developers are offering long-term leases at attractive rates to put PV arrays on fields that once grew corn or soybeans. Farmers who lease their land may get more and steadier income that way. But farmers often rent land from other large landowners to cultivate their crops, and solar developers are picking off some of that available acreage by offering to pay far more in annual lease payments than farmers have been used to paying.
Projects are being proposed on both sides of the Bay, but the flat, relatively open land of the Eastern Shore appears to be attracting the largest planned facilities. A 150-megawatt solar project has been approved in rural Somerset County, MD; A Canadian company, Algonquin Power & Utilities Corp., is constructing the first half of that facility, putting 300,000 solar panels on 400 acres.
Meanwhile, Cherrywood Solar LLC of Austin, TX, is seeking Public Service Commission approval to build a 202-megawatt facility in Caroline County. The company projects spending $200 million to install 460,000 photovoltaic modules on 1,100 acres spread across 16 parcels of farmland between Goldsboro and Greensboro.
The farming community is split over whether to welcome or resist the solar siren, Ferguson acknowledged. For some, the projects offer the prospects of long-term lease payments that can supplement or even replace the up-and-down income from raising crops or livestock. But others committed to long-term farming see in solar's spread an erosion of the agricultural economy that could threaten their livelihoods.
"For every 1,000 acres taken out of production, we lose a farm," Ferguson said.
As the solar building boom has spread, some counties have clamped down on how and where photovoltaic arrays can be installed.
Zoning changes under consideration 
Anne Arundel County, at the western terminus of the Chesapeake Bay Bridge, in December announced an eight-month moratorium on industrial-scale solar projects, citing concerns about impacts on the rural southern portion of the otherwise suburban county. A committee is now mulling potential changes to the county zoning ordinance to spell out where such activities might go.
"All we're trying to do is make sure that solar doesn't do more damage than good," said Ann Fligsten, executive director of the Growth Action Network of Anne Arundel County, one of the groups that sought the temporary ban. After all, she noted, "we don't have that many more farms starting up."
The moratorium has drawn criticism from the industry, as well as environmentalists who say the delays could stifle an industry that is needed to combat climate change.
Philip Hager, the county's planning and zoning director, said pressure for a moratorium came after developers sought state approval to build five community solar projects in the rural southern end of the county. The projects are still pending.
The five projects proposed to date are relatively small and wouldn't consume that much land, Hager said. But if the industry keeps growing as expected, he added, so may its consumption of land. While sensitive to the property rights of landowners, the planner noted that the county has gone to some effort and expense to preserve its remaining farmland.
"How do we find something that's balanced?" Hager asked. "It's a very complex situation, with a lot of stakeholders."
Anne Arundel's solar moratorium followed one imposed last year by Caroline County. That ban was lifted in December, as the Eastern Shore county adopted a new ordinance setting an overall cap on utility-scale solar development of 2,000 acres and establishing setback and screening requirements to reduce photovoltaic arrays' visibility from neighboring properties and county roads. At least three other counties — Frederick, Kent and Talbot — had previously taken similar actions. 
Last year, amid the initial uproar over the growing footprint of solar on rural lands, the General Assembly passed a measure giving counties and municipalities greater say in how and where such projects can go. Until then, their siting and approval had been almost exclusively the purview of the state Public Service Commission, which by law could override a local government's objections. 
Though giving localities a say has helped, some say it's not enough. Several bills introduced this year would have dictated where projects can and can't go, including one that would have barred putting large-scale photovoltaic arrays on continuous parcels of land.
"These guys are coming in and dangling pots of money [in front of landowners]," said state Sen. J. B. Jennings, a Republican representing Baltimore and Harford counties, and a farmer himself. "It's just taking up valuable farmland."
Industry representatives say fears of "solar sprawl" are overblown. Though one of the nation's most densely populated states, Maryland still had about 2 million acres of farmland in the 2012 U.S. Census of Agriculture.
"It's unfortunate there's a perception problem," said Mike Volpe, vice president of Open Road Renewables, a Texas firm, and spokesman for a coalition of utility-scale solar developers. He pointed out that such projects can generate jobs and much-needed tax revenue for poor rural counties.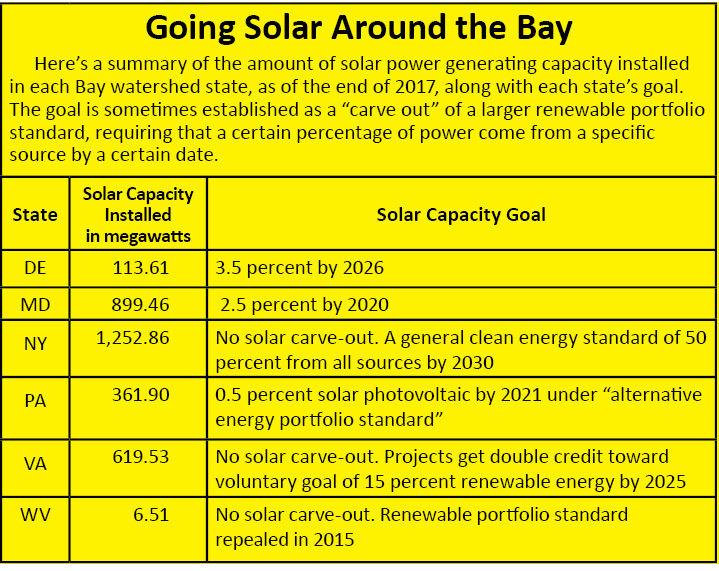 Right now, the state is less than 100 megawatts shy of its goal of getting 2.5 percent of its electricity from solar energy. Much of it comes from arrays placed on residential and commercial rooftops or on relatively small parcels of land. But even if all of that additional capacity was built in utility-scale projects, it would consume about 800 acres. It generally takes about eight acres of land to hold enough photovoltaic modules to generate up to one megawatt of power. 
But a lot of farmland just isn't suitable for large-scale solar projects, Volpe pointed out, if only because of physical constraints in the state's electrical system. Industry representatives say the pace of solar development has slowed considerably in Maryland overall, in large part because the electric grid has reached its "injection capacity," or its ability to handle electricity. Transmission line upgrades would be needed to allow many new projects to access the power grid, a process that could take years to complete, with the projected costs so great as to make the projects uneconomical.
Cheaper to build on farm tracts
No one expects the industry to stop growing, though. The legislation that died this year would have boosted Maryland's renewable energy goal from 25 percent by 2020 to 50 percent or even 100 percent by 2030. One bill also specified that 14.5 percent would have to come from solar facilities — a nearly sixfold increase over the current goal. Thousands more acres of land could be needed for that.
To Dru Schmidt-Perkins, the former longtime executive director of the preservation group 1000 Friends of Maryland, the answer is clear, if not simple. Solar developers favor farmland, she said, for the same reason that home builders do — it's easier and cheaper to build on open tracts. 
But, she asked, why not build large-scale solar projects on previously disturbed land that doesn't have competing uses, such as closed landfills, parking lots and even brownfields —former industrial or commercial tracts that have been abandoned because of real or suspected contamination? There are enough brownfields in Maryland of sufficient size, she figures, to handle a huge increase in solar generation — 15,000 megawatts or more. 
There are examples of each. Chesapeake College in Wye Mills on the Eastern Shore, put a photovoltaic canopy over the parking lot on the south side of its campus. That, along with a 6-acre ground-mounted array generates enough power in one year to offset approximately 45 percent of the college's energy demand.
The Annapolis Renewable Energy Park is another. It took eight years, but construction finally began last fall on 80 acres of the state capital's former landfill, which has been closed since 1993. In announcing the project, city officials said they expected it to bring in more than $5 million over the course of its 20-year lease. 
But it's more expensive and complicated to build a solar facility on a closed landfill. The ceremonial groundbreaking was just that, because the 54,000 photovoltaic panels being placed there couldn't be anchored in the ground, as is normally done. Instead, the arrays are mounted on concrete "ballasts" or blocks; they're heavy enough to withstand strong winds but configured so they won't sink into the ground and break through the cap on the landfill that's intended to prevent pollution.
"It's cheaper to just go out to a farm field and drill ground screws and anchor to the ground," said Paul Curran, managing director of BQ Energy LLC, the New York-based firm developing the landfill project. It also took longer to plan and get regulators' approval, Curran said, something many solar developers wouldn't put up with.
The economics can get tricky as well. Anne Arundel County, which signed a long-term agreement to buy electricity generated by the project, recently granted it a break on real estate taxes worth about $6,300 a year.
But Curran said his firm specializes in building renewable energy projects on brownfields and former landfills, and that the added costs are offset by the ability to produce electricity close to places that need it. He hopes the Annapolis project can demonstrate the merits of putting large solar projects on landfills and other previously overlooked sites.
"There's 70 or so landfills around the state of Maryland," he said. "There's a whole bunch of brownfields."
Volpe, though, suggested there won't be much more solar going anywhere, especially on landfills and brownfields, unless Maryland raises its mandated solar energy goal. That would create more demand for new projects and increase the value of the electricity they could generate, which could overcome the higher costs and complexity of building on previously disturbed land.
Even so, Schmidt-Perkins said, the key for future siting is better planning and a set of guidelines and incentives to help solar energy grow without friction or unintended side effects.
"The more we can plan this and know where it can go and should go ahead of time, then the less of the fights, which are so time-consuming and costly," she said.