The Chesapeake Bay's Eastern Shore is shaping up to be the next battleground over the expansion of natural gas pipelines in the Bay region.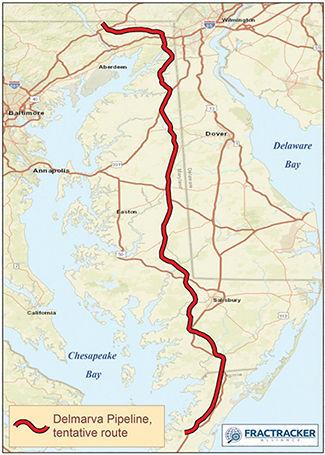 Two firms are competing to construct miles of new pipeline through Eastern Shore counties in Maryland and Virginia, projects they say are needed to meet the region's growing energy demands and boost reliability of service. 
But environmental groups say that construction of the pipelines would potentially contaminate the many rivers in their paths and bisect lands set aside for preservation. 
"There are so many other ways we can look at creating energy in renewable resources, so it doesn't make sense to build infrastructure for outdated technology that will continue to harm our resources," said Betsy Nicholas, executive director of Waterkeepers Chesapeake.
Critics also worry that the projects will increase the country's dependence on natural gas derived from hydraulic fracturing operations, also called "fracking," in Pennsylvania and elsewhere. 
No natural gas is produced on the Delmarva Peninsula, so both firms plan to connect their lines to existing interstate pipelines — one in northeast Maryland, the other in southeast Pennsylvania.
"Anything that supports the fracking industry will increase climate change and keep us from transitioning to renewable sources of energy," said Christy Dembrowski, a member of No Eastern Shore Pipeline, a group that opposes one of the pipelines.
Last year, Maryland became the second state in the nation to ban fracking, following New York, over public health and environmental concerns. But the state continues to allow the construction of new pipes to transport gas from places where fracking is permitted. Such was the case earlier this year when Gov. Larry Hogan's administration decided not to subject a proposed pipeline beneath the Potomac River in western Maryland to higher environmental scrutiny. Details on the
Delmarva projects are scant because neither company has submitted a permit application to state and federal authorities.
The Baltimore-based private equity firm H4 Capital Partners wants to construct 180 miles of pipeline between Rising Sun, MD, and Accomack County, VA. A sketch on its website shows a squiggly blue line traversing Maryland's Eastern Shore near the Delaware border and then winding to the west of Salisbury and into Virginia.
Eastern Shore Natural Gas, which has operated pipelines on the peninsula for nearly six decades, is looking to expand its existing 455-mile pipeline network as far south as Northampton County, VA, the southern neighbor of Accomack. Its current pipeline extends south from Delaware, terminating near Salisbury. 
A map on the Chesapeake Utilities subsidiary's website indicates expansion options with several dotted lines splintering off into Maryland's Eastern Shore counties from the pipeline's main north-south artery in Delaware. 
The H4 project has attracted the most attention so far. 
Through its subsidiary, Delmarva Pipeline Co., the firm conducted an "open season" from August to October last year, seeking commitments from potential industrial users. But little about the $1.3 billion pipeline will be known publicly until the company turns to approval from regulators.
The lack of information is frustrating, said Assateague Coastkeeper Kathy Phillips.
"I think everybody right now is just sitting with this cocktail napkin drawing of where it's supposed to go," she said, adding that she is most concerned with a portion of the line that seems to pass through the Pocomoke State Forest in Maryland.
"We'd like to see where it's going, and we'd like to see the right of way easements that will be going alongside of it."
Jerry Sanders, one of H4's partners, said the company plans to file an application this fall with the Federal Energy Regulatory Commission, which oversees interstate energy transportation projects. "Like all pipeline projects we will go through an extensive comprehensive local, state and federal review," he said.
The pipeline will travel across existing utility corridors and other infrastructure for "most of its route," according to its website. Sanders said that after construction is completed in 2021 or 2022, the line will jolt the rural region's economy.
"Our pipeline is a backbone energy infrastructure project that opens up the potential for gas service in all Maryland counties not currently serviced by gas," he said. "Response to our open season last year … showed substantial customer need along our pipeline route."
Somerset County officials and business leaders have been pressing for natural gas service for several years. The county, which is the poorest in Maryland, has lost potential business opportunities because it has no pipelines, according to economic development officials there.
He vowed that the company will take measures to prevent contaminating the environment during construction. It will employ directional drilling to install pipes beneath major rivers, ensuring no sediment — one of the leading causes of the Chesapeake's degradation — is disturbed.
"Using a remote-controlled drill, we go through the soil well under the water body and then pull the pipeline through without any risk of water contact or stirring up sediment," Sanders said. "In fact, from the water you would never know the pipeline is being installed. For smaller stream crossings, we will follow state and federal laws that ensure water quality protection."
Eastern Shore Natural Gas said in a written statement that because its project has yet to be defined, no specific details are available. But "as a provider of natural gas, one of the most environmentally friendly fuels, ESNG takes its responsibility to the environment very seriously and adheres to responsible business practices that benefit the environment," it said.
Natural gas line construction has taken off in recent years as hydraulic fracturing has opened new markets to shale gas production. That has driven supply up and prices down.
Where pipelines have been proposed, controversy has often followed. In the Chesapeake Bay's watershed states, several pipeline projects have come under fire from opponents who say the lines extend the economic lives of drilling operations that put drinking water supplies at risk and exacerbate climate change.
On the Delmarva Peninsula, opposition is slowly gaining traction.
The No Eastern Shore Pipeline group has amassed more than 500 Facebook followers and collected about 4,000 signatures on an online petition protesting the H4 project. As of the end of August, members had conducted six information sessions across the peninsula. 
Dembrowski accuses H4 of "environmental classism."
"The people on the Shore are not the most wealthy, for the most part," she said. "There are two reasons [H4 executives] think they can put it on the Shore. They think people won't fight back, and there's open land." 
Dembrowski said her organization isn't opposing the Eastern Shore Natural Gas project because it represents an extension of an existing pipeline.
Sanders said his company's efforts will make the region more competitive economically. Its industries face higher energy costs than places with ready access to natural gas, leaving them at a disadvantage, he said. 
The pipeline would pave the way for the construction of the peninsula's second power plant. Spectrum Energy has proposed a $700 million, 600 megawatt plant in Denton that would convert H4's gas into electricity for the power grid.
"If we don't build [the power plant], there won't be a pipeline," said Mark Gilliss, co-founder of the North Carolina-based company. "For them to put in a pipeline that big, they need someone to pay for it. The other users are pretty small next to us."
The plant will be among the most efficient in the world, he said, releasing concentrations of nitrogen oxide, a main ingredient in smog, of no more than about 2 parts per billion. "If I put an ambient meter in downtown Annapolis, I would have a higher NOx reading than I would at the stack of the turbine," Gilliss said.
He hopes the plant will be operational by 2023.
Denton Mayor Abby McNinch said she has contacted other communities that are home to similar power-generating facilities to learn more about the impacts they create. Spectrum has purchased property for the plant, but it hasn't filed a zoning application yet.
"I'm going to continue with the rest of the town to do our research," McNinch said. "I have my own personal concerns, but as a public official, I have to remain objective."
Supporters of natural gas point to its relatively low emissions. Compared to coal, natural gas releases about half the amount of carbon dioxide when combusted in modern power plants, according to the Union of Concerned Scientists. But critics pan it for being largely composed of methane, an even more potent greenhouse gas if it leaks into the atmosphere.
The Delmarva pipeline, if built, would be the first that H4 has developed. But the company has constructed an industrial-scale solar energy project and, from that experience, learned that the country's future energy grid will depend on a variety of sources, Sanders said. 
"We all support moving toward a renewable future, and we have done and continue to do our part developing renewable projects," Sanders said. "But clean and low-cost natural gas will help us get to that future and is critical for the Eastern Shore's economic development of today."