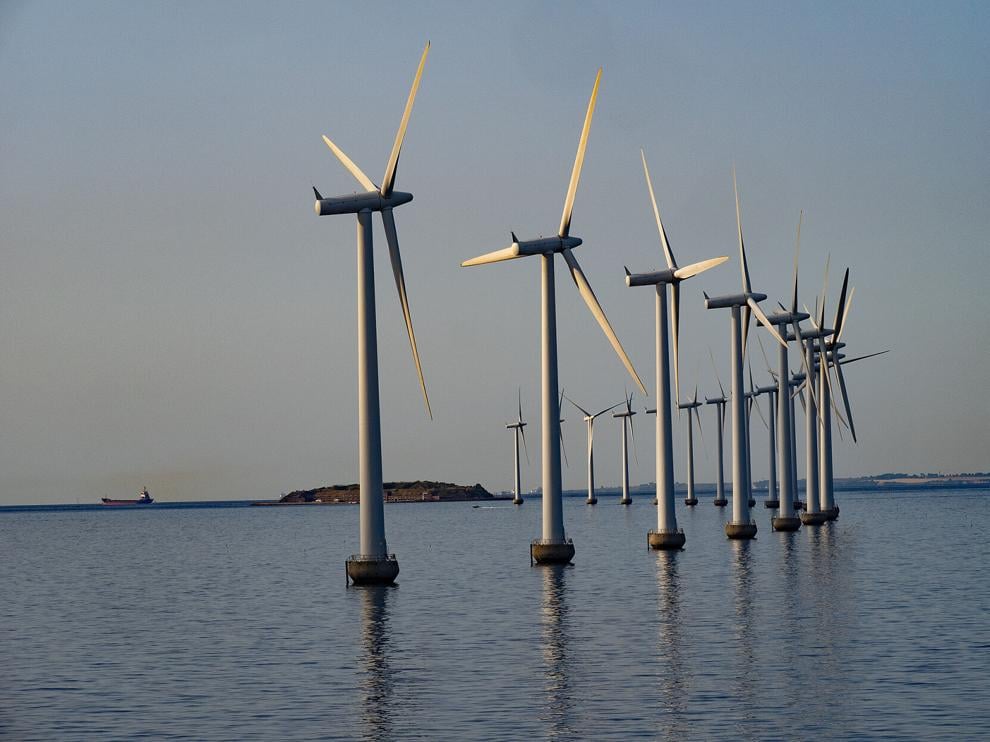 There were a lot of new faces in Annapolis at the start of this year's General Assembly in January. But newcomers and veterans together managed to produce a flurry of climate and environmental legislation by the conclusion of the annual 90-day session at midnight on April 10.
Following up on their decision in 2022 to set one of the nation's most ambitious greenhouse gas reduction goals, Maryland lawmakers doubled down on the state's commitment to develop offshore wind and solar energy while joining a coalition of other states to continue boosting sales of electric trucks, buses and delivery vans.
They also broke a years-long stalemate over how or even whether to reform the state's 1991 forest conservation law, set a goal of protecting a growing share of Maryland's landscape from development, and acted to increase green space in underserved and overburdened communities.
"It wasn't a perfect session by any means, but we got a lot done," said Kristen Harbeson, political director of the Maryland League of Conservation Voters.
Advocates said their job was made much easier by the January inauguration of Gov. Wes Moore, a Democrat who had campaigned on a pledge to fight climate change, protect the Chesapeake Bay and push for environmental justice. While his Republican predecessor Larry Hogan had voiced similar support, he had criticized and even vetoed key bills addressing those issues.
Offshore wind
On the heels of last year's Climate Solutions Now Act, which called for a 60% reduction in carbon emissions by 2031, lawmakers passed the POWER Act, which stands for Promoting Offshore Wind Energy Resources. It sets a goal of producing 8.5 gigawatts of electricity by 2031 off Maryland's Atlantic coast. That's more than four times the roughly 2 gigawatts of offshore wind power now planned by a pair of companies.
The bill also orders state agencies to work with PJM Interconnection, the regional electric grid manager, to build one or more transmission lines to carry the power to be generated by the offshore wind turbines to homes and businesses across the state.
Community solar
Lawmakers made permanent the state's community solar program, which allows people who can't put solar panels on their roof to buy their power from solar projects built elsewhere. The program, begun as a limited pilot in 2017, was set to expire at the end of 2024. The legislation lifts the cap on how much community solar can be developed. The measure requires that at least 40% of the community solar developed be reserved for low– and moderate-income households to purchase.
Electric trucks
Legislators directed Maryland to join a California-led coalition of states in requiring vehicle manufacturers to sell an increasing percentage of zero-emission medium– and heavy-duty trucks, delivery vans and school buses starting in 2027. The General Assembly has already committed the state to adopt California's "clean car" requirements aimed at boosting sales of electric cars and SUVs.
Environmental justice
Lawmakers passed a couple of bills requiring equity in planning transportation projects and in conserving open space in urban communities. One directs state officials to conduct cost-benefit and transit equity analyses, as well as consult with communities before announcing or proposing any major projects or service changes.
The other bill calls for funds to be provided annually to land trusts, local governments and other community groups to create and maintain green space in underserved neighborhoods that have been bypassed for such amenities.
Forest and land conservation
Ending years of debate, lawmakers agreed to revise the state's Forest Conservation Act for the first time in more than 30 years. It strengthened the law's overarching goal of ensuring no net loss of forest to one of increasing it. Key to the breakthrough was a study last year by the Hughes Center for Agro-Ecology, which found that the state is still losing forestland, though at a slower rate in recent years. The bill tightened some reforestation requirements and urged localities to do more to prevent forest fragmentation, which the Hughes study cited as a concern.
But the measure also gave limited new life to the practice of letting developers avoid replanting trees on site by paying into a forest "mitigation bank" elsewhere.
"The bill is not a wish list of everything that the advocates would have wanted," said Matt Stegman, a lawyer with the Chesapeake Bay Foundation. But he called it "much stronger" than previous bills that didn't pass.
The Maryland the Beautiful Act, which failed to pass last year, succeeded this year. It sets a new goal of conserving 30% of the state's lands by 2030 and 40% by 2040. About 23% is conserved now. The bill calls for loans and grants to land trusts and community nonprofits to help meet the goal.
Plastics
The burden for recycling and disposing of plastics could shift to manufacturers under a bill instituting "extended producer responsibility." As a start, lawmakers called for a study and an advisory council to recommend specific legislation in 2024.
Blue catfish
A pair of bills help address blue catfish, an invasive species that eats blue crabs, striped bass and other fish. One expands the types of fishing gear that can be used, while the other specifies that blue catfish be considered for inclusion when state food procurement contracts are drawn up.
Baltimore utility study
Lawmakers approved a Baltimore city and county task force to explore joint management of the region's troubled water and wastewater utilities.
Failed bills
Bills that would have revised the state's energy efficiency program to focus more on reducing greenhouse gases faltered amid what advocates said was confusion fed by industry misinformation.
Legislation also failed to pass that would have required state agencies to assess and prioritize the health and environmental impacts on marginalized communities of projects needing pollution permits.
Another measure that died would have strengthened state rules preventing waterfront property owners from protecting their eroding shorelines with bulkheads or riprap, which harm shallow-water habitat for fish and wildlife.
Bay Journal staff writer Whitney Pipkin contributed to this story.