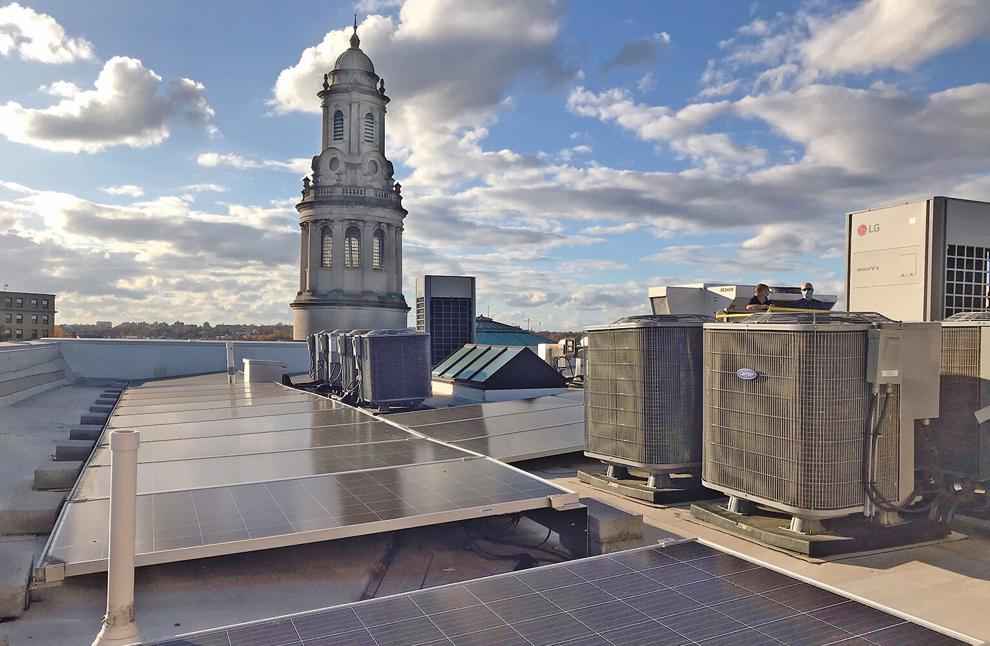 Unlike most people, Sam Buggs actually looks forward to getting his electricity bill.
That's because his monthly statement from Pepco regularly includes a credit of $40 to $50. It's the discount he gets because of the power generated to the grid by photovoltaic panels on the rooftop of his apartment building in the District of Columbia.
Buggs is one of thousands helped so far by the District's ambitious Solar for All initiative, which aims to provide 100,000 low-income families with the benefits of locally generated clean energy — and cut their energy bills in half in the process. He lives in the Maycroft Apartments, 64 units of affordable housing in Columbia Heights where two-thirds of the residents earn 30% or less of the area's median income.
Because he's disabled and living on a fixed income, Buggs said the credit on his power bill means he can afford to buy a couple of extra meals every month or pay another bill he'd been putting off.
"It's a blessing. I can't say it enough," he said.
Buggs and his neighbors are in rarified company. As solar energy spreads across the Chesapeake Bay watershed and nationwide as part of a growing effort to stem greenhouse gas emissions, less affluent households are often left out because they lack the funds or property ownership necessary to join in that expansion.
That's starting to change, and the District has been a national leader in seeking to address that disparity, according to David Murray, executive director of the Maryland-DC-Delaware-Virginia Solar Energy Industries Association. The city government, he said, "has really leaned in toward programs that not only build a representative [solar] workforce but ensure that solar is accessible to low– to moderate-income individuals."
Even though the costs of photovoltaic panels have declined, they still require an upfront investment of thousands of dollars to install. Many solar companies offer no-cost installations that yield less energy savings for the consumers, but those also require the customer to own a roof or land on which to place the panels. That leaves out renters and many others without the resources to finance installation.
The District, however, is investing about $10 million a year in its Solar for All efforts to overcome those obstacles and ensure that low-income families can enjoy the fruits of the community's transition to renewable energy, said Tommy Wells, director of the District's Department of Energy and Environment.
The money for that comes from non-compliance fees paid by Pepco and other electricity suppliers for failing to meet the District's ambitious requirements to provide a growing amount of power from renewable sources, including solar.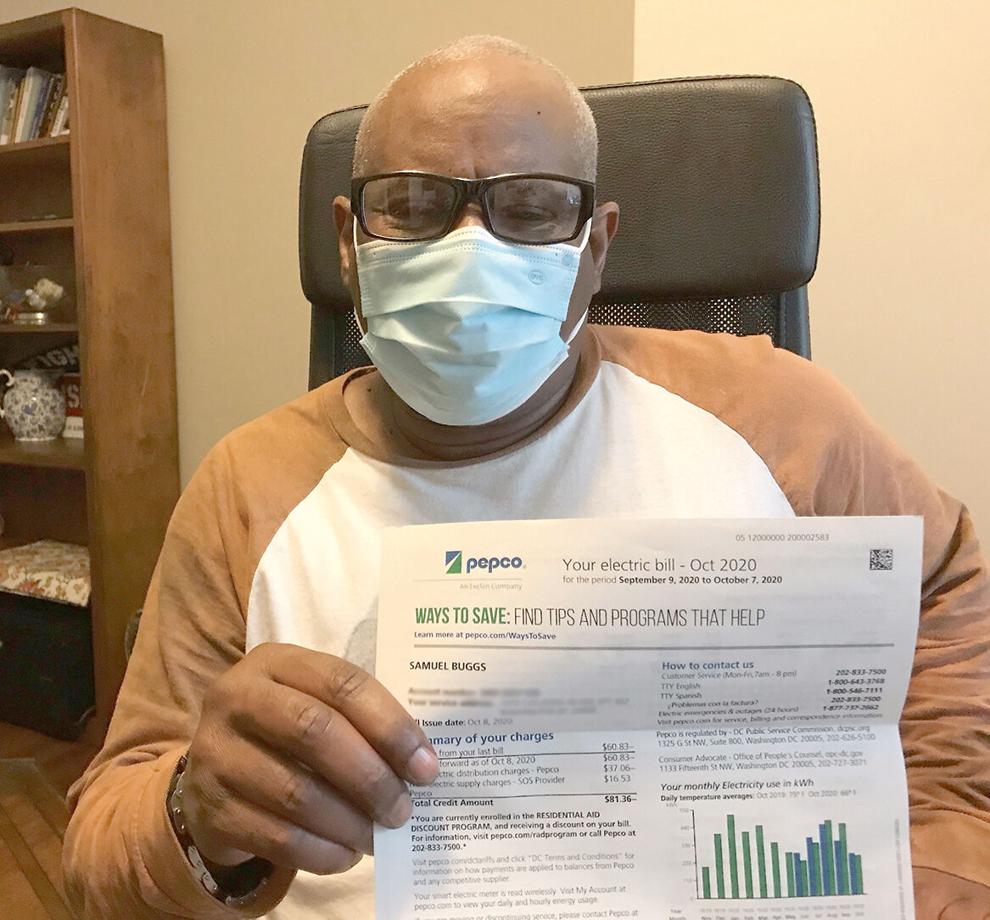 "There's not another program quite like this," Wells said. It not only helps fight climate change by reducing the District's dependence on fossil fuel energy, he said, "it's a way to share the benefits of solar with everyone."
The District has pledged to see that 100% of electricity sold in the city will come from renewable sources by 2050, with 10% of that coming from solar. Currently, solar provides just 1% to 2% of the District's power.
Rooftop installations
Generating electricity from the sun requires a lot of space for photovoltaic panels, and in the densely developed District there's very little open land that's not a park. Nearly all of the solar arrays there have to be put on rooftops.
The District's Department of Energy and Environment partners with several organizations to install photovoltaic arrays on single-family homes and develop community solar projects to benefit renters and residents of condo buildings. Through Solar for All, it offers incentives to income-qualified residents to either offset installation costs or let them sign up for free to community solar projects.
To help with that, DOEE has Solar Works DC, a low-income solar installation and job-training program. Through the mid-Atlantic branch of the national nonprofit GRID Alternatives, the program aims to train more than 200 District residents and install photovoltaic systems on low-income single-family homes.
"We try to put in solar panels for free or no cost to the homeowners," Wells said. "We try to do 100 per year. ... Generally, we do more than that."
The department has also partnered with other organizations to develop community solar projects that so far have more than 7,000 subscribers, Wells said. One has been installed on a brownfield in the southern part of the District to serve 750 households, he noted. But open space is at a premium. Finding appropriate rooftops can be challenging.
Another nonprofit, New Partners Community Solar Corp, is working to put photovoltaic arrays on the rooftops of commercial buildings in the District and distribute the energy-generating benefits to low-income individuals and families.
Originally launched by a pair of District lawyers who wanted solar on the roof of their downtown offices, New Partners has since recruited other commercial building owners to donate their rooftops for solar installations.
"It's a good way for building owners to give back and use their resources," said Sasha Srivastava, New Partners' executive director. "Oftentimes, their roofs are unused in any other way."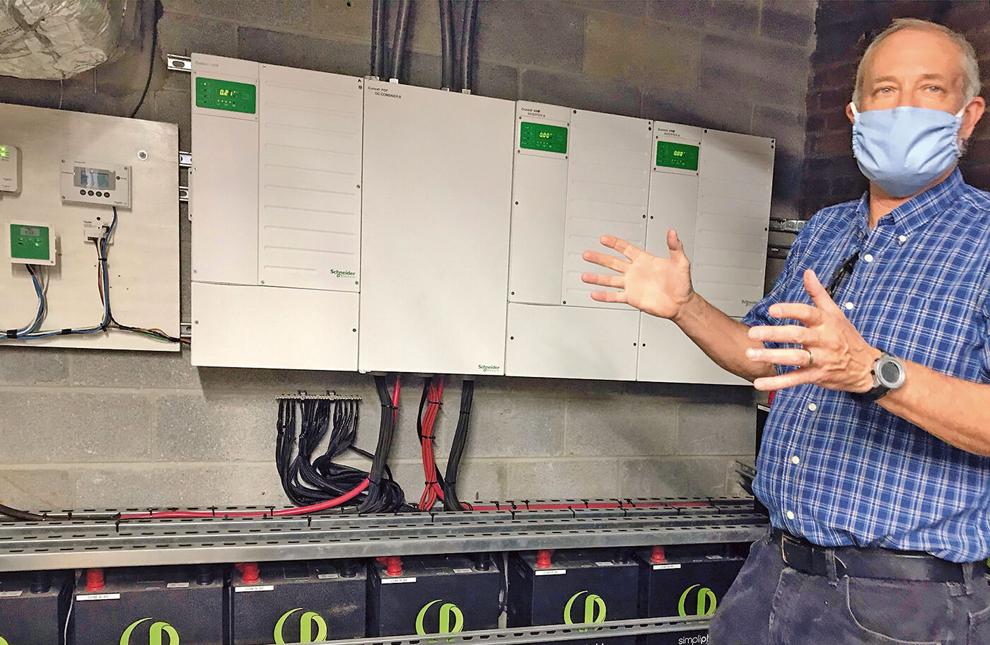 New Partners has since branched out to help put a community solar array on a District school building. It also helped to install a novel solar-powered battery storage system at the Maycroft Apartments, the affordable housing complex where Sam Buggs lives.
The century-old Maycroft building is owned by Jubilee Housing, another nonprofit that develops what it calls "justice housing," affordable apartments coupled with on-site support programs and services. As part of a renovation that was completed three years ago, Jubilee installed 192 rooftop photovoltaic panels, squeezed in amid the air-conditioning compressors, air vents and skylights.
The electricity generated by that rooftop array goes to the grid. Pepco pays it back in the form of credits on every tenant's power bill.
Resiliency centers
With the help of New Partners and others, the Maycroft has an added feature: a battery-powered "resiliency center" where the electricity stays on even in a blackout.
Many low-income residents don't have the option to go elsewhere or get out of town if a storm knocks out the grid, explained Marty Mellett, Jubilee's vice president for external affairs. With the resiliency center, he said, "there's a place where people can gather to power their phones and medical equipment."
The 16 big batteries can keep the power on for up to three days in the ground-floor complex of rooms, which in normal times serves as a family resource center with tutoring and meeting rooms, game tables and a kitchen equipped with an oven and refrigerator for keeping food and medicines.
The 70-kilowatt photovoltaic array on the rooftop recharges the batteries, but that took some extra electrical engineering because the resiliency center was set up after the rooftop array went in, Mellett explained. The $130,000 for the batteries and installation was partially underwritten by a grant from the Pepco Foundation. Mellett said Jubilee has learned from that experience how to reduce the cost and is looking to install similar resiliency centers in future affordable housing projects.
The backup power system hasn't been needed since it was installed last year, but it's been tested to make sure it'll work. Buggs said it's a relief knowing it's ready.
"I use a nebulizer," he said, referring to an electric-powered gadget that converts liquid medication to a mist so it can be inhaled into the lungs. "There's a lot of comfort knowing that power is there. It's an overwhelming blessing."
The District has a long way to go to achieve its Solar for All goals, DOEE's Wells acknowledged. "We need to do 7,000 [new subscribers] a year to get there," he said. "We're ramping up."
The District may be out in front, but it isn't the only Bay watershed jurisdiction working to share solar energy's benefits with low– and moderate-income households.
Maryland, which under a 2020 law calls for 50% renewable power by 2030, has launched a community solar pilot program intended to serve those without rooftops. A portion of the energy to be generated by those projects is earmarked for serving low– to moderate-income households.
The program was slow to get going but is bearing fruit. Gary Skulnik, CEO of Neighborhood Sun, said his company has two projects in the Baltimore area where low– to moderate-income subscribers can get 25% discounts on their power bills. Two more projects are under construction in Western Maryland, and yet another is planned in Montgomery County.
Legislation passed this year committed Virginia to achieve 100% carbon-free electricity by 2045. It requires that a small portion of the solar energy must come from rooftop mounted arrays, with a portion of that earmarked to serve low– to moderate-income households.
New York has a robust community solar program, which it recently enhanced to help it reach its ambitious goal of having 70% renewable electricity by 2030. The state offers its own Solar for All program, under which low-income households can save up to $180 a year on a subscription to a community solar project.