After the Trump administration proposed allowing oil and gas exploration off the East Coast in January, the debate has largely focused on the potential harm to the Atlantic Ocean's water quality and marine life.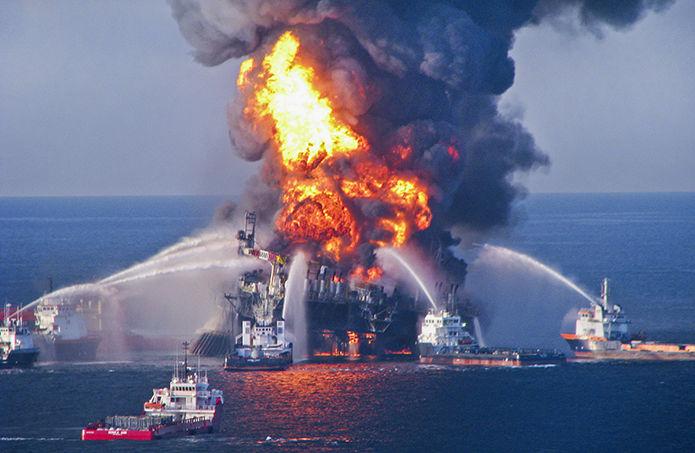 That is, after all, where any new oil rigs would sprout if the administration has its way.
But what about impacts to the Chesapeake Bay? Could the United State's largest estuary — the subject of a federal and multi-state program centered on reducing nutrient and sediment pollution — be at risk?
Yes, say some of the Bay's top scientists.
"I don't think there are any places in the world where they have developed oil and gas where they have been able to avoid spills," said Carl Hershner, director of the Center for Coastal Resources Management at the Virginia Institute for Marine Science.
The Bay's inland location may not help to shield it from oil pollution. Its water is linked to that of the Atlantic, and the effects of an offshore oil spill could be shared with the Chesapeake, scientists say.
The five-year offshore leasing proposal calls for opening not only the length of the Atlantic Seaboard but also virtually all other U.S. coastal waters to oil and natural gas exploration and potential drilling. A final decision is expected this fall and could go into effect as early as 2019.
The administration argues that expanding offshore leasing opportunities could relieve some of the country's dependence on foreign oil and pour billions of dollars into the economy. Offshore sources currently represent 18 percent of the domestic production of oil and 4 percent of natural gas.
Increased offshore oil production also could be an indirect boon to Bay restoration. Portions of federal receipts from offshore drilling flow into the Land and Water Conservation Fund, which provides matching grants to state and local governments, as well as funds to federal agencies to acquire land for public recreation and the protection of natural resources.
All of the governors in the Bay watershed's coastal states — Maryland, Virginia, Delaware and New York — formally denounced the administration's proposal. Keying in on Interior Secretary Ryan Zinke's public vow to nix Florida from consideration, several states have asked for the same treatment.
House Republicans are fighting back, proposing in May that states attempting to block the administration's move face a fee equal to at least one-tenth the government revenue the lease would have generated.
Off the mid-Atlantic coast, oil drilling would likely take place dozens of miles offshore along the Outer Continental Shelf, experts say. But under the right meteorological conditions, wind and ocean currents could carry a large spill into the mouth of the Bay and beyond, perhaps as far north as Baltimore, Hershner said.
If that happens, expect a "significant environmental impact" that would be impossible to clean up entirely and linger for several years, he added.
For clues about what might happen to the Bay, look no further than the Gulf of Mexico's Deepwater Horizon spill, said Don Boesch, a marine scientist and former president of the University of Maryland Center for Environmental Science.
In 2010, a BP rig exploded 50 miles off Louisiana's coast, killing 11 workers and unleashing 4 million barrels of oil into the Gulf's waters.
The environmental effects ranged widely immediately after the spill. There was a substantial rise in dolphin and sea turtle strandings, a large die-off of seabirds and a temporary shuttering of the commercial shrimp fishery.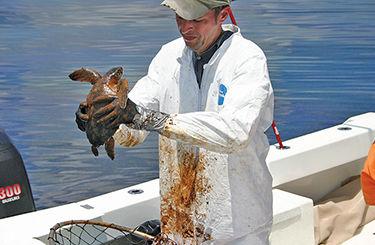 Portions of the spill floated north, covering nearly 1,400 miles of coastline from Texas to the Florida Panhandle, exacerbating the decline in salt marsh set into motion by sea level rise, scientists discovered. By one study's estimate, as much as 40 percent of the oil settled onto the seafloor, damaging coral reefs and other bottom-dwelling creatures. Tourism industry economic losses in the region were estimated as high as $22.7 billion.
An Atlantic spill, if it were to happen, almost certainly would be of a smaller scale, Boesch said, because drilling there would be in much shallower waters. The weight of deeper water, like the 5,000-foot depth where Deepwater Horizon operated in the Gulf, exerts more pressure on subterranean oil, increasing the potential intensity of a blowout.
The Chesapeake Bay Foundation, an early and tenacious advocate for restoring the Bay, stands firmly against offshore drilling.
A spill would be especially devastating to blue crabs, said Will Baker, the group's president. During the early stages of their lives, crabs float out of the mouth of the Bay into the Atlantic's waters. The larvae then develop fins and make their way back into the estuary.
"One ill-timed oil spill in that region could wipe out an entire year-class of Chesapeake blue crabs, and that would be a disaster," Baker said.
Once spilled, oil is extremely difficult to clean up, Hershner said. Dispersants can break down lighter chemicals at the surface, but they have environmental consequences of their own. And sending crews to physically remove oil from slick-covered marshes can cause more harm than good, he said.
"The bottom line is [that] once you've spilled the oil, it's out there and it's going to have an impact," Hershner said, adding that, in many cases, it may be best just to allow the oil to break down over time on its own.
Boesch, who has been studying the Bay for nearly three decades, said the potential environmental costs of drilling for oil in the Atlantic far outweigh the economic benefits.
"Why are we having all these fights when the resource base is not so huge and takes so long to bring on line?" he asked.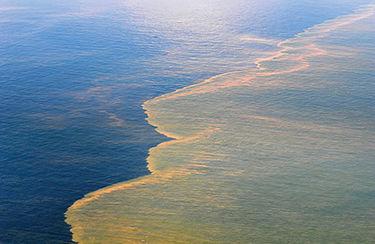 Although the federal government is working to finalize its offshore leasing program by this fall, it would likely take at least another 15 years for companies to start extracting oil.
Any oil operation would have to undergo a lengthy federal review. What's more, companies would have to perform seismic tests to determine whether the oil is available in large enough quantities to justify a multibillion dollar effort to bring it to the surface.
So far, drilling in mid-Atlantic waters has fueled little commercial interest. The only federal leases for the area were sold from 1976–1983. Companies drilled dozens of wells, but all were abandoned for lack of commercial returns.
But interest has continued flaring off and on over the years, typically in concert with the price of crude oil.
About 2.4 billion barrels of oil and 23 trillion cubic feet of gas can be recovered off the mid-Atlantic, a region stretching from the Delaware Bay to the North Carolina-South Carolina border, according to U.S. Bureau of Ocean Energy Management estimates.
Those totals are dwarfed by the 45 billion barrels of oil and 130 trillion cubic feet of gas available for potential lease beneath the western and central Gulf of Mexico, the only areas off the continental United States where offshore drilling is currently permitted.
Oil industry advocates, though, argue that the mid-Atlantic's waters probably yield far more energy than those estimates suggest. Since the most recent seismic surveying took place in the early 1980s, technological advances have enabled companies to pinpoint oil reserves in many places previously thought to contain no oil, said Dan Kish, a senior fellow at the Washington DC-based Institute for Energy Research.
"It may turn out there's nothing and everybody can settle down or it can turn out there are huge amounts," he said.
It's telling, he added, that the fiercest opposition to the Trump drilling plan has been tied to regions where oil rigs have never loomed on the horizon.
Residents along the western and central Gulf Coast, Kish said, "know about the trade-offs and the problems that can occur. They know about the terrible spill that happened with the BP Horizon. Yet they are very supportive of offshore drilling and exploration."
The backlash to the lease proposal shows no signs of letting up in the mid-Atlantic.
When Sen. Chris Van Hollen asked Zinke to exempt his home state of Maryland, as Zinke had done for Florida, Zinke responded that Florida is "a little different" because Congress has placed a moratorium on drilling in waters off the state's west coast. The ban, which expires in 2022, protects one of the largest military air and water training areas in the country.
But Zinke also ticked off several conditions that make Maryland's offshore area a poor candidate for drilling. There are no known oil reserves in its waters, and a lack of industry infrastructure on land ensures that ramping up production will be complicated, he said.
Further, state officials would have the final say over whether any oil collected offshore could be transported in state waters.
"I think you're going to be very happy with our planning process as we go through," Zinke told the Democrat.