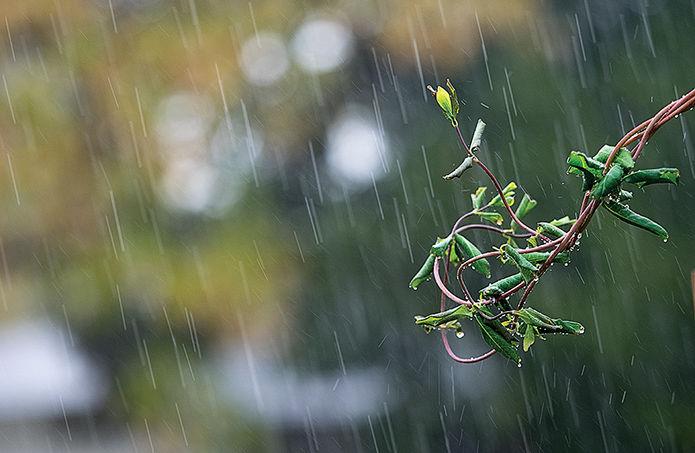 In coastal Virginia, sea level rise often steals the headlines as the culprit behind increased flooding. But there's at least one other climate-related factor exacerbating rising waters across the state: It's raining more often and more intensely.
A report published in the Virginia Journal of Science this year looked at rain data from 1947 to 2016 and found Virginia getting about a half-inch more rain per decade. Some of the 43 locations monitored saw greater increases than others, while only four did not see an increase.
Several locations have experienced more than an inch of increased precipitation per decade. Wallaceton, in the Norfolk area, had the largest change: 1.5 inches per decade.
"This was really designed to give more climate-related data to decision makers," said Michael Allen, an assistant professor of geography at Old Dominion University in Norfolk and co-author of the report. "We use a lot of historical climatology [data] to plan for the future, but we can't use precipitation trends that aren't there anymore."
Near Hampton Roads, Allen said, additional rain adds to a "quadruple whammy" of factors that contribute to flooding. The coastal region also is grappling with flooding from high tides, storm surges, land subsidence and rising sea level.
The City of Virginia Beach conducted its own analysis of historical and future heavy rain events in 2018, a couple years after flooding from Hurricane Matthew deluged the city in 2016. Its report found an increase in heavy rains and a need for city infrastructure to increase its capacity to handle larger volumes of rainfall.
The report found that even minor floods can disrupt transportation, cause school or work to be cancelled and contribute to mold and mildew problems.
At the extreme end of the flooding spectrum, hurricanes and nontropical rains can cause billions of dollars in damages. October marked three years since Hurricane Matthew unleashed 14 inches of rain in some areas of Virginia Beach, damaging roughly 2,000 structures and costing about $30 million, according to news reports.
Allen's research also shows that flooding is not just a coastal phenomenon but one that impacts communities and waterways across the state. On average across Virginia, the number of days per year with precipitation also increased by 1.69 days each decade. Burkes Garden in Southwest Virginia showed the largest change with nearly 10 more rain days per decade.
The report was based on data collected through 2016, but Allen said the heavy rains of 2018 — and even the dry weather of 2019 — support findings that erratic weather is "becoming more likely and probable."
Future climate projections indicate the frequency and magnitude of heavy rains will continue to increase in the eastern United States. That's in part because warmer air contains more water vapor, which can accumulate into so-called "rain bombs" that drop more rainfall in shorter periods of time.
The report said these heavy rains are important for localities to consider when designing the size of a pipe for a stormwater project or calculating the impact of new development as it replaces the absorption capacity of green space with hard surfaces.
"If you pave paradise and put up a parking lot, obviously your hydrology is going to change," Allen said.