The Chesapeake Bay and other environmental issues had more floor time — and legislative changes — than they have in years during Virginia's 60-day General Assembly session that ended last week.
Some observers attributed the added attention to a political shift in which Democrats took control of both chambers and the executive mansion for the first time in a generation. Others said many of the issues — from energy reforms to pollution deadlines — were simply ripe for action after years of advocacy.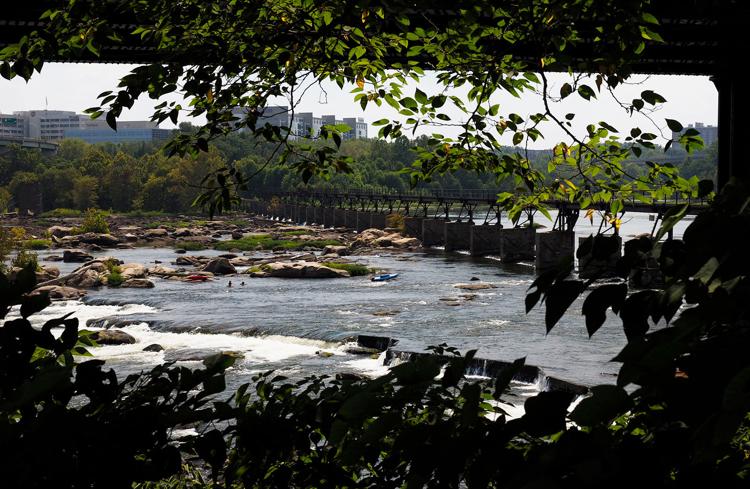 Reshaping the energy sector was a top priority as legislators moved to join a regional carbon-trading network, block offshore oil drilling and make the electricity grid carbon-free by 2045.
Under new legislation, farmers and cities will be seeing new deadlines — and, potentially, more funding — to curtail pollution as the state nears its own 2026 deadline for achieving water quality goals.
"This is what a 'conservation majority' looks like," said Michael Town, executive director of the Virginia League of Conservation Voters, pointing to the passage of renewable energy goals on the final weekday of the session.
The bills still require Gov. Ralph Northam's signature to become law, but the Democrat has given no indication that he will block newly passed environmental and energy initiatives. He has already signed a measure into law, for example, creating a state council on environmental justice.
Clean Economy Act
In the session's closing days, lawmakers struck a deal to put the state's electricity providers on a path to eliminating carbon emissions by midcentury. Dominion Energy will need to be carbon-free by 2045 and Appalachian Power Company by 2050, according to legislation.
The wide-ranging Clean Economy Act also requires most large oil– and coal-fired power plants to shutter by the end of 2024. It also ends power generation from wood-burning pellets by 2028 and mandates that electricity providers begin constructing wind and solar facilities.
"It's not a stretch to say this is probably the most forward-thinking energy bill to come out of any Southern state's legislature in history," said Will Cleveland, a senior attorney for the Southern Environmental Law Center.
The bill falls short of the actions sought by more-liberal Democrats. But it still upset many Republicans, whose criticism centered on an $8 billion offshore wind project included in the legislation. They warn that it will drive up customers' utility bills.
The State Corporation Commission estimates that the legislation will boost the average electric bill nearly $28 by 2027–30. Advocates dispute that. Their studies, they say, show it will reduce costs.
Dominion Energy supported the bill. "Passage of this legislation sets a clear path forward for Virginia's energy future," spokesman Rayhan Daudani said. "Consistent with this legislation, our focus has been and will continue to be on providing safe, reliable and sustainable energy to our customers."
The utility giant separately announced in February plans to reach "net zero" emissions of carbon dioxide and methane by 2050.
Carbon credits
The legislature also removed a ban on Virginia's participation in the Regional Greenhouse Gas Initiative, a multistate program aimed at curbing carbon pollution from power plants. The state is poised to join the cap-and-trade program with Maryland, Delaware, New York and seven other states in the Northeast.
The system would make it more expensive to produce power from fossil fuels, requiring large power plants to pay for "credits" for the carbon emissions they generate beyond a cap set by the initiative's member states.
Half of the $100 million expected to be generated annually will be used to help low-income families improve energy efficiency. Most of the remaining funding will help communities with recurrent flooding.
Agriculture
The General Assembly also may be handing down deadlines to some farmers who have not fenced livestock out of streams or do not have nutrient management plans for croplands. The legislation gives farmers five more years to voluntarily participate in cost-share programs that support those water-quality measures. If they don't, the state will impose deadlines that require the farmers to act.
"It's a bill that both acknowledges the importance of farmers' voluntary efforts with support from cost-share programs and also recognizes that, if we don't get there by 2025, it will be a requirement," Peggy Sanner, the Chesapeake Bay Foundation's Virginia executive director.
To help farmers, the legislature put $88 million into the state's two-year agricultural cost-share program. The state Department of Conservation and Recreation, though, estimates that the program needs $125 million over that period.
Menhaden
In a move celebrated by both conservation and fishing communities, management of Virginia's menhaden fishery will be moved from the General Assembly to the Virginia Marine Resources Commission, which manages other marine species in the state.
The need was highlighted this past year when a federal agency declared Virginia out of compliance with an interstate management plan that limits menhaden harvest. The General Assembly had not officially adopted the plan, which placed new limits on menhaden harvests within the Chesapeake Bay. When Omega Protein, the largest harvester of menhaden on the East Coast, exceeded the Bay cap last year, the commission had no authority to halt harvests, putting the state out of compliance. As a result, the Virginia menhaden fishery faced a complete shut down if the state failed to adopt and enforce the plan, an action that would affect many small operations that catch the fish for sale as bait as well as Omega.
Backers say the legislation will put science over politics when it comes to managing the fishery. Omega supported the move.
Sewage pollution
New legislation would set a timeline for Richmond to complete costly upgrades that will eliminate sewage overflows into the James River by 2035. The city will submit progress reports to the General Assembly and may request additional funding for the expedited work.
Lawmakers also set aside $50 million over two years to upgrade sewage plants, marking the first time in several years they have invested in the sector.
Environmental justice
Legislators passed several bills aimed at protecting vulnerable communities from environmental threats.
One measure establishes in state code a Council on Environmental Justice, which Northam first created with an executive order in January. Others add consideration of environmental justice and climate change into the mission of the state Department of Environmental Quality.
The changes came amid criticism from the U.S. Court of Appeals for the Fourth Circuit over a state board's approval of a compressor station in a historic, predominantly African American community that feared the project would impact air quality.
This effort, said Danielle Simms, interim political director for the Virginia League of Conservation Voters, "has helped ensure a forum for communities of color and low-income residents… a place to discuss their concerns in an impactful way."
Offshore drilling
The state banned oil and gas drilling within 3 miles of its coastline and repealed language that threw Virginia's support behind offshore drilling. It will effectively bar drilling beyond that 3 miles as well, advocates say, because it prohibits any pipes or other industry infrastructure from being placed in state waters.
The move comes after the Trump administration in 2018 proposed to open waters in the Atlantic, Pacific and elsewhere to energy exploration and drilling.
Plastic bags
After several years of failed efforts, supporters of a plastic bag tax passed a bill in Richmond. If signed by Northam, it will give cities and counties the authority to impose a 5-cent tax on certain retail bags.
The bill requires local governments to spend funds raised by the tax on environmental cleanups, education programs designed to reduce waste and providing reusable bags to welfare recipients.