As climate change fuels flooding all over the country, one coping strategy is managed retreat: Local governments use federal funds to buy up waterlogged properties at fair market value, throwing distressed owners a financial lifeline and repurposing that land to help mitigate the impacts of recurrent flooding.
But what becomes of those properties once communities acquire them? Who oversees them? What's the cost to local taxpayers to mow, maintain and manage them in perpetuity?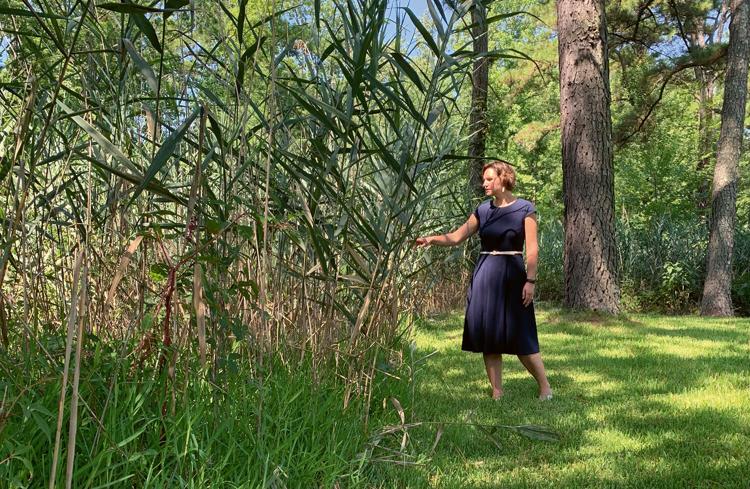 The burden can be so daunting that many municipalities have ditched their efforts to acquire flood-prone properties altogether, even if the Federal Emergency Management Agency foots the bill.
"There are communities that have outright abandoned their acquisition efforts because they don't want to be landlords of open parcels and because of the administrative burden to monitor the parcels, to report on them to FEMA and certainly to mow them, if mowing is required," said Mary-Carson Stiff, policy director at Wetlands Watch in Norfolk.
But now the city of Chesapeake is partnering with Wetlands Watch and Living River Trust on a pilot project that, if successful, could offer municipalities a guide on how to transfer FEMA-acquired properties to a land trust devoted to conservation use.
Typically, a land trust works with willing landowners who grant conservation easements to help protect and conserve their properties forever, said John Harbin, administrator of Living River Trust in Norfolk. The owners retain the property but outline the terms of the agreement in a legal document called an easement. But this pilot project is exploring how to completely transfer ownership of these properties to the land trust.
"Because they were acquired using these FEMA funds," Harbin said, "they are restricted in what they can be used for in the future — restoration of natural wetland functions, reforestation of properties, other kinds of passive recreation uses."
That means the FEMA requirement and mission of the land trust are similar. But while the concept sounds straightforward, it's actually quite tricky to achieve within FEMA's byzantine regulatory framework. Project partners say no municipality has managed it so far. "The city of Chesapeake is not alone in its efforts to think outside the box for how these parcels can be managed, and one of the reasons we think the pilot [project] is so important is that it gets at this very issue," Stiff said.
"There are communities everywhere across the country that have completed some form of government buyout, and what happens to the open parcels is of great importance to all communities that have participated in acquisition."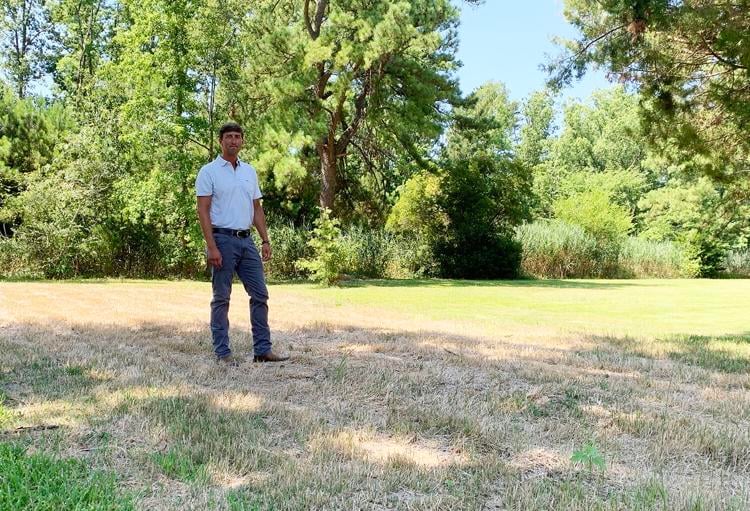 It's important to Chesapeake in particular because the city has been buying up flood-prone properties with FEMA money since 2007. It has acquired more land via that route than any other municipality in the state.
"Last I heard, we were top dog," said Robb Braidwood, Chesapeake's deputy coordinator of emergency management.
The city has purchased 38 parcels so far with more than $11.5 million in FEMA flood and hazard mitigation grants and was just approved for six more. Most are roughly half-acre pocket parcels interspersed throughout neighborhoods. For now, these are maintained as open spaces.
But there are downsides to owning the land, Braidwood said: Each parcel costs the city more than $2,000 a year just to mow. There's also the burden of cleaning up chronic dumping and administering the program.
"We've always been trying to wrestle with how we can transition from that long-term cost into something else," Braidwood said. "We've looked at reforestation of the properties, and that's never popular with adjacent homeowners because they think it'll bring animals or vermin. FEMA is very restrictive about what you can do with the property, so you can't put in, like, a playground."
So when Stiff approached him with the land trust idea, it felt like a great fit and a creative approach to a problem. The hurdle, he said, is getting FEMA "to agree to let this happen."
"Philosophically, they would agree with it and the concept," Braidwood said. "It's the bureaucratic side — is this allowable under the code of federal regulations? That's why we have to work with FEMA very closely on this."
Five of the parcels are contiguous, fronting Mains Creek, a tidal tributary to the Southern Branch Elizabeth River. Because contiguous parcels are better for conservation use, these properties, totaling nearly 3 acres, are the focus of the pilot project.
"Generally speaking, compatible uses include restoration of the properties, wetland creation or enhancement," Harbin said. "I believe you can use passive recreational uses like a community garden or a trail or maybe a water-access point. But, essentially, you can't develop the property again."
Buying out risk
Using FEMA funds to buy up floodplain properties isn't just a coastal phenomenon. Some landlocked regions that suffer devastating riverine floods leverage the grants even more aggressively than Hampton Roads.
"It's very popular in places like Houston and in the Midwest," Braidwood said. "Absolutely, they outgun us. In Houston, for example, they'll submit grants or they'll buy 200-plus homes at one time. They're very aggressive. And Iowa — they'll come in and buy a whole town because the properties are so much cheaper."
FEMA offers several grant programs. Some pay to elevate a home, which is a popular choice in Tidewater cities like Norfolk and Gloucester. Others will buy a home and either move it — rarely done — or replace it with a new build that's floodplain-compliant.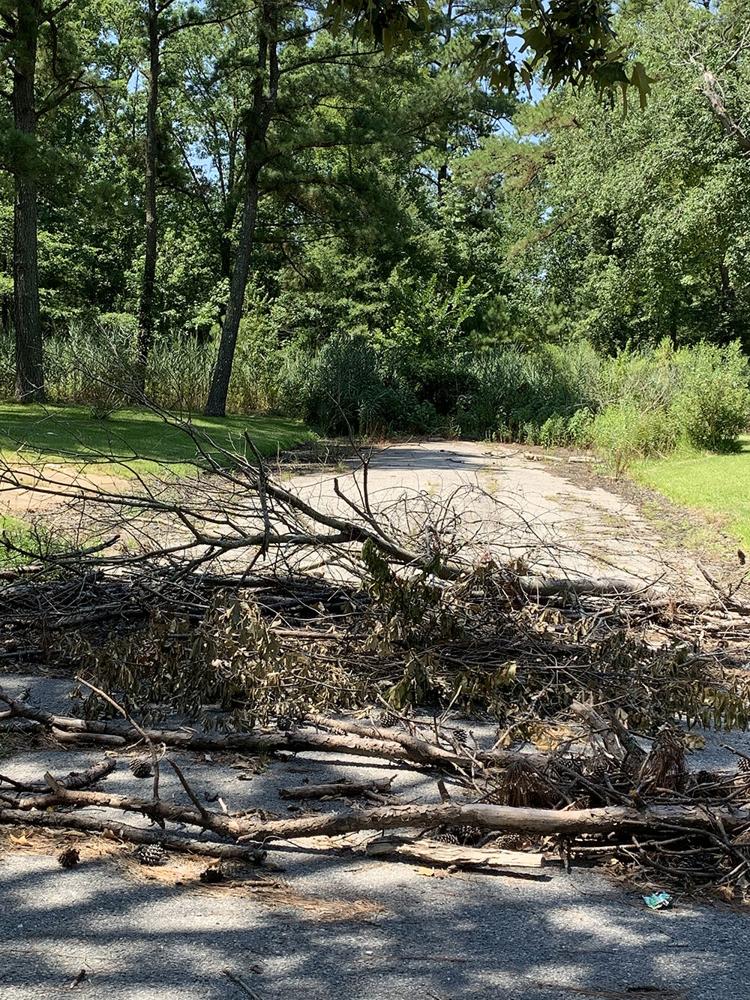 Chesapeake typically uses grants to buy a home outright, with FEMA covering either 100% or 75% of the cost (and the state picking up 20% and the homeowner 5%) to turn it into permanent open space.
"If you [just] elevate a house to 10 feet, I'll show you an 11-foot flood the next year," Braidwood said. "So, for us, acquisition is the only way to go, because we buy out that risk forever."
For property owners, selling is entirely voluntary. But there are caveats. Grant amounts are capped at around $276,000, so pricier waterfront homes won't qualify. And the property must experience recurrent flooding and be enrolled in the National Flood Insurance Program, which offers cut-rate premiums heavily subsidized by federal taxpayers.
For the insurance program, buying flood-plagued properties is cheaper in the long run than paying claims on the same properties over and over again.
The insurance program is "completely upside-down — like, billions of dollars in the hole," Braidwood said. "These [buyouts] are designed to try to buy down risk so that the program can become solvent again."
Finding property owners who are eager to sell comes in predicable cycles.
"When we haven't had a hurricane in a while, that's when we get the least amount of applications," Braidwood said. "The second we get a bad hurricane, our applications the next year go up exponentially. …You rarely hear from somebody that flooded out just once."
The city finds owners through word of mouth, town halls and postings on the city's website. Wending through federal red tape to acquire a property can take a year or two.
Because of the grant cap, cities with costlier homes in floodplains have less incentive to participate in direct acquisition programs. Such programs are also very hard for local governments to administer. Local leaders can be leery about buying homes, razing them and removing them from the local tax base.
Communities seek guidance
After Hurricane Isabel ravaged Hampton Roads in 2003, the Gloucester County Board of Supervisors supported a new program to buy out flood-prone homes with FEMA funds, said Anne Ducey-Ortiz, director of the county's planning, zoning and environmental programs.
By 2014, Gloucester had bought 33 parcels. Then came a shift in board membership and a new aversion to losing taxable real estate. So supervisors changed course and opted to help owners elevate flood-prone homes rather than buy them to tear down.
"So we just kind of stopped," Ducey-Ortiz said. "We didn't really have the bigger picture of the benefits: Wetlands provide a great buffer for houses in terms of mitigating storm surges and providing a place for the water to go, as well as providing habitat. And the marshes tend to be great places
for small critters to kind of hide until they grow up."
Gloucester's acquisition program was also undercut early on by developers who gobbled up waterfront properties at better prices than FEMA was offering. Developers then built upscale elevated homes — leaving some of the worst land for the buyouts.
But elevated homes can't eliminate one longstanding consequence of floods that continues to plague the Chesapeake Bay and regional restoration efforts: leaky septic systems.
"[The homes] are all built to the latest standards with building codes, and they do have certain flood-proofing," Ducey-Ortiz said. "But that is my argument for acquisition — you can raise the house, but they're all on septic. You can't raise the septic system. So every time it floods, that's raw sewage going out into the Bay."
Gloucester's acquisition efforts also faltered because there was no comprehensive plan in place for the buyout properties and no consensus over which county agency would maintain them — as in Chesapeake, the open parcels are often targets for illegal dumping.
"We've been constantly trying to think of a good use of these properties, above just sitting there," Ducey-Ortiz said. Her own visions of developing a park or getting the Virginia Institute of Marine Science in Gloucester Point to use the land for a research lab fell through for lack of funding.
Chesapeake's land trust project might just provide badly needed guidance for programs like Gloucester's, she said.
"If there was a better program, or even if it became part of a wildlife management area or something, it could be better managed," Ducey-Ortiz said. "Trying to have local governments do that — they're just not equipped for it. They're equipped for parks and rec. It's what we do; we take care of our people. So this larger idea of just preserving land for preserving land's sake is really not something local governments historically have done."
A successful pilot project could also help inform course corrections for development and adaptation in Hampton Roads, a recognized global hot spot for sea level rise.
"As sea level rise continues to impact our communities, we have to figure out ways to adapt to that, and this is a really good option," Harbin said. "Maybe one day a neighborhood that was once there will not be there, and it'll be a community green space or it'll be a wetland restoration project or it'll be a nature park or some sort of use that was always probably better-suited for that piece of land. But we weren't always so wise when we were developing 20, 30, 40 years ago."