A landmark U.S. Army Corps of Engineers report in 2017 called for $1.8 billion in projects to protect Virginia's second-largest city from sea level rise and stronger coastal storms.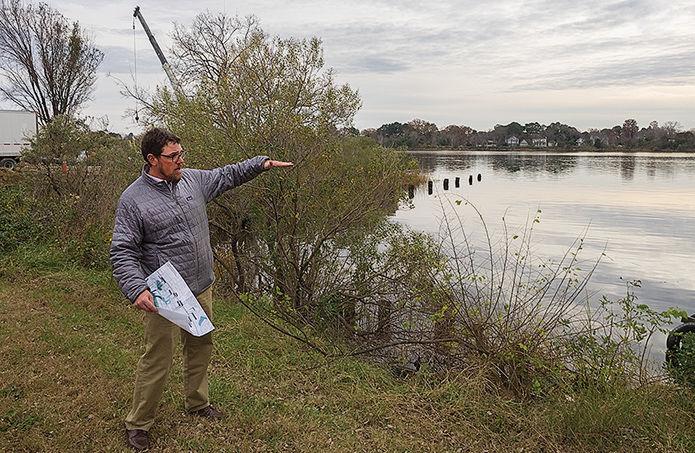 That's because Norfolk is in the crosshairs of sea level rise. It's a low-lying city at the confluence of the James River and Chesapeake Bay, just a few miles from the Atlantic Ocean. With a large population, key military installations and water problems already occurring, Norfolk has begun grappling with how it will prepare for a wetter future.
Some clues may lie in two of its most flood-prone neighborhoods, where construction is scheduled to begin in April on a flood-resiliency project whose cost and scope rival any undertaken so far in the United States.
Bolstered by an injection of $112 million in federal dollars, local officials plan to install more than 7,000 feet of earthen berms, about 1,000 feet of floodwalls, several acres of tidal marsh, a tide gate and two pump stations. The project also includes raising nearly a half-mile of roads by up to 6 feet above existing ground level.
"The idea is to hold the water while you can, clean it and release it slowly into the system when you can," said Christine Morris, Norfolk's chief resilience officer.
Norfolk officials have been laying the groundwork for a citywide climate overhaul since 2014, when the Rockefeller Foundation selected it to be one of 100 "resilient cities" alongside London, New York City and Paris, among others. The city put the $1.7 million it received from the organization toward establishing Morris' position and hosting a series of climate workshops.
But the project in the city's Ohio Creek watershed marks the first major one of its kind to move into the construction phase, said Joe Rieger, deputy director of restoration for the Elizabeth River Project. The Ohio is a tributary of the Elizabeth River's Eastern Branch.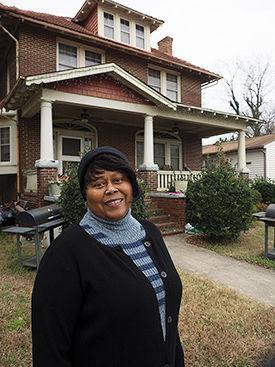 "Here's a model that could be replicated in other neighborhoods," Rieger said. "The city is going to learn a lot from this project."
Whether the city will have the money to replicate it elsewhere is unclear. The $112 million came largely from a $1 billion pot of unused federal funding originally intended for Hurricane Sandy recovery efforts.
"You can't do this for every single community in Norfolk," said Josh Behr, a political scientist with the Old Dominion University research and modeling think tank that helped to write the grant proposal for the city and state. Applying a comparable level of fixes citywide would cost "hundreds of billions of dollars," he added.
"It's just not going to work," Behr said.
The flood-addled Hampton Roads region, a swath of southeast Virginia that's home to 1.6 million people and several cities, including Norfolk, is often labeled the second-most vulnerable U.S. metropolitan area to sea level rise. The only place facing a greater threat: New Orleans.
Water levels have risen by 18 inches over the last century and are forecast to go up another 4.5 feet by 2100, according to planning and engineering guidelines adopted by the Hampton Roads Planning District Commission in October. Sea level rise in the area is accelerating at nearly twice the global average, scientists say, because the land is also sinking as part of a geological process that's an artifact from the last Ice Age.
A few miles south of downtown Norfolk on the banks of Ohio Creek, water struggles aren't some
future abstraction for a pair of communities — they've been happening for years. During unusually high tides, the storm sewers work in reverse, with water bubbling up instead of going down. Heavy rains regularly transform the lowest streets into canals, blocking one of the two access roads for 2,000 residents.
Without action, people and businesses will probably flee Chesterfield Heights and Grandy Village in the coming decades, Behr said. Recurring storm surges will damage homes, forcing residents to abandon them, he said. Others will simply get tired of the inconvenience caused by the flooding and leave. Property values will crash.
"If you didn't do anything, the signal to the business people would be 'This isn't going to get any better,'" Behr said. "The risk is less [farther] inland and the population is already there, so it's a reinforcing loop."
The two neighborhoods lie wedged between the Eastern Branch and a buzz saw of traffic on Interstate 264. Industrial complexes on the east and west further disconnect residents from the rest of the city. "It's not some place you encounter or wander through," Behr said. "There was not a lot of awareness this neighborhood was
even there."
Cheryll Sumner grew up in Chesterfield Heights, a community of crape myrtle-lined streets and older single-family homes. She returned as an adult to raise five children there. Now the president of the Chesterfield Heights Civic League, she said she has heard little resistance from neighbors over the enormous public works project. That's because of a shared realization: "The water is coming,"
she said.
The first sign of trouble came during Hurricane Isabel in 2003, Sumner recalled. The torrential rain and storm surge flooded the block facing the riverfront. She ended up tying her boat to a telephone pole to keep it from floating away.
Grandy Village consists almost entirely of barrack-like brick apartments operated by the city's housing authority as affordable housing. But the two communities share more than a border: Both are historically African American neighborhoods that developed in response to the need for living quarters near the river's shipyards. They were built on top of former creek beds and hastily filled-in wetlands, leaving rainwater nowhere to collect except on their roads and in residents' yards, Morris said.
The resilience plan was shaped by meetings called "Dutch dialogues" in which experts converged for marathon strategy sessions, she said. Then, officials hosted more than two dozen community meetings to gather feedback from residents.
The plan borrows heavily from water-fighting strategies common in New Orleans and the Netherlands, but with a few Chesapeake Bay-friendly twists. The most critical feature is the transformation of Ohio Creek and neighboring Haynes Creek into large stormwater impoundments, Morris said. Berms will surround the creeks and their marshy shorelines to contain the rain water running off the surrounding land. An existing 8-acre park behind a neighborhood school will be turned into an occasional water-storage area as well.
Kimball Terrace, the community access road that routinely floods, will be rerouted to bypass the western industrial area and raised to 8 feet above sea level. In response to community concerns, engineers sought to use as many "green" structures as possible. So, the new barrier along most of the riverfront will largely be composed of a 4-foot grassy berm.
On the river side of the berm, fresh plantings will festoon the wet landscape, creating a "living shoreline." A total of 3.5 acres of new oyster reefs will provide an ecological lift to the urbanized river. If that helps the fish bite, users of the new community pier will soon find out.
Overall, the project is "pretty impressive from our perspective and maybe the gold standard as cities and counties have to do more of this," said Lyle Varnell, associate director for advisory services for the Virginia Institute of Marine Science. He signed a letter of support of the project's design on behalf of the institute in December.
The effort packs a lot of engineering punch into a relatively small 255-acre area, raising questions about whether it can serve as a template in other communities, Varnell said.
"Of course," he said, "they had the resources to do this, which will be the challenge going forward."
The funding stemmed from a President Barack Obama era program available only to states and communities impacted by major disasters between 2011 and 2013. Awards went to places whose plans were to shown to be "embracing resilience as a way to build a better future," said Judith Rodin, then-president of the Rockefeller Foundation, which provided technical assistance to the program.
Norfolk qualified because of its tangle with Hurricane Irene. The city received the third largest amount of money after New York City's $176 million and New Orleans' $141 million. The Ohio Creek project can help preserve an important slice of Norfolk while positioning the city in the eyes of business leaders and others as a climate change leader, supporters say. For them, the question "How can the city afford the cost of adaptation?" inevitably raises another, "How can it afford not to?"
"It is a big investment," said Traci Munyan, resiliency program manager for the Virginia Department of Housing and Community Development, which shepherded the grant for the city. "But the alternative to this community and the information we will receive will outweigh [the cost]. These folks will hopefully not have to relocate, and they'll rebuild to higher flood standards that will keep them there not only for that big one but that day-in, day-out inconvenience they live through."