Historic Ellicott City has twice been ravaged by floods in recent years, but it escaped a repeat recently from Tropical Storm Isaias. While other parts of Maryland didn't fare as well, Howard County officials report the one-time mill community only got around 3 inches of rain.  Streams rose but didn't overflow.
The tropical storm's pass through the Chesapeake Bay region came as federal, state and local officials are reviewing plans to make the 250-year-old historic district safer from future floods and ensure its long-term survival.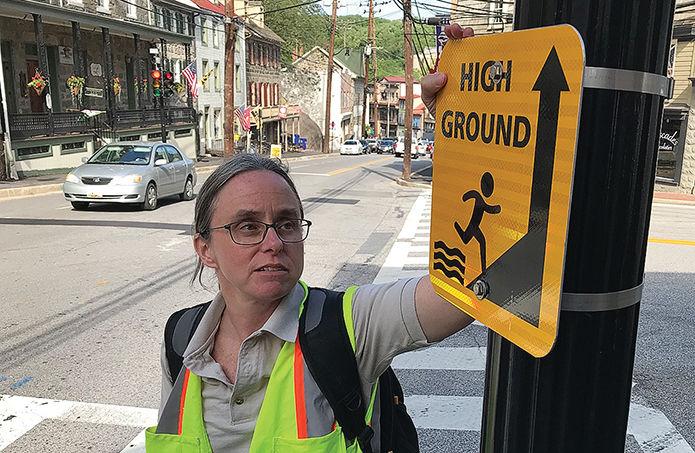 The U.S. Army Corps of Engineers and Maryland Department of the Environment are seeking public feedback on seven flood mitigation projects that Howard County has proposed to reduce the depth and force of floodwaters in the parts of Ellicott City that suffered the worst devastation during intense downpours in 2016 and 2018.
County officials have proposed to install more and larger culverts to keep streams from overflowing their banks and also bore a large tunnel so floodwaters will bypass the strip of shops, eateries, offices and homes. In addition, they want to remove four historic buildings that sit atop one flood-prone stream and remove the backs of six others sitting in the floodplain.
The proposed demolitions have proven controversial.  Some have argued that development in the watershed has worsened flooding, while others point to the flash floods as evidence of a changing climate, with more frequent and more intense rain events.
The two agencies have scheduled a joint online public hearing from 7 – 9 p.m. Sept. 9 to take public comments on the county's requests for state and federal permits to undertake the flood mitigation projects. For information on how to attend or speak at the online public hearing, visit here.
The agencies also will take written comments on the projects through Sept. 25. Comments should be emailed to Donald.R.Bole@usace.army.mil and debra.correia@maryland.gov.
Meanwhile, Howard County is inviting feedback on it latest draft master plan for Ellicott City and the surrounding Tiber Branch watershed. The plan, which has been in development since the 2016 flood, covers not only flood mitigation but economic development, environmental sustainability, transportation, parking and community character.
"This master plan provides a long-term vision for a thriving Ellicott City that showcases the community  — its people, commerce, history, culture and natural environment," County Executive Calvin Ball said when unveiling the document last month.
The county is holding a virtual meeting Aug. 12 to present the plan and receive feedback.  Visit  here to pre-register, which is required to attend the online meeting. Officials also will take written comments through Aug. 22. Visit  here to find out how to submit them.