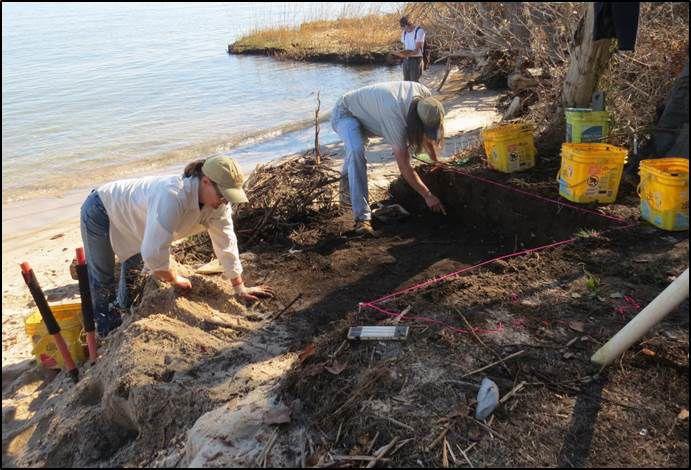 Climate change and erosion are taking steady punches at shorelines in the Chesapeake Bay region, slashing away soil and threatening the structures that stand on it. But resources buried within the land are at risk, too. Archaeologists in Maryland and Virginia are racing to recover artifacts from Bay area shorelines before they are gone for good.
The archaeologists worry that centuries of the history they're hunting can disappear with the next big storm. And, more often, places rich with records of the region's American Indian and colonial past are slipping away one inch at a time, lost to the gradual but quickening impact of erosion and rising seas.
It's no coincidence that many of the region's most precious archaeological sites are also located precariously on the shores of rivers, creeks and the sprawling Bay. That, said archaeologist Martin Gallivan, is where people have always liked living.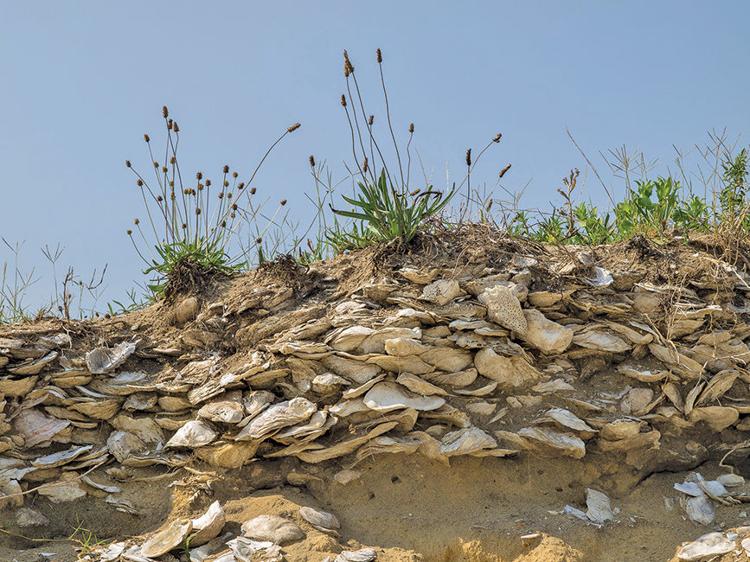 "Throughout human history, the water's edge has been an inviting place to settle," said Gallivan, a professor at the College of William & Mary whose work focuses on Powhatan sites on the James and York rivers. "Specifically for native history in Tidewater Virginia, the water's edge is the location of a majority of significant sites."
One of the places at risk is the first permanent English settlement in North America at Jamestown, VA, where site managers now factor in elevation and water levels when considering where to work next on a site that is increasingly inundated with water. Also threatened throughout the region are countless shell middens — long-buried heaps of discarded oyster shells and other items, some thousands of years old, full of clues about how the region's early residents lived.
A survey conducted by Virginia's Longwood University found that 28 out of 313 historic sites on the commonwealth's shorelines would likely be gone within 50 years. Remnants of settlements, cemeteries or shell deposits in erosion-prone areas such as the Bay's Eastern Shore or on private property could be especially hard to access before they disappear.
"These sites are washing away every day, and there's only so much money going around to save them," said Stephanie Sperling, an archaeologist with Maryland-National Capital Park and Planning Commission's natural and historical resources division.
Until last year, Sperling spent a decade working as a consultant for Maryland's Anne Arundel County, which received an influx of federal and state funding for shoreline archaeology after 2012's Hurricane Sandy. A two-year study in the county, which has about 500 miles of shoreline, showed that a quarter of its 1,600 archaeological sites could be lost in the coming years — and kicked off an invigorated season of excavation.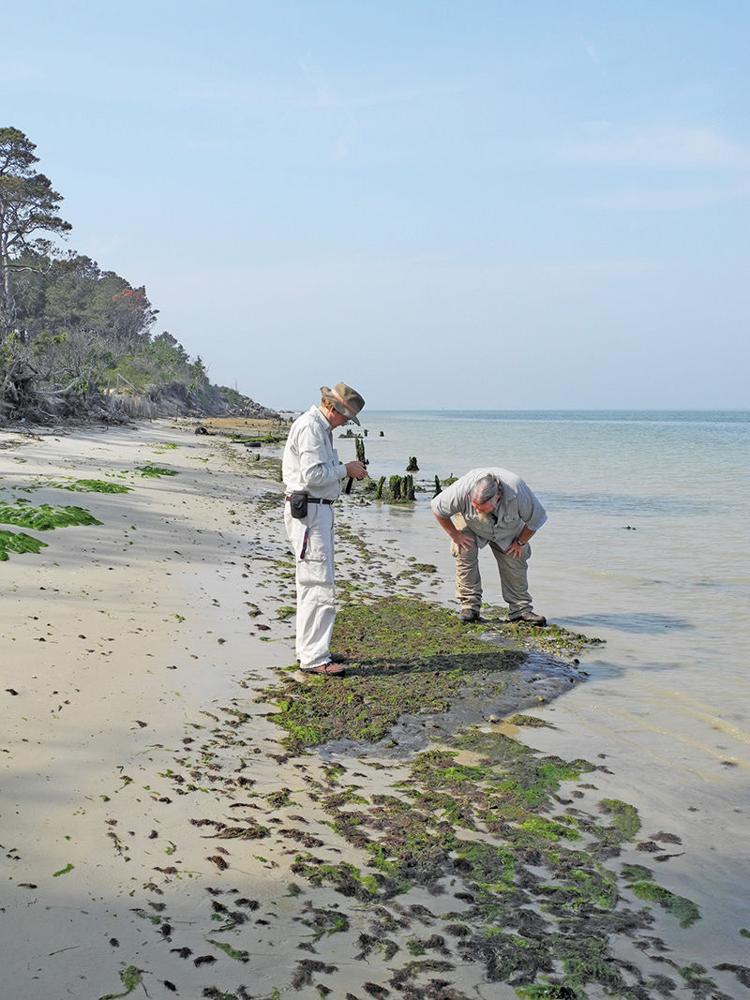 About 80 percent of the endangered sites are related to past Indian communities. Others are the locations of watermen's homes, Colonial era towns and plantations, and Bay beach resorts that bustled with visitors in the late 1800s through the mid-1900s.
The Lost Towns Project, a nonprofit composed of scholars and organizations interested in uncovering the region's past, provided additional funding to excavate five of the sites, "to get what we could before it went away," Sperling said.
Archaeologists say that funding to excavate sites — even those predicted to wash away soon — can be difficult to come by because there are so many projects vying for limited dollars. Maryland and Virginia have each set aside state funds for preservation efforts, but the last flurry of federal funding came to this region through recovery grants after Hurricane Sandy.
The Anne Arundel initiative took shape when that the state was dedicating funds to infrastructure being threatened by climate change, and archaeologists were at the table discussing the impacts. Maryland has a historic preservation specialist who monitors forecast changes and advises local governments on how to prioritize projects.
The increase of superstorms has continued to stir conversations about the impact of weather on infrastructure and cultural resources.
"Now," Sperling said, "it's normal to talk about this. It's a topic of conversation at every [archaeology] conference, because we're losing so many sites."
Shifting sands can reveal new archaeological opportunities, even as others are being washed away.
Located in south-central Virginia, Longwood University completed a survey last year for the Virginia Department of Historic Resources to assess the impact of changing shorelines on cultural resources in four counties. When asked why their far-from-the-shore university was a good fit for the project, Longwood professor of anthropology Brian Bates said, half-joking, "We actually expect to be beachfront in 100 years, so we're just thinking ahead."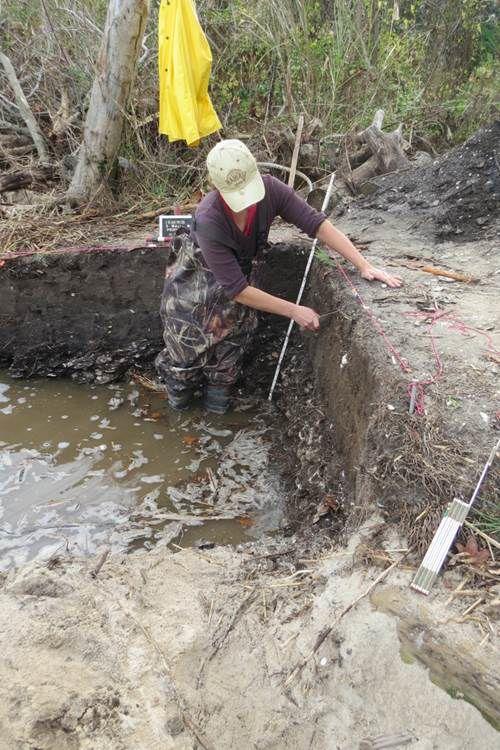 Archaeology undergraduate students at the university used predictive software to overlay future shoreline changes onto maps of historic sites in the state. The results could help researchers prioritize which locations they tackle first in a landscape where many could be at risk of washing away every year.
Bates said students found the work "utterly relevant," because it showed them how urgent the art of archaeological discovery can be.
"Climate change is something our students grew up hearing about, but it's not something the average undergrad is able to do something about," said Bates, who's also executive director of Longwood's Institute of Archaeology.
Virginia archaeologist Mike Barber of the state Department of Historic Resources said the data from Longwood's work revealed 25 sites on Virginia's Eastern Shore alone that will wash away in the next 25 years. The next step is to identify how far those sites extend inland and which are the most significant. Barber explained that an archaeological site is more significant if its artifacts can still be discovered in an environment that's largely undisturbed.
"What we want to know is whether the material is undisturbed the way the natives or colonials or whomever left it," he said. "If we find a pile of bricks on a beach, that doesn't tell anything. But if we find that they are part of a well that's still intact on land, we can determine more about the site."
That means that, in some cases, sites that have already experienced significant deterioration might not be as important as those that are still untouched but at risk of eroding a few years from now. Barber said his department is looking for other groups to conduct additional research and, in the meantime, chipping away at sites the state has deemed a priority.
Virginia is one of a few states that has a "threatened sites fund" established by the General Assembly in 1985, that provides about $50,000 a year for pressing archaeological work.
"The amount of money has fluctuated and has been higher on occasion, but we're very happy to get what we get," Barber said. "We use it as judiciously as we can."
Historic research on the fingerlike sliver of land that is Virginia's portion of the Eastern Shore has been a priority for decades, at least since archaeologist Darrin Lowery completed sweeping surveys of resources there around 2000 for the state. Some of the sites and artifacts are thought to date to the Paleo-Indian era, when the people first migrated to North and South America, and could be as old as 17,000 years.
"That whole area extended to the edge of the continental shelf when there was no Chesapeake Bay," Barber said. The Eastern Shore "would be the last land mass left from that time period."
"There are resources that are going to be disappearing, and we need to save those now," he said.
At a site on the shore called Savage Neck, near Eastville in Virginia's Northampton County, researchers and volunteers discovered a midden full of oyster shells, ceramics and some stone artifacts dating back to between AD 300 and 700. At Church Neck, also in Northampton County, crews "managed to salvage a portion" of a thin shell midden that dates back to a time near 3,000 BC when its residents appeared to move around more frequently.
, archaeological work on the shorelines is showing how much history has already been lost to time and tide.
Kirsti Uunila, historic preservation planner for Calvert County, MD, said recent underwater topography studies show how much has been lost at the site of a historic town near the mouth of Battle Creek. First established as the county seat of Calverton, and also known as "Battle Town" or "Calvert Towne," it was the second colonial town in Maryland. The studies revealed that 130 feet of its historic footprint — and the remains of significant buildings — are now underwater.
Some of the work was conducted with the help of the Maryland Historical Trust's underwater archaeologist, Susan Langley, who dives beneath the water's surface to see pieces of the past that have already gone under.
"At some point, where we're working now will be lost as well. That's the urgency," said Uunila, who estimates the site has lost about 15 feet of ground since she began observing it about 20 years ago. "I've documented some of the features eroding out of the bank as they go, but I know there are many more."
A few years ago, the county began cataloguing its historic resources, noting which are at risk of disappearing and which are worth attempting to save. Uunila said the work revealed that a 2-foot coastal flood — less than what portions of North Carolina saw under Hurricane Florence in September — would damage 44 archaeological sites in the county. But, Uunila said, water doesn't often rise evenly on the shore like it would in a bath tub, and a significant storm surge could impact closer to 100 archaeological sites.
"It's complicated, so I try not to say, 'We're going to lose so many.' But it's certainly enough to say there's an issue here," she said.
Many Calvert County sites, including the historic county seat, are located on private property. Crews looking to excavate them must not only find the funding but also secure permission from landowners — who often discover buried artifacts as an eroding shoreline reveals them.
"Calvert County," Uunila said, "is kind of like a wet sock hanging between the Patuxtent River and the Bay, and every wrinkle in that sock is a creek. It's what's made it a great place to live for 12,000 years."
Those who now live along the county's creeks were recently invited to a program on shoreline erosion where they were asked to keep an eye out for historic resources. Attendance was good, but probably not enough to save as many pieces of the county's past as archaeologists would like.
Sperling said she's had a similar experience in Anne Arundel County and in her current work as she tries to spread the word among residents on an increasingly populated shore.
"Making people aware of the fact that so much is at stake," Sperling said, "that the erosion and sea level rise and storm surge that people see on their piers and in their yards impacts history, too — that's important to get across."