The Susquehanna River has the most flood prone basin east of the Mississippi. And Binghamton, NY, located entirely in a floodplain at the confluence of the Susquehanna and Chenango rivers and downhill of steep, flash-flooding watersheds, might be its most pummeled victim.
But now, after the twin punches of an all-time record flood in 2006 followed by an even more devastating 500-year flood only five years later, officials have decided to quit fighting its rivers and instead rebuild to roll with the punches.
The Federal Emergency Management Agency and state and local municipalities have pumped more that $500 million since 2011 into making Binghamton and surrounding Broome County a model for flood resiliency. At the same time, officials are using the opportunity to remove blighted structures and remake the area — home to 190,000 people — by embracing the rivers and restoring residents' connections to them.
So far, the owners of more than 400 houses and other buildings at high risk of flooding have voluntarily accepted government buyouts. The structures have been demolished and trucked away, creating 146 acres of open space where floodwaters can spread out and soak into the ground. In their place are parks, greenway trails and a thriving 2.5-acre urban garden that helps supply area residents with healthy produce.
To achieve flood resiliency, more than 170 far-ranging flood-mitigation projects have been put in place. Among them: building an elementary school on stilts, enlarging culverts to channel more stormwater, creating wetlands at a highway interchange, raising bridges and building concrete floodwalls around sewage treatment plants, a hospital, town hall and police station.
"There are no silver bullets. There are a lot of silver BBs," is how Chip McElwee, executive director of the Broome County Soil and Water Conservation District, described the challenge.
A flood town is born
Founded in 1803, Binghamton grew at the junction of the Susquehanna and Chenango rivers. The town became a major transportation hub in 1837 when the Chenango Canal was completed and connected to the Erie Canal. By 1850, it had also become an important railroad nexus.
Like many old cities, waterways were a sustenance. But Binghamton was in a precarious spot along the Susquehanna.
"The Susquehanna basin is so large, our location in the mid-Atlantic makes us susceptible to hurricanes and tropical storm systems, and in the summer there are a lot of west-to-east and Great Lakes thunderstorms," said Ben Pratt, a water resources engineer with the Susquehanna River Basin Commission. "It's all of those factors that stack up to make it a very flood-prone basin."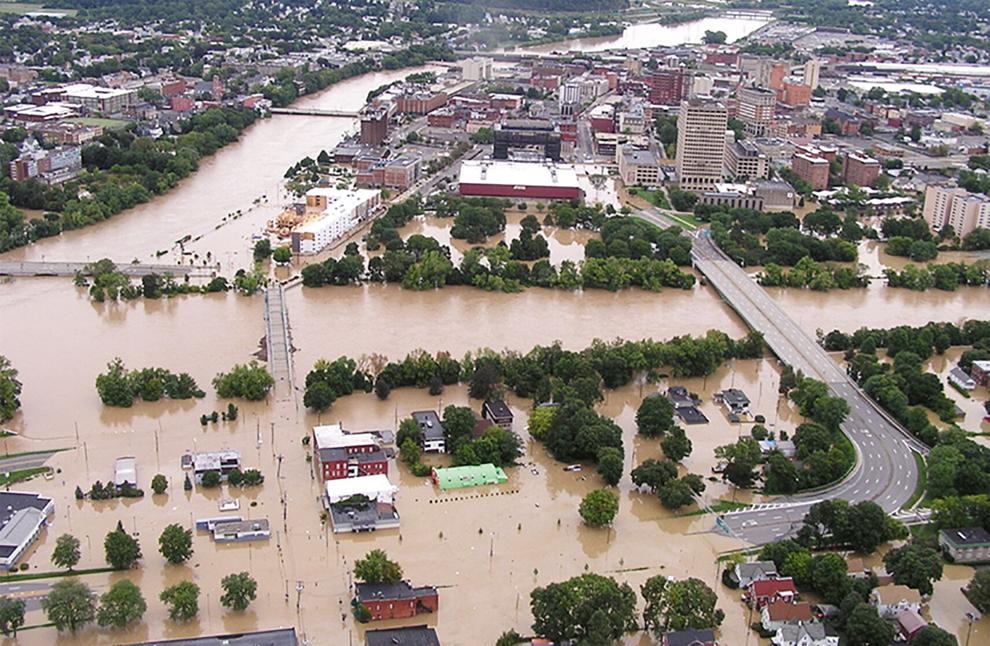 Manufacturing grew along the rivers, producing cigars, shoes, sleighs, washing machines, pianos and patent medicines. Later, the area became known as a technological and defense stronghold. It is the birthplace of IBM and Link Aviation flight simulators.
Many of these industries were built in the floodplain. Currently, Broome County has 7,586 buildings vulnerable to a 100-year flood.
After the devastating flood of 1936 along the Susquehanna, Binghamton and Broome County made their first attempts to steel themselves against the next wave. The U.S. Army Corps of Engineers built 17.5 miles of earthen levees, 3 miles of concrete floodwalls with 179 sectional gates and a reservoir dam. Since then, another 20 flood-control lakes have been built to try to stem flash flooding in the steep ravines that loom over the area, which became known as New York's "flood alley."
With the supposed floodproofing easing minds, more homes and businesses were built in the floodplain and other areas bordering streams. The stagnant cloudburst from Tropical Storm Agnes in 1972 set record flood levels along the rivers, but the area fared better than many thanks to measures taken decades before. Many residents breathed a sigh of relief, thinking they had survived the worst flooding they would ever face.
But on June 26 and 28, 2006, 7 inches of rain soaked the area. Water overtopped parts of the floodwall in Binghamton, forcing the evacuation of 3,000 residents and the airlifting of 300 as well as causing $175 million in damage. The water level reached an all-time high downtown.
Learn more about Binghamton's work toward flood resiliency in this video from the Chesapeake Bay Program.
Repairs were still going on when Hurricane Irene made landfall on Aug. 28, 2011. The area got 2.7 inches, which did little damage but saturated the soil and caused a moderate rise in the Susquehanna.
Ten days later, Tropical Storm Lee dumped another 6–12 inches on soggy Broome County. Incredibly, the Susquehanna crested 1–4 feet higher than the record set only five years earlier. This time, the levees and floodwalls were topped, many for the first time. Of the county's 21 watershed dams, 19 overflowed into spillways for the first time. Without them, damage and loss of life might have been catastrophic.
At the height of the emergency, Binghamton's fire and police headquarters were unusable. Cars floated in the parking lot of the area's largest mall. Approximately 24,000 people were evacuated and 200 pets were sheltered.
The damage report: 229 homes destroyed and another 9,000 damaged. Property damage for the flood countywide topped $500 million. It was among the worst natural disasters in New York state history.
Going with the flow
The lessons — and frustrations — learned from back-to-back record flooding, combined with projections of even more extreme storms from climate change, swept in a dramatic reversal in how Binghamton and Broome County officials would prepare for future flooding.
Flood resiliency became the new mantra.
The obvious place to start was removing homes in long-established neighborhoods closest to the rivers. Many homeowners and renters had already fled after the two floods, though others stayed and elevated their homes. No one had their homes condemned. Most of the 146 acres of open floodplain created by the removal of those homes since 2018 have become green spaces.
One example of repurposing floodplain land is the Binghamton Urban Farm, a nonprofit that grows 7,000 pounds of healthy produce each year on 2.25 acres on the footprint of 13 former homes.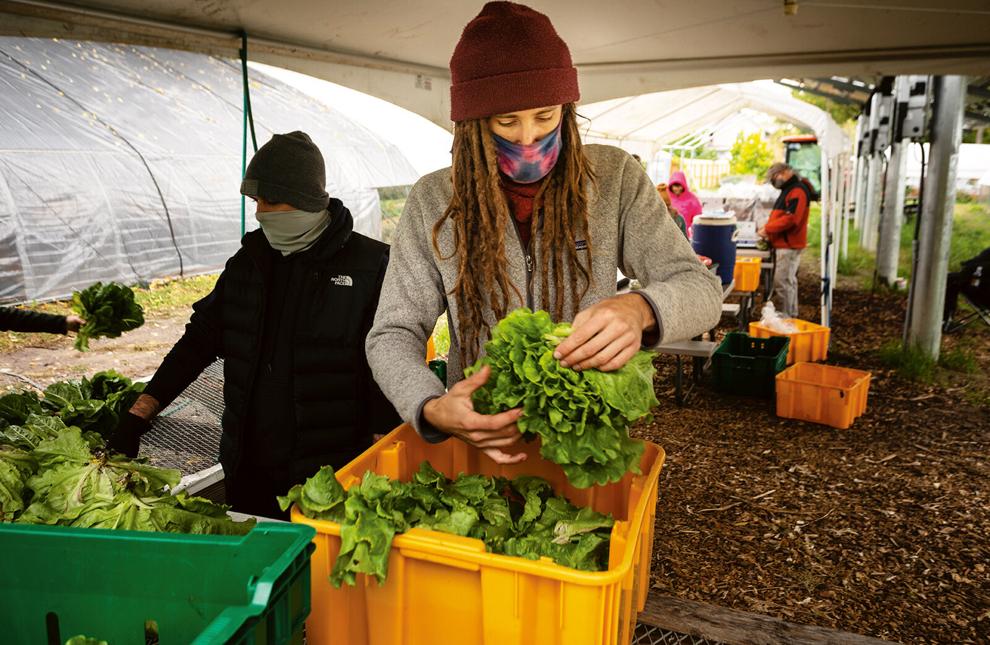 Run by the nonprofit urban gardening organization VINES, the program acts as a community garden with hundreds of volunteers. VINES also hires 25 youths year-round to learn responsibility, communications skills and other lessons in life.
"It's given the youth an experience they otherwise would not have," said Amelia LoDolce, VINES executive director. "A lot of things they do help them to get ready for their next job or college."
The produce goes to the public through farm shares, market stands and local restaurants. Partly funded with a state environmental justice grant, the farm sells shares of its crops at reduced prices to low-income families and donates part of its harvest to local food pantries.
But flood resiliency is not just about removing everything in the water's path.
When the MacArthur Elementary School, in the heart of a vibrant neighborhood, was destroyed by 5 feet of floodwater in 2011, students and teachers were displaced for four years. Officials decided to rebuild in the same floodplain location, but with a sustainable, flood-resistant building.
Neighbors, students, school staff and administration, and the community were approached for ideas. They adopted an overarching mission: "We will heal our relationship with the river."
Three classroom pods were built on stilts, 5 feet above the reach of a 500-year flood. The ground floor has a playground that will be allowed to flood with minimal damage. Rain gardens, bioswales and native vegetation were planted to collect and cleanse stormwater.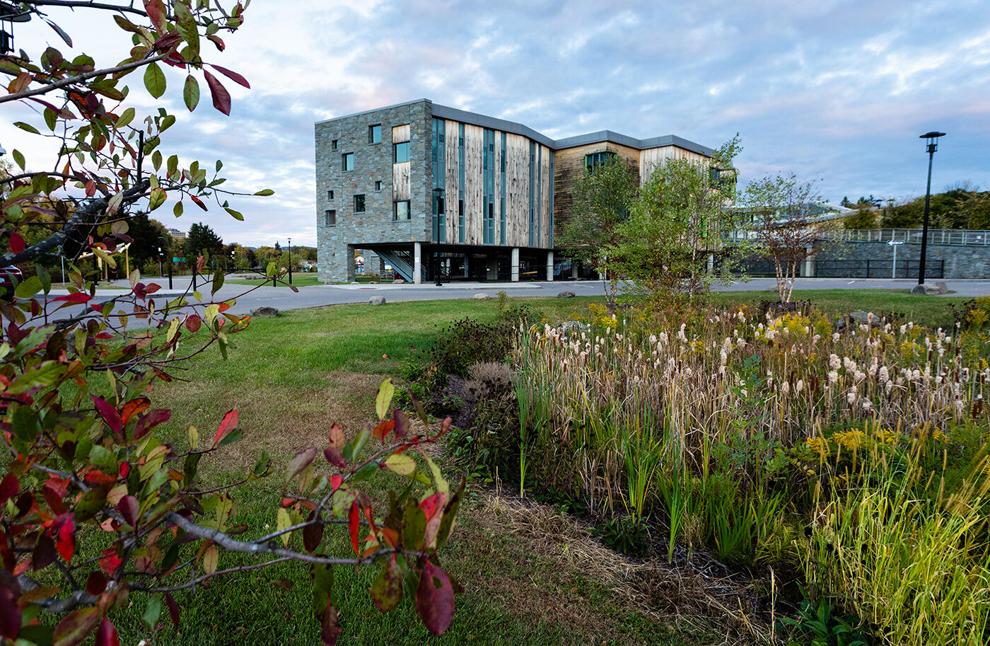 Other flood-damaged structures were put back in service with flood resiliency in mind.  High-rise parking garages are being built so that existing parking lots at shopping centers can be allowed to flood. At one shopping center, shoppers will reach stores on the second floor by a series of ramps.
Union-Endicott High School has a new floodwall and a new fieldhouse built on pillars. Ballfields will be used to capture floodwaters when needed. At Lourdes Hospital, which was closed for 12 days after the 2006 flood, a new flood wall up to 11 feet high was built.
Pump stations and essential infrastructure for sewage treatment plants were elevated. At one cloverleaf interchange, a wetland has been created to catch and absorb floodwater.
New floodwalls were built around a sewage treatment plant, a hospital and the Vestal Town Hall. Buildings have been retrofitted with shatterproof glass, submarine doors and waterproof walls.
Broome County now has a flood-protection plan for its residents to estimate changes in flood risks from climate change. Done by the New York State Energy Research and Development Authority, it is the first study of its kind in the nation for inland flooding. One unsettling prediction: 500-year floods may become as frequent as 100-year floods.
Much of the $500 million spent on flood resiliency has come from federal agencies such as the FEMA buyouts and community development block grants. County municipalities put up millions of dollars for matching grants, and the Binghamton City School District spent $80 million on the new elementary school. The New York Rising Community Reconstruction program has added nearly $19 million for stream improvements, stormwater upgrades, wetlands, riverfront trails and other projects.
Facing the rivers again
Binghamton and Broome County are trying to reconnect to the rivers they have often shied away from.
Over time, many buildings came to face away from the Susquehanna. And the system of railroads, highways, levees and flood walls further cut off views and direct access to the river. "In places, it's as if the city has turned its back on the rivers," noted a video on efforts to revitalize the area.
Rust2Green Binghamton is a collaborative effort by Cornell University and local communities to make the area flood resilient and sustainable. One of its programs, Living with Water, tries to get residents to reconnect to their rivers and not just view them as threats or a liability.
The group asked residents what they wanted to see from their rivers. "It's exciting to hear stories about positive relationships that have emerged. They talked about how they used to fish on the river as kids and swim, and they want to do that again," said Shorna Allred, a Cornell professor who leads the project.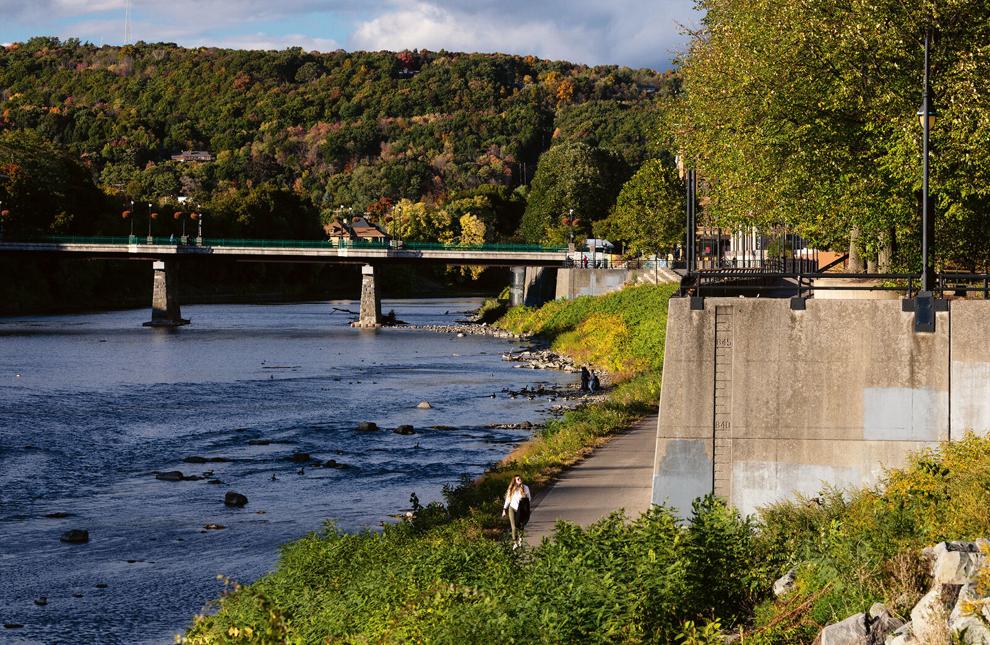 The results so far include the revival of a floating symphony orchestra concert, raft races, docks and rentals for paddle sports, beaches, fishing spots, riverfront greenways and more open spaces in downtown Binghamton. Greenways were placed on top of earthen levees. The city has drawn up plans to revitalize its downtown waterfront.
There are even plans to make downtown accessible by boat from outlying neighborhoods.
"I think COVID is going to cause a big shift in how people view resiliency overall," said Beth Lucas, acting director of the Broome County Planning Commission, referring to residents' increasing interest in outdoor activities during the pandemic.
Like a river slowly changing course, McElwee thinks resiliency will take time and never completely overpower the forces of nature.
"We have chosen to live in the floodplain," he said. "The bottom line is, if you got flooded before, you're probably going to get flooded again. Maybe we'll take the edge off of it."
Cover photo: Courtesy of the Broome County Planning Commission