When the tide bubbles up from storm sewers, turning her neighborhood into a Western Hemisphere version of Venice, Christina Laughlin starts navigating — on her phone.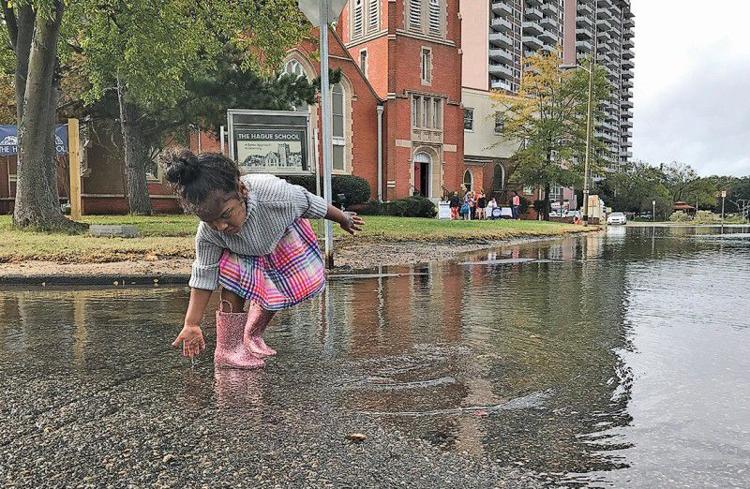 It doesn't have to rain to flood her subdivision, which sits on a low-lying peninsula a few miles from downtown Norfolk, VA. The community is a frequent victim of "sunny day" floods, which are caused by high tides instead of water falling from above.
Such was the case on the morning of Sunday, Oct. 27. Armed with her smartphone, Laughlin paced up and down her street, pressing a button every few steps to create a digital map of the high-water line.
She was joined by 300 volunteers dispersed around the most flood-prone parts of the city in an annual event that the Guinness Book of World Records has called the largest citizen-led environmental survey in the world.
By the end of the day, they had collected nearly 36,000 pieces of data — real-world information that scientists use to improve computer models that predict the extent of tidal flooding.
It all takes place under the auspices of "Catch the King," an informal gathering of climate researchers, local media outlets and Norfolk area residents. The event, which began three years ago, draws its name from the "king tide," the highest astronomical tide of the year.
Although the king tide occurs naturally each fall, organizers with the Virginia Institute of Marine Science say the phenomenon offers an eye-opening glimpse into the wetter future in store as sea level rise continues. This year's king tide rolled up to about 4 feet above a typical low tide, according to VIMS. That equates to water levels that scientists forecast for the Norfolk region in 2050.
The annual high-water mark arrived as predicted on Oct. 27. Its timing ranged from 9:30 a.m. at Newport News to 11:15 a.m. near Jamestown as the swell slowly made its way from the Atlantic Ocean to the Chesapeake Bay and up the rivers that empty into it, now flowing in reverse.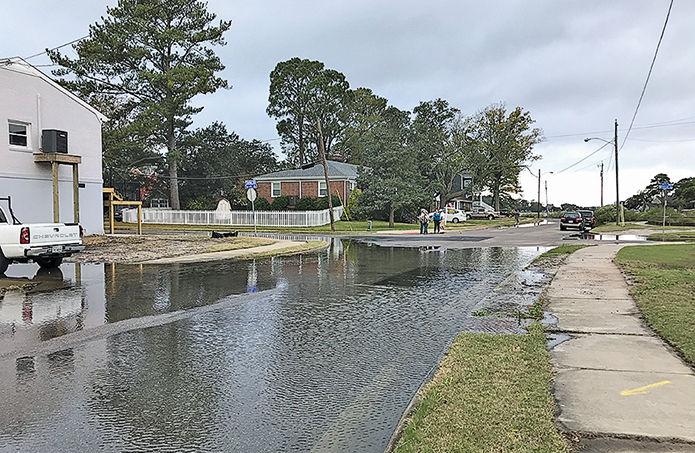 Researchers would later confirm what Laughlin knew at a glimpse: The tide was slightly lower than it had been during recent king tides.
The lower-than-expected water level was largely caused by the morning's wind direction, they said. The Elizabeth River, Norfolk's main waterway, generally flows toward the north. Because strong winds were gusting that morning from the south, some of the rising water from the Bay got pushed out of the river.
At a nearby tide gauge at Sewells Point, the water rose as much as 3.9 feet that morning. At that location, the peak reached 4.4 feet during the 2017 king tide and 4.1 feet in 2018.
"This is not bad," Laughlin said as passing cars sent small waves splashing into lawns. "I live with it. This is pretty normal for this time of year. This neighborhood is used to it."
Several homes in Laughlin's community have already been raised one story or more to evade the floodwater. The roads, though, still become inundated regularly. So, Laughlin said, she and her neighbors often face a dilemma: leave or stay put.
"You buy extra food or extra water and you hunker down for three days," she said. "Or you leave."
Hers is one of many communities in southeastern Virginia fighting a running battle with water. A recent VIMS report suggested that Norfolk will have the highest rate of sea level rise on the East Coast, increasing by 5.2 millimeters (0.20 inches) a year. By 2050, the average sea level is expected to rise 1.6 feet compared with 1990 levels, the report found.
Around Norfolk and the Chesapeake in general, sea level is rising faster because the land is also sinking, climate scientists say. One reason is that the Earth's crust in the region is continuing to recover from the weight of Ice Age glaciers. In the Norfolk area, groundwater withdrawals are causing the ground to compress even further.
Then, there's a wild card: If climate change weakens the Gulf Stream, as some models suggest, it could add more inches to Norfolk's inundation this century.
What's more certain is that high tides will flood Norfolk with greater frequency in the coming decades. In 2018, Norfolk was hit by 10 "sunny day" floods. Unless global greenhouse gas emissions are curtailed soon, that total is expected to hit 170 by 2050, according to a National Ocean and Atmospheric Administration report.
The state and several localities have begun to prepare for it, spending millions of federal dollars on flood-control measures and requiring that newly constructed state buildings be raised higher.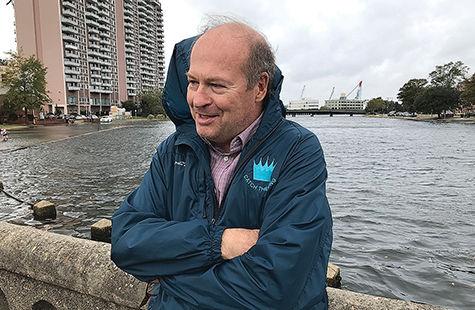 Such efforts depend on accurate flooding projections, coastal researchers say. That's where Catch the King comes in.
"I believe better data will lead to better decisions," said Dave Mayfield, who founded the event in 2017. "We have to think strategically about how we're going to live with this water. What areas are we going to protect and how are we going to protect them?"
As a veteran reporter with The Virginian-Pilot, southeastern Virginia's largest daily newspaper, he found himself getting numb to writing one story after another about climate change, he said. So, he decided to do something about it.
Mayfield heard about a project in Hawaii in which researchers encouraged residents to take photographs of king tides and were inundated with hundreds of images. He wondered if something similar could be done in the Norfolk area, so he partnered with VIMS, Wetlands Watch and other local media to organize and promote the first Catch the King.
That first year, he hoped 200 people would participate. It was closer to 700.
The Virginia group went a step further than the Hawaii project. They accepted photographs, but also developed a smartphone app that participants could use to plant digital flags wherever they encountered high water.
"Basically, I'm dropping little GPS breadcrumbs along the water line," said Derek Loftis as he walked along the edge of a water-covered street in Laughlin's neighborhood.
Loftis, a VIMS researcher and Catch the King organizer, said he and his colleagues hosted more than 30 training sessions with residents leading up to this year's event. He estimates that the effort costs $10,000–$15,000 a year to stage. This year, the money came mainly from the Hampton Roads Sanitation District and AECOM, an international engineering firm.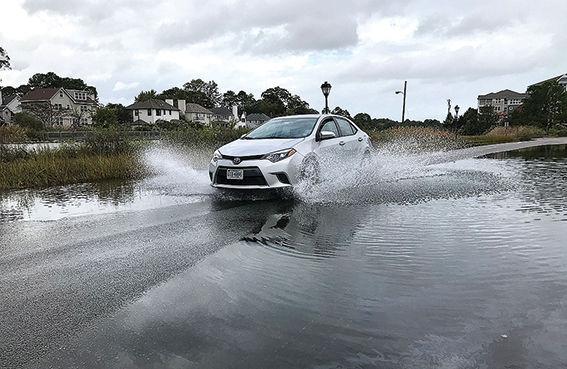 The data collected during the king tides helps Loftis and other VIMS staff improve the street-level tide inundation model they began developing a few years ago. If the citizen-created maps differ at any point from the predicted water level, VIMS researchers can decide to tweak the system.
Although the citizen-mapping effort has seen its turnout taper off in recent years, Loftis said he remains impressed with the level of participation.
But some researchers worry about the accuracy of that information. Tom Allen, an Old Dominion University geography professor, said he is awed by how many people get involved in the scientific endeavor. But they tend to use different types of phones, with different types of GPS software. Is the data consistent?
"I kind of wondered how far you go with it," said Allen, who conducted a survey during the king tide with fellow researchers and student volunteers marking the ground with washable blue paint.
Loftis said he analyzes the data carefully and deletes anything that looks awry. For example, he automatically gets rid of any pinned locations that are accompanied by photographs; people don't stand immediately next to the water line when snapping pictures, he has found.
Loftis said that he hopes that the detailed tide forecast that emerges from the mulityear campaign will help residents and local emergency planners better prepare for future storms.
"We aren't content waiting for a major hurricane to validate our model and potentially shore up any potential inadequacies in our hydrodynamic model predictions," he said.