As repair crews labored to clear mud and debris from Ellicott City's Main Street in late May, Jonathan Dillow led a team of scientists through the woods searching for clues to quantify the devastating flash flooding that had just ravaged the community for the second time in two years.
Stopping by a tree beside the now-placid Tiber River, Dillow peered at the trunk, then pointed to a green speck clinging to the bark several feet off the ground.
"I think I'm onto something," he called out. "A little bit of a shred of a leaf."
Like crime scene detectives, Dillow and his U.S. Geological Survey colleagues made their way to the historic mill town west of Baltimore a few days after the May 27 flood. They wanted to gather evidence, before it faded or washed away, to determine just how high the water rose and how fiercely it came roaring downstream before tearing  through buildings on its way down Main Street to the Patapsco River.
The USGS team won't complete its calculations until later this summer. But Dillow said it was clear from the high-water marks they spotted in the stream valleys leading to town that the flood that Memorial Day weekend afternoon was even worse than the previous deluge on the evening of July 30, 2016.
That comes as no surprise. The National Weather Service reported that more than 8 inches of rain fell on Ellicott City in a couple of hours May 27, compared with 6 inches during the previous flood.
In any case, the community, which had been determined to return and rebuild in the wake of the first deluge, has been shaken by the one-two punch. Local officials are taking a harder look at Ellicott City's future in the face of climate change likely bringing more intense storms while development in the surrounding watershed increases runoff.
"There's some very large emotional, financial and political decisions to be made," said Jim Caldwell, Howard County's director of community sustainability. "There's a lot of work that needs to be done and a lot of soul-searching (by) folks that live there."
The first flood claimed two lives, damaged 90 businesses, displaced nearly 100 residents and put hundreds out of work. Main Street remained closed for two months so businesses, residents and government could repair buildings, utilities, streets and sidewalks. But by early this year, county officials said that 96 percent of the businesses there before the 2016 flood had returned, as had 72 percent of the residents forced to leave.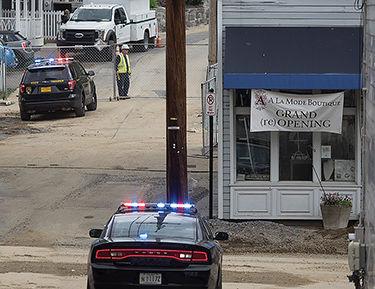 The May 27 flood hit days before a new emergency warning system could be activated, and it took the life of a 39-year-old National Guardsman swept away as he tried to rescue a shopkeeper. Many of the same businesses and homes got hit again, and the estimated damage to roads and other public infrastructure totaled $20 million, twice the toll of the 2016 flood.
The recovery this time has been quicker, at least superficially. Though 81 residents were still in temporary housing by late June, all but a block of Main Street was reopened to traffic and 10 of the 120 damaged businesses were up and running, according to Phil Nichols, Howard County's assistant chief administrative officer. But the similarity ends there. Some merchants have made it known they're relocating or closing for good. "What's changed now is there are a bunch of folks who are not coming back," said Howard County Councilman Jon Weinstein, who represents the Ellicott City area. "They've decided for a number of reasons (that) financially or physically, they can't come back."
After the 2016 flood, the county commissioned an engineering study to see what could be done to shield Main Street from more devastation. The consultant proposed $85 million in projects to reduce flooding severity, including creating or expanding three large stormwater retention ponds, an underground "pipe farm" to hold more water, and a variety of other measures to keep streams in their banks. County Executive Allan Kittleman included four of the flood mitigation projects in his fiscal 2019 budget at an estimated cost of $18 million.
But the new flood hit before any of those projects got off the drawing boards. Now, local officials, merchants and residents are pondering what more can be done to keep the nearly 250-year-old community viable in the face of more frequent severe thunderstorms, as well as how to better control runoff in the heavily developed watershed.
"It's a different conversation this time," Nichols acknowledged.
Ellicott City has been flood-prone since its founding as a grain mill community in 1772. It was built where four streams come together before flowing into the Patapsco River; some buildings actually sit atop stream channels. Over the years, Main Street has been inundated by floodwaters dozens of times, but there have been three major floods in the last seven years, including Tropical Storm Lee in 2011.
Many residents are convinced the flooding has worsened because of continued development of the heights above town. Roughly two-thirds of the land in the 11-square mile watershed is developed, and around 30 percent is covered by hard surfaces such as pavement and rooftops.
Weinstein agreed that development has aggravated flooding problems, given the age of the community. Roughly two-thirds of the homes and stores in the watershed were built before any stormwater management was required, he noted.
"We have entire neighborhoods that don't have storm drains," he said. In the last few decades, runoff control requirements have become increasingly stringent, Weinstein said, but apparently weren't always applied. "In some cases," he said, "there were variances allowed that may not have been appropriate, given the sensitivity and topography of the watershed."
After the 2016 flood, Weinstein introduced legislation to impose a temporary, 12-month building moratorium in the Tiber-Hudson watershed while the county studied what could be done to reduce the risk of a repeat. But the council refused to act. Late last month, Weinstein reintroduced his moratorium proposal, and said he now expects the majority to back it.
"Before, it was primarily an issue with stormwater management," the councilman said, "but…it's become a public safety issue."
Weinstein added "that regardless of our current regulations, I'm not sure they're reflective of what's clearly a change in our weather patterns." The 2016 downpour was characterized as a 1,000-year rainstorm, meaning there's a one in 1,000 chance of it happening in any given year. Those long odds hit again on May 27.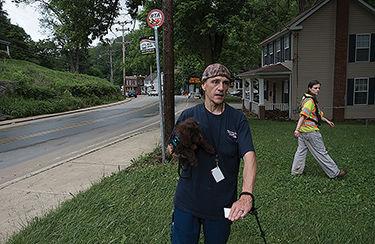 Hours after a video of Ellicott City's recent flood went viral, Katharine Hayhoe, a climate scientist at Texas Tech, tweeted that the "U.S. Northeast has seen the greatest increase in heavy precipitation of any region in the country."
High-intensity, heavy rainfall events have increased in frequency in the Northeast by 71 percent from 1958 to 2012. The Maryland Commission on Climate Change has warned that in developed areas, "large quantities of runoff may quickly overwhelm the capacity of stormwater drainage systems."
It's not just an Ellicott City problem. Intense storms elsewhere around the same time produced severe flooding in Frederick and Washington counties and in Ocean City.
"It's happening all over," Weinstein said, adding that he wants county officials to re-examine the consultant's study from the 2016 flood to see if the latest storm changes or adds to the list of proposed mitigation projects.
But while flood controls may be upsized or tweaked to capture more runoff, Weinstein said he doesn't see that as a cure-all. "If we get another 8.5–10 inches of rain in a couple-three-hour period I hate to say it, but there will be flooding."
He said he thinks it's time to take a closer look at future development and consider changes in where and how it occurs. "There are a few hundred units that are currently planned, and the ability to do up to 1,000 units," he said. "I'm not so much concerned about the unit numbers as the volume of imperviousness."
Caldwell, the county community sustainability director, said after the flooding caused by Tropical Storm Lee in 2011, he thought of three big changes that could help reduce damage from future storms – buying out some property owners and removing their buildings to open up the flood plain, "daylighting" stream channels now buried under streets and buildings, and getting vehicles off Main Street. During the 2016 flood and again in May, cars became battering rams as they washed down the street, and a few plugged up one of the culverts.
It's unclear if a vehicle ban on Main Street would fly with merchants and residents, but the idea of buyouts is at least being considered. "A lot more property owners have come to us as a result of this storm and asked us to purchase their property," Nichols said.
Weinstein said the decisions by some businesses and property owners to abandon Ellicott City, however painful, presents an opportunity to see if future flooding damage could be alleviated or even prevented by removing those buildings.
Meanwhile, Nichols said, the county is going ahead with the four projects already budgeted, and is taking another look at what else can be done.
What's clear, Nichols said, "Ellicott City is not going to look the same moving forward. …We definitely have a new future in front of us."
Some have suggested even more radical change, such as abandoning lower Main Street and converting it into a living history museum, sort of like Harper's Ferry, WV. But Weinstein said no one's seriously contemplating anything that extreme.
"It will change," he said, "but this town has changed a lot in the 250 years it's been around.…It's still the same town, and people who are here still feel the same."
Joey Hamblin typifies the grit and determination of many residents. As the USGS team worked last month to spot high-water marks for later surveying, Hamblin paused to chat while walking his dogs. His rented Main Street home got flooded in both storms, he said, though he had a little advance warning the second time, thanks to a network of live-streaming video cameras his landlord put up shortly before May 27. Hamblin said he's sticking around, despite the risk.
"We ain't going nowhere," he said. "[There are] three generations in that house. We're not leaving."