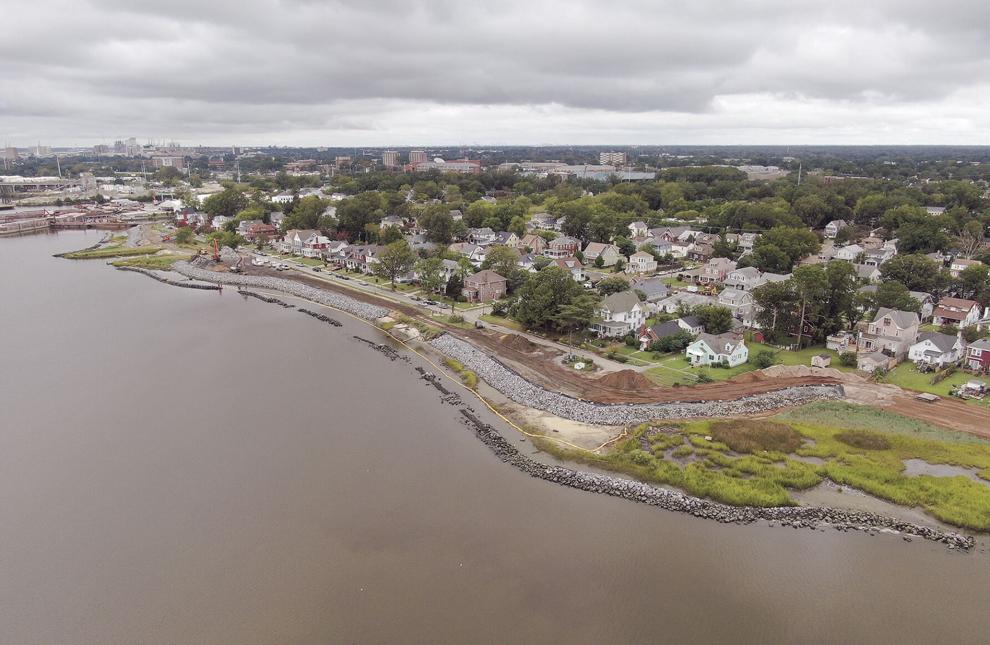 Graige Johnson is sick of the flooding in his community a few blocks east of downtown Norfolk.
A burst of rainfall turns low spots into ponds and some roads into canals. Even without a raindrop in sight, the water can still collect. A few times a year during abnormally high tides, the Eastern Branch of the Elizabeth River backs up into the storm drains, causing water to bubble up into the streets.
Things weren't always this bad, said Johnson, who has lived in the largely African American neighborhood known as Chesterfield Heights, since 1991. He blames climate change.
"As far as I'm concerned," said Johnson, a 75-year-old retired longshoreman, "it's real."
A growing line of research shows that the burdens of climate change are likely to be borne by underrepresented groups. A study led by the University of Bristol in Britain last year captured the problem in sharp detail, suggesting that Black communities in the U.S. will see flooding costs increase at about double the rate of those that are predominantly white.
Gathering data from flood insurance claims, building inventories, population projections and other sources, researchers identified which census tracts are likely to experience the highest flood risks by 2050. Most were in the Southeast and home to large Black populations.
The study shows dozens of high-risk Black communities around the Chesapeake Bay watershed, with the biggest clusters lying in Prince George's and Dorchester counties in Maryland, the Northern Neck of Virginia and a corridor straddling the James River between Norfolk and Richmond.
Chesterfield Heights and its neighbor, the Grandy Village public housing complex, are like many African American neighborhoods facing climate perils, with one major exception: Something tangibly monumental is being done about it.
'Historic' effort
Since work began after a February 2020 groundbreaking ceremony, the communities have undergone a visible transformation.
The rapidly eroding shoreline along the Eastern Branch has been replaced by a 2,000-foot-long earthen berm averaging 8 feet in height. Asphalt has been torn out from the three blocks closest to the river and replaced with red brick permeable pavers that allow water to soak into the ground. Two pump stations stand ready to fight flood waters. A new soccer field has been designed with hidden drains to soak up excess rain. And there's much more.
The $112 million project is expected to be substantially completed by the end of January, with the remaining minor tasks set to be wrapped in March or April, said Kyle Spencer, Norfolk's chief resilience officer.
"It's historic," he said of the venture, dubbed the Ohio Creek Watershed Project. "It means a lot to a lot of people."
People like Johnson. From his front porch, he can see newly installed bioswales — shallow depressions along the street stuffed with vegetation to catch and treat stormwater. He supports the project. But enduring the whirlwind of road closures, dust and noisy construction vehicles, he added, has been "a pain."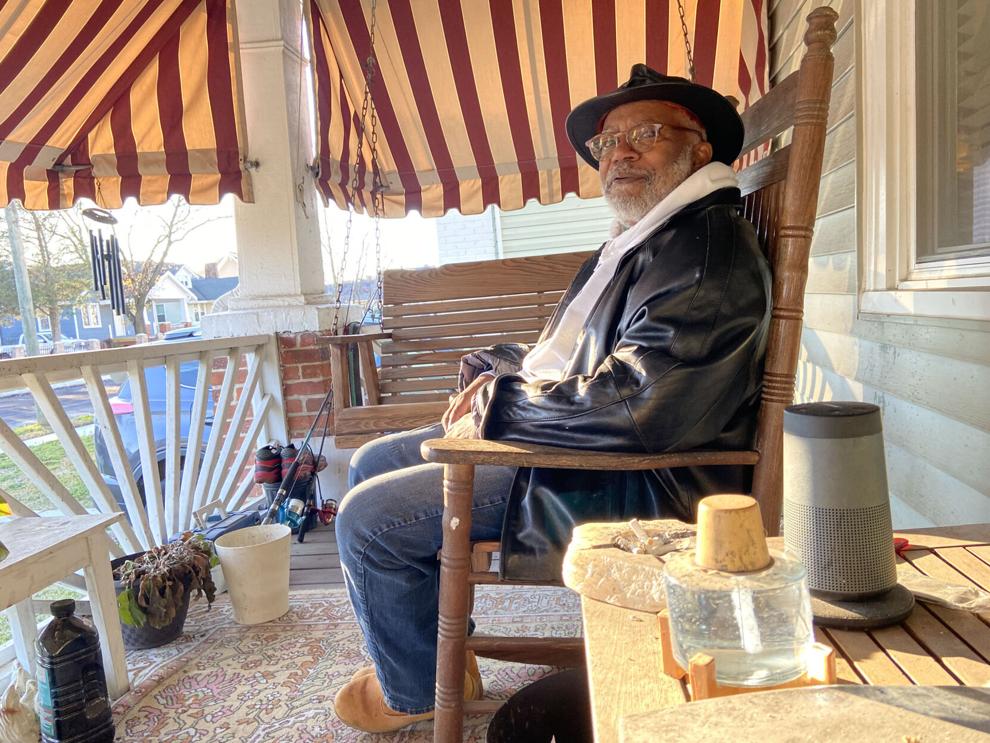 "Let's get this [stuff] over with," Johnson said as workers nearby raced the waning light of a mid-December sun. "Let me live to see this complete."
Recent headlines across the country tell the story of climate resilience action beginning to move forward. Typically, though, the largest public investment proposals seek to protect important infrastructure or high-end real estate, such as highway tunnels in Baltimore, glitzy condos in Miami Beach or expensive properties at the lower tip of Manhattan.
Norfolk itself needs an influx of $1.8 billion in climate protection, according to a 2017 report by the U.S. Army Corps of Engineers. The low-lying city of 230,000 residents could have launched its public works offensive in any number of flood-prone places, including a downtown filled with high-rise buildings or majority-white communities such as the Larchmont neighborhood or the Ghent District.
Yet city leaders chose Chesterfield Heights and Grandy Village, where nearly 90% of the 2,000 residents are Black, according to census figures. The median household income is $33,958, about $20,000 less than the citywide figure. Flanked by Interstate 264 and a waterfront industrial hub, the census tract containing the two neighborhoods ranks among the worst in the state for health risks from toxic air and proximity to hazardous waste facilities, according to the U.S. Environmental Protection Agency's EJScreen tool.
"We saw it as an opportunity to show how [to] adapt a historic neighborhood that hasn't had as much attention as it has probably needed over the years," Spencer said.
Rare chance for funding
The Ohio Creek project, named after the communities' main drainage feature, emerged after an alignment of the bureaucratic stars.
Norfolk's official plan to fortify itself against climate change began taking shape in 2013, when the city participated in a regional series of "Dutch Dialogues." Experts from the Netherlands were invited to discuss how the famously flood-affected country "lives with water" instead of trying to drain it as quickly as possible.
Members of Chesterfield Heights' civic association attended several of the meetings and made clear that they would embrace resilience efforts in their neighborhood. Wetlands Watch, a Norfolk-based conservation group, responded in 2014 by sponsoring the preparation of a plan for the community.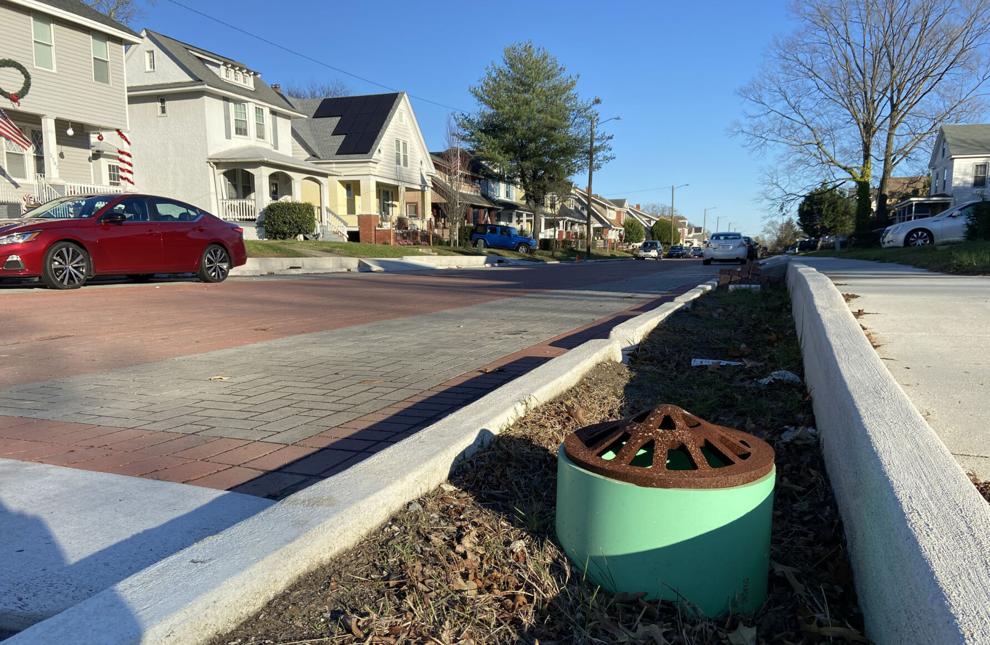 Funding a neighborhood-level construction project of such magnitude would be highly unlikely under normal circumstances.
But then something equally unlikely happened: The federal government had leftover money — $1 billion— from the Superstorm Sandy recovery.
So, the U.S. Department of Housing and Urban Development urged states and communities to submit proposals for projects that would protect areas from future disasters. The agency received more than $7 billion in funding requests. It awarded Norfolk $120 million, with $112 million of that total dedicated to the Ohio Creek project.
Fighting for help
Karen Speights, a Chesterfield Heights resident who has worked for years to call attention to the area's flooding woes, said she is mostly happy with how the project has turned out. She was 5 years old in 1963 when her family moved into the neighborhood. She left as an adult but returned in 2008, moving in with her aging mother.
Speights said her home, which has about 2 feet of crawl space beneath it, had never flooded during the first 45 years her family owned it. Then came a nor'easter in 2009 that deposited a foot of water on the first floor. "When the high tide started to come in," she recalled, "we were looking down through the floor vents, and we could see the water down there with the waves."
In 2011, Hurricane Irene inundated the house again. After both floods, Speights had to replace water-logged flooring and purchase new appliances. When city officials and planners started hosting workshops nearly a decade ago seeking community input on flooding fixes, Speights became one of Chesterfield Heights' most vocal advocates.
"I want mostly for people to understand, like in all matters, it's not just my problem … other people face it," she said.
The city didn't just invest in moving water from one place to another. Acting on residents' suggestions, the Ohio Creek project is adding several new amenities to the neighborhoods, including refreshed sidewalks, a fishing pier and a park with walking trails, built-in chess boards and charcoal grills.
Speight said her only significant complaint is that there was no assistance set aside to help homeowners flood-proof their own properties. But as she sees it, the project largely reflects what community members said they wanted.
"I do believe this can work for other areas," she said.
High cost of adaptation
Whether there will be enough money to help the growing number of communities in harm's way is another matter. The
University of Bristol study projected that the annual cost of flood damage in the U.S. will soar to $40 billion by 2050, a 25% increase from current levels.
Black communities are expected to bear a disproportionate amount of that cost. According to the study's authors, that's because the area with the densest Black populations — a band stretching across the Southeast from Texas to the Chesapeake Bay area — is also where climate change is expected to trigger more extreme rainfall and flooding.
In Virginia, the state's Coastal Resilience Master Plan forecasts that, by 2080, the overall population living in homes at risk of coastal flooding will nearly triple, to 943,000. Annual flood losses in the state will go up from $400 million to $5 billion over that span, it predicted.
The nine-figure federal sum that Norfolk won for the Ohio Creek project was a one-time federal windfall. But more help may be on the way.
The Inflation Reduction Act that Congress passed last year represented the largest single investment made in climate action. In a nod to the climate disparities faced by overburdened communities, the law set aside $60 billion in spending on environmental justice, including $3 billion in block grants to spur community adaptation efforts. Environmental justice advocates have applauded the resilience funding.
Not long ago, Speights said she considered leaving Chesterfield Heights and the home that has been in her family for so many decades. She couldn't bear facing another flood with her mother. But she reconsidered after seeing how much had been accomplished by the Ohio Creek project, especially near her own property.
There's a new berm behind her house to protect it from storm surges. A tide gate now manages the flow of water in and out of the nearby creek. And there's a pump station just around the corner if the water does start to rise.
Speights decided to use the money that she would have spent on a new house to remodel her current one.
"Hopefully, in my lifetime," she said, "it won't flood."