If you think you've been seeing more ducks, geese and swans around the Chesapeake Bay this winter than usual, you're onto something.
Recent aerial surveys have tallied more than one million waterfowl of all types along Maryland's coasts and shoreline, the state Department of Natural Resources announced Thursday. That's 25 percent more than were seen last year and about 20 percent above the average for the last five years.
Teams of biologists from the DNR and from the U.S. Fish and Wildlife Service made visual estimates of waterfowl populations as they flew over the state.
Frigid, nasty weather elsewhere likely accounts for the higher bird counts seen in Maryland, they said.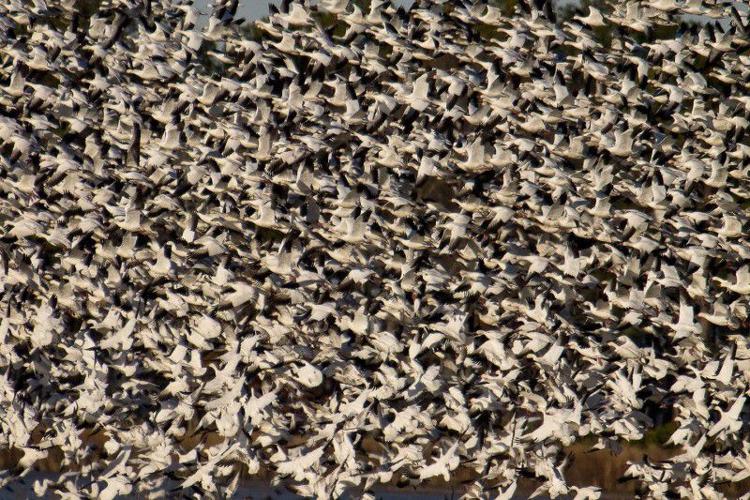 "Cold weather and accompanying ice and snow to our north will typically push birds south as they search for food and open water," said Paul Peditto, director of the DNR's wildlife and heritage service. "The more severe that cold weather is, the more dramatic migrations to more southerly locations can be."
Survey teams reported seeing 641,200 Canada geese, the most since the Midwinter Waterfowl Survey began in the 1950s. The previous record of 608,000 was tallied in 1981. Biologists suggested that an above-average hatch by the Atlantic, or migratory, population of Canada geese, coupled with an influx of resident Canada geese from states to the north of Maryland, most likely accounted for the high count.
Not all species of waterfowl turned up in greater numbers. Dabbling ducks, mallards and black ducks mainly, totaled 108,000 this year, up from 87,900 last year. But diving ducks, such as canvasback, scaup and bufflehead, fell to 187,200, a third below last year's tally of 283,600.
In other bird news, another survey spotted just 103 roosting eagles of all types at Blackwater National Wildlife Refuge. The sprawling expanse of marsh and woods on Maryland's Eastern Shore is traditionally a popular winter hangout for bald eagles, but volunteers conducting the 39th consecutive midwinter eagle survey tallied 71 roosting adult eagles and 24 immature birds. Another eight eagles could not be identified.
The refuge typically hosts more than 150 bald eagles during the winter, according to information on a website for the Friends of Blackwater, a volunteer group supporting the refuge. The Friends' posting about the eagle survey suggested the low number this winter stemmed at least in part from extensive ice and extremely low water levels in the Blackwater River. The drop-off was likely just a short-term response to poor foraging conditions at the time of the survey, the group added. For comparison, it noted, this year's Christmas Bird Count, conducted in mid-December, tallied one of the highest counts of birds of all species ever recorded (adjusted for effort) since that count started in 1947.