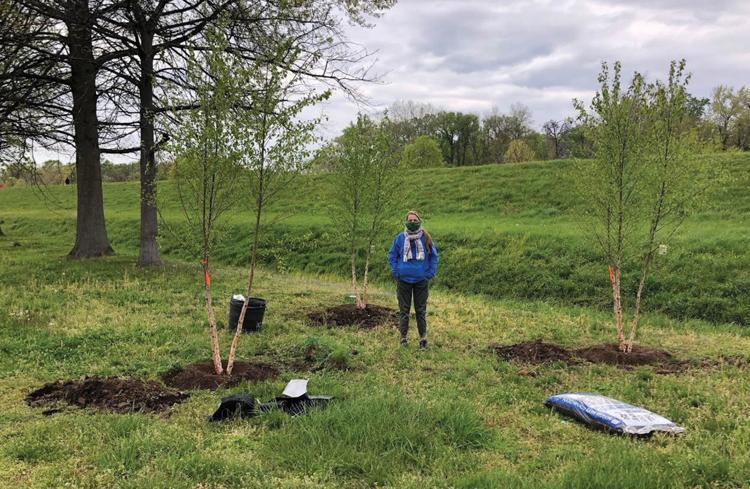 Throughout the winter and spring, I set out to organize a volunteer-based tree planting at North Brentwood Park in Prince George's County, MD, as a part of my year assigned to the Alliance for the Chesapeake Bay through the Chesapeake Conservations Corps.
This was my first opportunity to organize a tree planting. Here are steps I took while preparing for an event that aligned with my goals as well as the many lessons l learned along the way. Aspects include working with partners, creating a budget and timeline, site specifics, planting day execution and post-planting follow-up. Considering these factors early in the process will save you time and energy, as well as support the overall success of the project. 
Things to consider
A few basic components of the tree planting will determine the steps needed to move forward. First, nail down the "when and where."
Will you host a spring or fall tree planting? There are positives and negatives to both and, depending on your location and tree species, one season may be better suited than the other.
Determining where includes deciding whether the planting will take place on public or private land. Planting on land you do not own or manage may require permits, land access and special approval. Planting on public land may create the opportunity for community involvement. When weighing these two options, keep in mind that landowners managing tree planting projects on their own land will not have to tackle permitting requirements. 
Partners & budget
Once the location of the tree planting has been determined, it will become easier to decide who to include. Depending on the size, budget and scope of the project, you might want to host a volunteer-based planting or hire contractors to complete the work. Consider these aspects:
Hiring a contractor
Concentrates project logistics to one partner. Rather than having to communicate with various volunteers, the project manager works with contractors on logistics.
May increase the cost of the project due to labor.
Can consolidate the purchase of labor, trees, mulch and other supplies through one supplier.
Can increase project success by hiring individuals skilled in proper tree-planting methods.
Engaging volunteers
Enables the community to participate, providing an opportunity to connect with local residents and expand their knowledge of the benefits of trees.
May increase project impact because community members may be more inclined to plant trees in their yards or lead their own tree plantings.
Requires the time and materials needed to teach volunteers proper tree planting methods.
May decrease a project's cost. This is ideal for large projects that would otherwise exceed the budget if a contractor was hired.
Designing a timeline
Creating, following and updating your timeline is essential for success. Select a date for the tree planting as far in advance as possible to allow enough time to work through challenges that might pop up and still keep to the timeline. Based on the a project's size, you may need to begin planning the location, size and partners five to six months in advance. Be sure to allow enough time to gather supplies, line up a contractor and get the proper permits. Don't forget to include pre-construction meetings with partners and post-planting maintenance in the timeline.
Site specifics
Every location has unique features, and it's important to consider them when deciding on a site. These may include existing trees, underground utilities, nearby homes, infrastructure, roads, soil type and sidewalks. Some features may improve the quality of a planting, while others may pose challenges. For example, planting trees may help mitigate the stormwater runoff in a location experiencing flooding. In other cases, utilities, existing infrastructure and proximity to sidewalks may not be conducive to tree heath or land stability. It's important to consider all of a site's features before designating a planting location.
Executing planting day
Throughout the project, it is essential to communicate with all of your partners. Monthly meetings can help track progress and keep partners involved in project adjustments. Ensure that all requirements have been met, including permits, land access and a maintenance plan. Communicate with volunteers or contractors about planting day logistics. Keep a list throughout the project to ensure that all materials have been ordered and obtained, and are at the site the day of the planting. Make a list of everything that has to be done to refer to throughout the workday. 
Post-planting maintenance
Project maintenance is essential to the success of a tree planting. In the months after the planting, you should implement your maintenance plan and keep in contact with all involved parties to ensure that duties are being completed. Taking time initially to design a thorough plan will alleviate stress and ensure that trees receive water and proper care.
Scheduling a post-planting site visit is important to ensure that trees were planted properly and are growing as anticipated. Depending on the project's size and scope, you may need to make multiple visits up to a year after the planting.
Be flexible
Unexpected challenges are always going to arise while executing a project. Nearly a week before a tree planting at North Brentwood Park in Brentwood, MD, all nonessential gatherings were canceled to protect the health and safety of the public from COVID-19. A day that was initially scheduled to have dozens of volunteers on site quickly turned into a project that was completed by a small contracting crew.
Although this challenge was unanticipated, when faced with circumstances such as this, it's important to keep your goals in the forefront of your mind to figure out how they can still be achieved.
I believe that by adapting to situations and coming up with new solutions, we are able to challenge ourselves and reach levels of impact that otherwise would not have been achievable.
Want to have an impact in your community? Visit allianceforthebay.org to check out the staff's blog and do-it-yourself resources.
Amanda Bland, a member of the Chesapeake Conservation Corps, is assigned to the Alliance for the Chesapeake Bay.
The views expressed by columnists are not necessarily those of the Bay Journal.