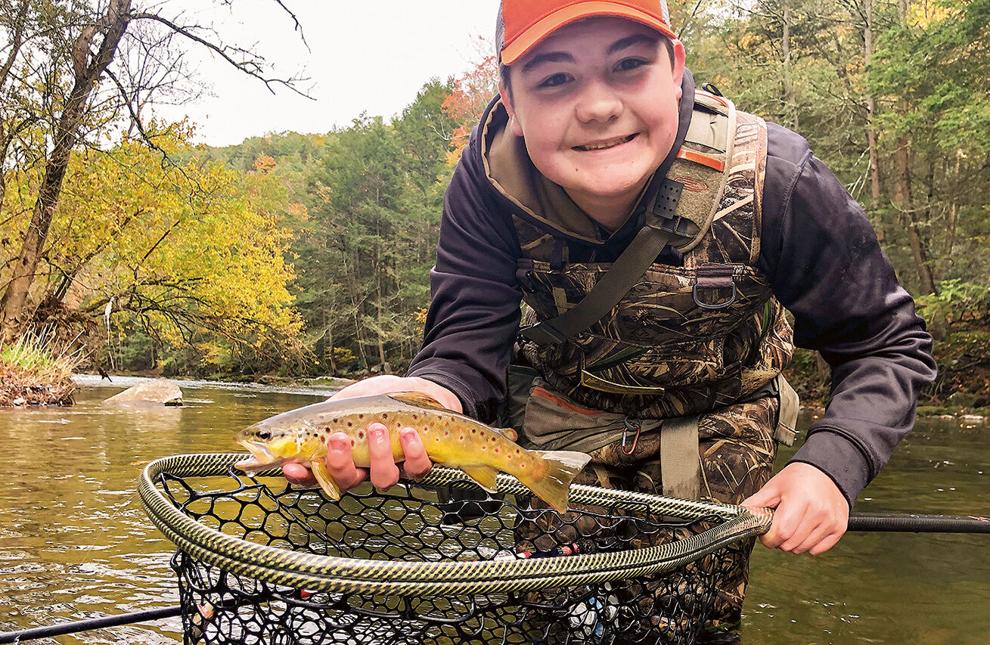 Can you imagine how effective we could be if it were possible to put someone in the fast lane to Chesapeake Bay stewardship? Helping our family, friends and colleagues understand the value of the natural resources around us is no easy task. The strength of these connections is often directly related to a person's ability to develop personal ties to nature through a lifetime of meaningful outdoor experiences.
The value of forming personal links to our watershed is fresh in my mind. A few weeks ago, I wrapped up a six-day 800-mile road trip with my 13-year-old in Pennsylvania. The region was on full display in autumn colors. Each mile of the journey and stop along the way was worthy of being its own vibrant destination. Although our beat-up SUV, loaded down with coolers, fishing rods, snacks and camping gear was our transportation through the mountains and dramatic scenery of northern Pennsylvania, there was something else carrying us along: trout.
Yes, I said trout — those beautiful, wily, elusive freshwater fish my dad taught me to catch throughout my own childhood. You could call fly-fishing a sport, pursuit, hobby or passion, but it would probably be best defined as an addiction. And as an addiction, it has driven me all over the watershed. I go to a river and turn over rocks to study the macroinvertebrates that make up the diet of hungry trout. I spend countless hours at a fly-tying vise turning inert natural materials into at least passable imitations of those creatures. I spend even more hours casting those flies to trout. Fewer hours are spent actually catching the trout.
A childhood in rural Pennsylvania afforded me ample opportunity to explore many outdoor pursuits, which helped to shape who I became as an adult. I'm a bit of a serial hobbyist, but nearly all my passions revolve around nature, animals and the fascinating places they inhabit. Some of my earliest memories involve crisp spring mornings and father-son fishing trips to local creeks.
I'm aware that it may seem counterintuitive to talk about developing a connection with nature while trying to fool a fish into eating a fake bug so that you can hook it by the lip and possibly snap a photo before releasing it. But our fish and rivers need champions, and it's hard to overstate the sense of responsibility and the stewardship ethic one feels for the health of a river after becoming intimately acquainted with the behavior of its inhabitants.
In a roundabout way, trout are responsible for helping me find my way to the Alliance for the Chesapeake Bay, where I have the privilege of leading our communication efforts. They're certainly responsible for my role as vice president of the Muddy Creek Chapter of Trout Unlimited, where we focus our efforts on improving the quality of our local watershed. Finally, they've made me realize the importance of sharing these ethics with anyone who will listen and, if they join me for a day on the water, I hope that they will catch the bug. And the fish. When you grow up in an outdoorsy family, it can be hard to see how intimidating it might be to venture into unfamiliar hobbies like kayaking, hunting, fishing, climbing, camping, skiing, etc. There are so many questions. Where do I go? What equipment do I need? Is it safe? For the adult-onset outdoor discoverer, these are all very real and understandable concerns.
This fall, nearly 20 women joined our Trout Unlimited chapter for an introduction to all things fly fishing. The event offered a full day of education, demonstration, fly tying and casting. Participants even had the opportunity to spend time on the water trying out their new skills. Alliance CEO Kate Fritz was one of the attendees: "The experience left me feeling refreshed and physically exhausted, like the day after an incredible hike. I am grateful for a new community of women and a new practice of self-care. I can keep my fly rod in my car, which gives me an easy option to explore more of the tributaries of the Chesapeake Bay. Buying fishing licenses in all the major Chesapeake jurisdictions means that I am also helping support fish habitat restoration and conservation
efforts — a win-win from my viewpoint."
It's a win-win. My road to a relationship with our watershed may have been a lifelong journey. Still, I believe that mentorship opportunities can provide a fast lane to a strong stewardship ethic. With a mentor to guide us along the way and the charm of North America's largest estuary at our doorstep, our recreational passions often act as the vehicle to truly connect with and appreciate the Chesapeake and the vast, amazing natural world that depends on it.
As the Alliance's 50th Anniversary draws to a close and we look to the next 50 years of Bay conservation, I can't help but think about the 18 million people who live, work and play in our watershed. If you're reading this, chances are high that you're already a dedicated steward of clean water. Can you imagine the scale of our impact if each of us took just one person under our wing, showed them the extraordinary value of our watershed, and put them in the fast lane to stewardship?
Adam Miller is the communications director at the Alliance for the Chesapeake Bay.
The views expressed by opinion columnists are not necessarily those of the Bay Journal.