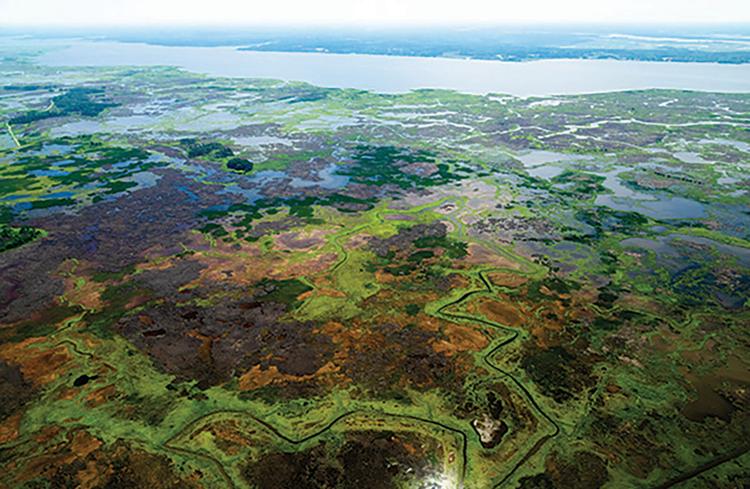 In 2018, the Alliance for the Chesapeake Bay began a strategic review of our organization, a usual practice for many nonprofits but one that yielded inspiring results on our end.
Among the goals, priorities and focus areas arose one definitive value among our staff and board: inclusivity. As a regional organization working for and representing more than 18 million people in the Chesapeake Bay watershed, there was a clear desire to reflect inclusive ideals in all of our work. We were happy that we had begun taking these steps in some of our programs, and I felt proud of the strong dedication. While this decision and the progress we have made is exciting, it has also provoked some questions.
Often, inclusion, equity, diversity or general racial issues are put in a box. People assume that they are part of a standalone topic, or something only for human resources to consider. Perhaps some believe that this topic shouldn't be combined with others.
I understand where this thought process can come from. For many people, this feels like an organization is taking on a new mission, expanding to become both an environmental nonprofit and a social justice/civil rights organization. But what if we considered another option?
At their core, diversity, equity and inclusion are woven into every topic, action and effort in our lives. It may be nuanced instead of blatant, but whether we have experienced it or not, whether we even care about the issue or not, it exists in everything we do.
I recently participated in a management seminar, and when the program lead started the event, she shared with the group, "This is not an equity and inclusion seminar, but we choose to include this topic because it can't be ignored. It is in our communities and policies. It is part of everything we do, so we are making it as such."
And so the Alliance has decided to make it a more conscious part of our organization as well. We want to create space in our programs for these efforts and discussions. Diversity, equity and inclusion work is part of everything we do. These topics cannot be ignored.
You may wonder what this looks like. How is the Alliance integrating such a huge topic and sometimes overwhelming discussion into our programs? We work in many facets from stormwater, forestry and agriculture projects to collaborative conferences, roundtables and festivals. How can we add such a different and new topic to all of the work we have been doing for 50 years? Well, by taking this idea step by step for each program area, region and event, we can find many opportunities for integrating these conversations. One of my favorite examples of this effort is our Wild & Scenic Film Festival.
The Wild & Scenic Film Festival is a global event created by the South Yuba River Citizens League and coordinated at various locations by partners like the Alliance. In 2018, when we became interested in hosting a film festival, I thought we would be watching films akin to Planet Earth — pure visual majesty. However, the SYRCL has chosen films that intentionally challenge our idea of what the term "Wild & Scenic" means. It was not until we began the film selection process that I realized just how impactful these films could be on a much larger scale.
The diverse topics and themes were truly moving and inspired our team to use the event as a platform for discussion. In addition to the beautiful imagery of the films, there were raw, wild stories about the people and communities that make up our scenic world.
The films displayed enthralling environmental tales from communities with poor water access, to a man's fascination with bees, to new friends who get to see the moon through a telescope for the first time. There were tales of avid adventurers just wanting to be part of a community like the National Brotherhood of Skiers and members of a Puerto Rican bouldering group who did what they could to aid in the recovery after Hurricane Maria.
Amplifying the voices of diverse communities by featuring such stories helps to cultivate an inclusive environmental understanding. In elevating these conversations, I realized something else: Perhaps the "Wild & Scenic" name does not just describe the variety of genre offered, but also the heart and soul of each story. And perhaps our environmental work doesn't have to just help the lands and waters of our watershed, but the hearts and souls of all of our communities as well.
Integrating diversity, equity and inclusion into our projects will take a while, with many more events and programs to keep it moving. The Wild & Scenic Film Festival is just one way that we can spark continued engagement and diverse storytelling. There is still much work that needs to be done in the environmental movement to effect organizational, programmatic and community change on a systemic level.
The potential impact is inspiring in itself, and I hope the Wild & Scenic Film Festival can serve as an example of one way we can continue conversations about how the environment and diversity, equity and inclusion are intrinsically linked.
This is just one step along our wide road for true equality in the environmental movement. Its footprint will join many others as we continue to share our diverse knowledge and experiences for equitable change.
Erin O'Grady is the Alliance for the Chesapeake Bay's DC programs manager and Diversity, Equity and Inclusion Team chair.
The views expressed by opinion columnists are not necessarily those of the Bay Journal.