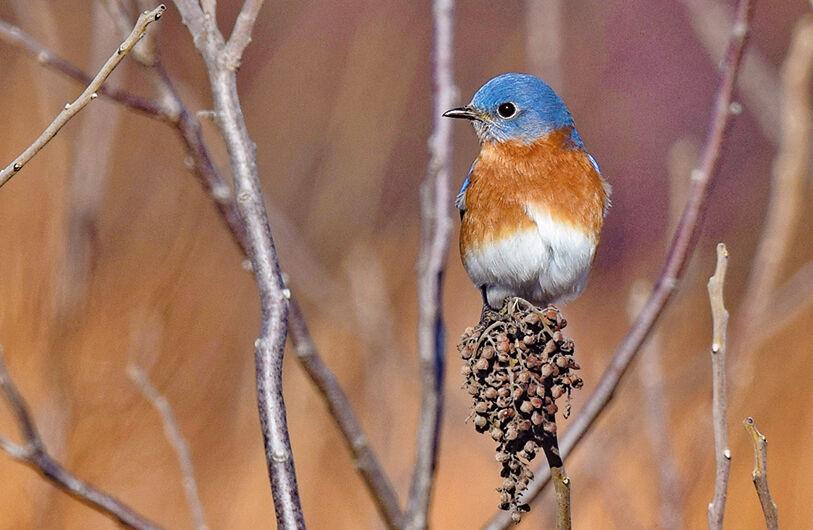 Bluebirds are joyful birds, with their bubbling songs and patriotic colors of red, white and blue. Under the right conditions, they are also prolific breeders.
At the Maryland retirement community where I live, bluebird boxes dot the perimeter of the property. The houses are alive this time of year with active nests in almost every box. Unobtrusive volunteers keep close track of nest success. Last summer, most of the boxes housed two consecutive successful broods. A few even managed a third brood before summer was over.
Jason Martin, former project leader of the Cornell Lab of Ornithology's NestWatch program, was a big fan of these volunteer efforts during his time at Cornell. "The information that our dedicated citizen scientists collect," he said, "allows us to assess the impact of threats to birds, including environmental change and habitat destruction, and to better understand complex nesting behaviors."
Bluebirds are just one species and nesting is just one aspect of avian life that citizen scientists are tracking. The long Presidents' Day weekend in February is a crucial annual moment in that effort: It's the weekend of the Great Backyard Bird Count. This joint undertaking is sponsored by Cornell's "Lab of O," the National Audubon Society and Bird Canada. The project began as an effort to better understand the frequency and distribution of birds in North America during the middle of winter.
Initially, the effort relied on a combination of paper and electronic records. But as the now ubiquitous birding app, eBird, exploded in popularity, the bird count sponsors decided to go all-electronic. They also made the count a worldwide event. In 2021, more than 325,000 checklists were submitted from around the world, reporting on an astounding 6,000 different bird species. That's 60% of all of the species in the world.
It's hardly the only avian citizen science program; there are many others. The oldest is the famous Audubon Christmas Bird Count, which just marked its 121st year. Project FeederWatch involves nothing more than counting the number of birds of each species that visits your feeders during the winter. Celebrate Urban Birds records the number and species of city birds.
Other projects study habitats, raptor migration and hummingbird behavior. Recently, scientists have become alarmed by the sudden decline of American kestrels inMassachusetts, leading to a citizen-science project focused solely on collecting data on these small, colorful raptors.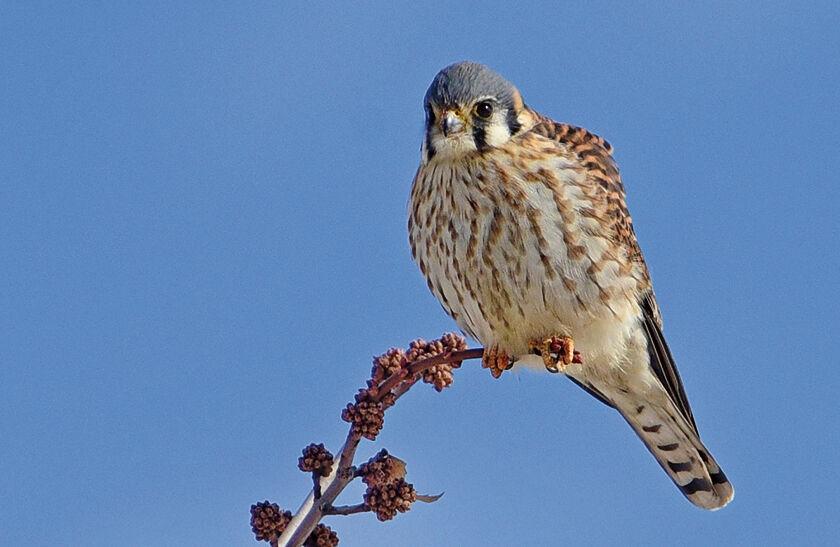 Birds inhabit a unique ecological space. Some species, like the Hudsonian godwit, cover nearly the entire Western Hemisphere, nesting in the Arctic when it's relatively warm and spending winter months 10,000 miles away near the tip of South America. On the opposite end of the spectrum are birds like the endangered red-cockaded woodpecker, which seldom ventures out of the equally endangered longleaf pine forests of the southeastern United States including southernmost Virginia.
Here in the Chesapeake region, several birds, along with the cockaded woodpecker, are in trouble. The saltmarsh sparrow lives in a narrow band of tidal marsh on the Atlantic Coast. With rising sea levels and more powerful storms, these birds are facing a deadly habitat squeeze.
Facing a similar decline in habitat, the secretive black rail is imperiled, too. The size of a mouse, this tiny bird uses only shallow water habitat, where it feeds mostly on small insects. Rising sea level, especially in the Chesapeake, has pushed the bird onto what the organization Partners in Flight calls its Red Watch List.
Citizen science has come a long way since the early days of the Audubon Christmas Bird Count. Electronic records are now standard. "Big data" is commonplace. Networks of volunteer groups, typically local Audubon or American Ornithological Society chapters, are essential players. With the advent of eBird, individual citizens are just as essential. Data are shared freely, enabling university-based researchers and government scientists equal access.
In the Chesapeake Bay Program, there is a single ecological goal associated with birds: to support a wintering population of 100,000 black ducks by 2025. But the goal has been plagued by problems.
In 2016, the U.S. Fish and Wildlife Service, suffering from years of budget cuts, had to eliminate its annual winter waterfowl aerial survey of the Bay. State agencies have been unable to fill the void. While still trying to count black ducks, Bay Program managers are working on a habitat goal as a proxy.
Today, the U.S. Geological Survey is working to complete hotspot mapping of waterfowl use in the Chesapeake. It is hoped that this mapping will help managers determine which areas are most in need of preservation or enhancement for black duck use. So, what does the USGS propose to use for data? Waterfowl surveys from the Fish and Wildlife Service and states, of course — but also eBird data.
The next time you are birding in the Chesapeake, consider using eBird, especially if you see a red-cockaded woodpecker or a saltmarsh sparrow. Make note if you see (or hear) a black rail or see some black ducks. Each species recorded will help scientists and conservation managers plan for sea level rise, preserve forested wetlands and take informed action on a host of other conservation goals.
You're keeping more than a checklist. And the birds are counting on us.