During the first week of June, the Alliance for the Chesapeake Bay, along with environmental organizations, communities, businesses and local governments in the watershed, celebrated Chesapeake Bay Awareness Week.
The week was designated in 2016 by the Chesapeake Bay Commission for activities, educational programs and events to celebrate our nation's largest estuary.
For us Annapolitans, the Bay is front and center in our everyday lives. But the majority of the people that live, work and play in the region don't make the connection between their backyards and the 100,000 tributaries that flow into the Chesapeake. Every one of the 18 million residents in the watershed have an impact on the 64,000 square miles of streams, forests and wetlands of the national treasure we all call home.
There are quite a few major metropolitan communities — Washington, DC; Richmond; Lancaster, PA; and, of course, Annapolis — whose lands drain to the Chesapeake. With the increasing pressure of an urbanizing landscape, it is critical that each of us take simple (and free!) steps to reduce our impact on local waterways.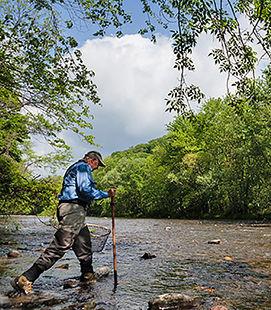 Along with celebrating the Bay during Chesapeake Bay Awareness Week, the Alliance hosted the first Chesapeake Challenge, which encouraged people to pledge to take different actions each day of the week that would contribute to cleaner water and a healthier watershed. The goal of the challenge was to bring awareness to people across the region about how their everyday actions, like recycling and using single use plastics, directly affect the health of their local stream.
At the Alliance, we are strong believers in the idea that every person can take simple actions for better water quality, healthier forests and an overall improved quality of life in the Chesapeake. The Challenge provided a platform for people to learn about everday actions they can take and the resources needed to make those changes.
Each day, we encouraged people to pledge to take a different action:
Pledge to practice responsible lawn care!
Pledge to cut back on my use of single-use plastics!
Pledge to pick up after my pooch!
Pledge to make one easy switch in my office!
Pledge to learn more about my local recycling program!
Pledge to eat locally sourced seafood!
Pledge to get outdoors and explore the wonders of the Chesapeake!
Pledge to continue the actions I committed to this week!
While the Chesapeake Challenge may be over, we encourage you to take action every single day by making small changes in your life that support a cleaner and healthier Bay watershed. Whether you are going to pledge to eliminate single-use plastics, ride your bike to work a couple of days a week, or responsibly manage your yard, the Alliance is here to help you find the right actions.
Visit our website, allianceforthebay.org, and read the "Take Action" section to learn about upcoming volunteer opportunities. Check out our do-it-yourself websites that will walk you through making some of these changes.