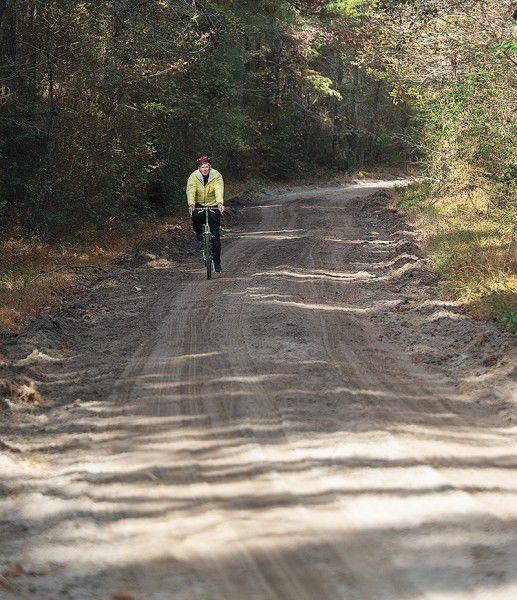 Come ride bikes with me. Don't dismiss as idle our idyll through an ideal autumn "leafscape" today, for our pedaling shows the way to a better Bay.
My bike has but one speed, unfashionable in a high-geared, tech-fueled world that now affords cyclists push-button shifting through a range of cogs and cranks sufficient to conquer the Alps and pass Porsches.
Single-speeding is limiting — then liberating. It makes you respect the lay of the land, to seek the gentler slopes that meander alongside the hills, to value the wooded corridors that block headwinds. Your pedaling becomes more efficient, your legs stronger. There is more to the bicycling life than more gears, bigger mileage, higher speeds.
The virtues of slow are especially relevant now to saving the Chesapeake Bay and the larger environment, as Congress debates major tax reforms based on a single, awful premise: Salvation demands that we gear up to grow the economy faster and bigger than ever.
"We face a crushing burden of debt which will take down our economy," House Speaker Paul Ryan said. But his tax plan will add an acknowledged $1.5 trillion to $2 trillion to national indebtedness. It's the only way "to get faster economic growth," Ryan said. And "faster economic growth is necessary for us to get our debt under control."
Never mind the circularity of that argument; or the fact that economists across the political spectrum think the level of growth Republicans are counting on is unachievable.
The real dirty secret is that virtually no one on either side of the political aisle thinks the unprecedented growth conjured by Trumpian, faith-based economics would be undesirable; just unrealistic.
But environmentally, such growth would be disastrous, as will be Congress' all-out, desperate attempts to achieve it if the tax package passes with its present, pedal-to-the-metal economic expansionism — think repeal of regulations, fast-tracking fossil fuel energy projects, suppressing troublesome climate science.
And what's bad for the planet's bad for the Chesapeake, where a warming climate and sea level rise threaten wetlands, water quality and habitat. Plus, we're going to be hard-pressed to meet air and water quality goals by 2025, even under the best of circumstances.
And, environmental success is linked to economics as surely as my rear wheel is chained to my pedals.
The day may come when we achieve the inspiring vision articulated by green architect and designer William McDonough: "Imagine they announce a major new mall and your reaction is, 'great' that will mean cleaner air and water and more habitat for wildlife."
In the meantime, despite progress in greening our economy, we still can't grow without a negative impact on air and water, without depleting the habitats and natural resources we share with a shrinking array of other species, without adding to climate change.
And we scarcely even know how to hold a meaningful conversation about the broad implications of economic growth and environmental quality. Nor how to talk about the very real alternatives to high growth, and the benefits of steady-state economies that put no premium on growth at all.
An economy undevoted to growth is usually disparaged in terms of "grow or die," but it is more about quality over quantity. It emphasizes moderation of the rampant depletion of natural resources or filling the air and water with wastes like carbon dioxide. Education, innovation, community, time to ride a bicycle — all can still grow. Population would not need to.
We need such conversations — not just because of growth's environmental impacts — but because uncritically chasing after high growth as the path to greater national well-being is a dead-end strategy.
Consider the 4–6 percent annual economic growth projections spouted wishfully by supporters of current tax reforms — the way Congress pledges to atone for all the loss of revenue.
There were several decades where growth did come at least near the current, wild projections, writes economist Robert J. Gordon in his epic, The Rise and Fall of American Growth (2016; Princeton University Press).
But that ended by the 1970s, and was fueled by truly fundamental innovations, such as the automobile, the electrification of the United States and antibiotics, as well as the kind of world-shaking events we always capitalize: World War II and the New Deal that followed the Great Depression.
That period's not repeatable, Gordon and others argue, and the modest economic growth of recent decades bears him out. Productivity, or output per unit of labor and capital, is key to real growth, and it has been comparatively sluggish for decades.
But Congress persists in chasing high growth like an old dog who in puppyhood found something gloriously stinky to roll in, then revisits the spot daily with undiminished expectation.
An old dog may be indulged, but the crew in the U.S. Capitol would profoundly change our economy, environment be damned, addicted to growth that can't happen.
Let them ride single-speeds.