Nearing yet another majestic tree, light and birdsong sifting through its boughs, I get my hopes up that it's not doomed like so many we've passed today in the ancient headwaters forests of lovely Miles Creek.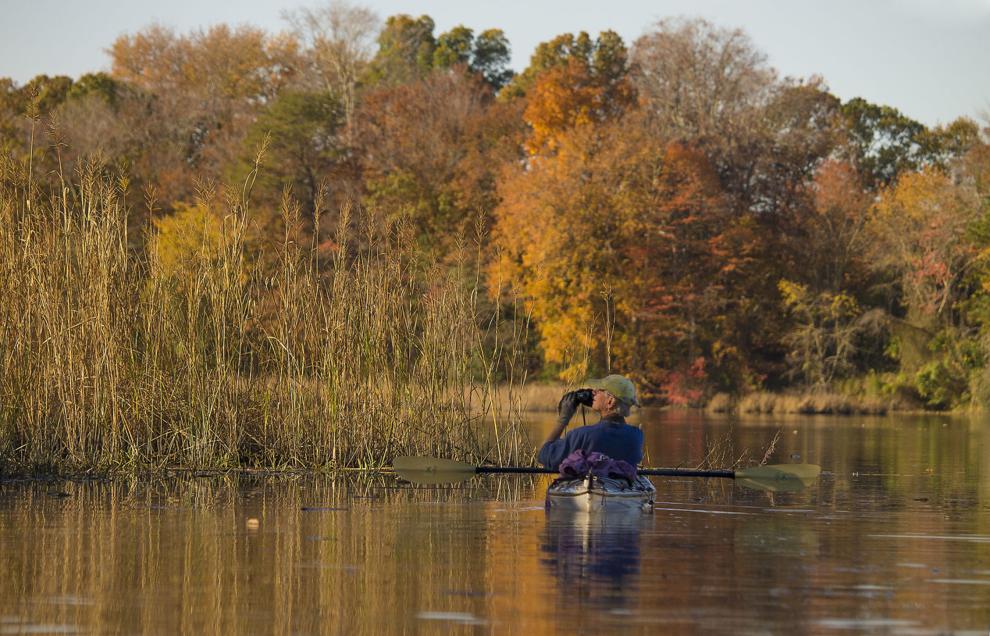 "Binocular botany," says Paul Spitzer, meaning he'll need his field glasses to identify the tree by its leaves. They are that tall — oaks, beeches, tulip poplars.
But damn. On the other side of its trunk we see another slash of red paint. It's marked for cutting. The logger knew what he was about: only the biggest and best. That amounts to a sizeable portion of all the trees along this stream valley draining into the Choptank River near Trappe, MD. Hauling out the old giants will trash much of the surrounding forest.
"High grading" is the technical term for this, and it's the antithesis of good land stewardship, according to a Penn State forestry bulletin: "[It shows] no concern for species composition, quality and density of the remaining forest … removing important seed sources … leading to a decline in long-term forest health."
But, of course, this is not about stewardship. It's about quick profit for the owners of several farms and estates around Miles Creek,  a perfectly legal, widely accepted degradation of bird habitat, water quality and beauty centuries in the making.
And it is not even the worst thing about to happen to this underappreciated gem of southern Talbot County that lies between
U.S. 50 and a great arc described by the Choptank for miles upstream from Cambridge.
"A well-kept secret," said Spitzer, a professional naturalist who's inhabited and roamed this region for decades. It's a capillary sprawl of forest-lined creeks riving a quiet landscape of farms and estates, a world away from nearby tourist towns like St. Michaels and Tilghman, from yachty Oxford and bustling Easton.
Miles Creek is in my personal top 10 of sublime Chesapeake paddles — meanders edged with creamy hibiscus and green-golden wild rice, shaded by ancient beech forest, inaccessible to power boats thanks to a low bridge near its mouth. It's a place lousy with the sounds of birds and frogs, a place where one can see eagles teaching their young to fish for spawning white and yellow perch. It teases the paddler to push on and on, to what will be revealed around the next bend, and the next.
Socrates is said to have said, "A life unexamined is not worth living." My rambles through this "Great Bend" region of the Choptank with Spitzer convince me that, in the Socratic spirit, a place unexamined is not worth living in. Or, perhaps more accurately, we are not fit to live in a place whose nature we scarcely consider.
Which brings me to the bloated and ill-considered would-be mega development known as Trappe East or Lakeside, which would add several thousand people and 2,500 homes and stores and shops to sleepy Trappe, with its population of around 1,000. It also would spray half a million gallons a day of treated sewage on lands adjacent to Miles Creek and increase the paved surfaces in the creek's watershed by more than threefold, to about 9%, according to the Shore Rivers environmental group.
That last is a biggie, as the science in the last couple of decades has proven that after impervious surfaces around a creek reach 10%, water quality degradation is inevitable. With the Choptank getting a B-minus grade in recent water quality surveys, more paving and more sewage would seem … oh, I don't know, nuts?
Back when the feckless elected leaders of Trappe first approved plans for the new megatown nearly 20 years ago, the environmental equation was perhaps less defined. But even then, it was a tacky proposal — no design standards to blend in with the rural nature of the region, no real water quality guarantees, no consistency with the Talbot County master plan.
It hasn't aged well in those two decades, to put it mildly. And yet it lives. The 2008 recession had put it out of sight and out of mind, but it lives again — because the tiny town exploited a legal loophole that allowed it to annex more than a square mile of rural county land, effectively letting a few hundred voters decide development policy affecting a whole region.
It lives because years back, inexplicably, the Maryland Department of Environment allowed the town and developer Robert Rauch to make an end run around Talbot County, granting permits for sewage treatment construction that are historically the province of counties, not the state.
It lives because the county council is considering an amendment letting the development move ahead at an accelerated pace — an amendment written by Rauch's lawyer.
It lives because too many of Talbot County's elected leaders (like too many elected leaders Baywide) just don't feel comfortable with even seeming to oppose growth, never mind that this one development would account for the next couple of decades of growth projected for all of Talbot.
"We can't keep letting developers define who we are." Among the conversations I had with landowners around Miles Creek who oppose the development, that line from Jay Corvan, an architect, sticks with me.
He says the "planning disaster" that is Lakeside / Trappe East "essentially happened because people in Trappe wanted their own place to shop [Easton is 15 minutes away], and Rauch said if they'd give him 2,000 homes, he'd get them shopping."
It's all connected. Attempts to interest the state in protecting the soon-to-be-cut forests — which include land owned by Rauch — elicited an email that said forest preservation would not be a wise investment for the state, being so close to where thousands of homes could be built.
Mr. Corvan and others continue to try to interest the county in smaller, better designed additions to Trappe, and environmentalists are exploring ways to pay the forests' owners to not cut the big trees. All this seems like Hail Mary stuff at this writing.
"We can't keep letting developers define who we are." I keep coming back to that quote.
Maybe, in Talbot County, this is who we are.
The views expressed by opinion columnists are not necessarily those of the Bay Journal.