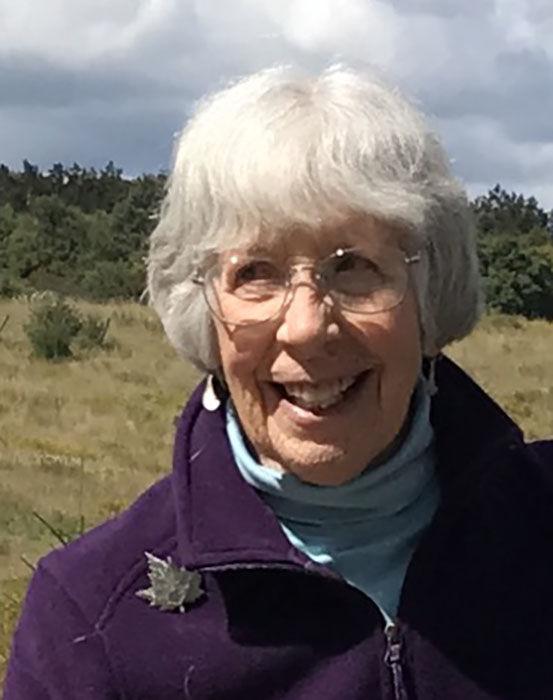 The phone number sticks in my memory, the number I called the most in some 35 years of environmental reporting for the Baltimore Sun. It wasn't the U.S. Environmental Protection Agency or the state departments of Environment or Natural Resources. It was the home of Ajax Eastman, who died this week of pneumonia at age 84.
Ajax was a mentor to a wet-behind-the-ears environmental journalist, a source of news and coffee and cookies, a sounding board, a dear friend.  Anyone who knew her and who worried about the Maryland environment slept better knowing she was on the case.
Here is an appreciation, a reprisal of a piece I wrote back in 1998 for the Sun:
Merry Christmas, Ajax Eastman; also to Emily, your granddaughter, 11 months old.
My desk, as I prepare a tribute to your life in service to the Maryland environment, is awash with clippings and documents attesting to your decades of accomplishment.
From Assateague's beaches, to the legislative swamps of Annapolis, to the whitewater of Garrett County's Youghiogheny River, I've personally watched you in action for 25 years.
A few weeks ago it was my pleasure to see Maryland's government bestow upon you a singular award, the finest any environmentalist could hope for.
But what I may remember longest is this: Arriving a couple weeks ago at the big, old, welcoming white house on Lake avenue, I found you intensely occupied by your latest project — 7 a.m. to 5 p.m. daycare, three days a week, for Emily.
You said the two of you had been "researching" the different shapes of leaves falling from all of the trees in your yard that fall. Emily had been "pretty darn interested," you thought.
You barely had time to change clothes and get off to your big award ceremony, which you could only attend for a couple hours before you had to go do something or other for your church.
It was all so very typical of how you've given so much, with little fanfare, for decades, full time and for free.
Others have been more eloquent, more visible, more recompensed, more honored; but no one has more endured or mattered than you, sitting there in hearing after hearing, knitting from that big ball of yarn, waiting to testify on everything from the phosphate detergent ban to the Gunpowder River State Park.
Knitting needles aside, you could mix it up with the best of them. I always liked the term you reserved for certain, corporately hired scientific experts: "biostitutes."
All of the dedication came, you said, from a love of outdoors instilled by summers in the Maine woods, which began when you were not many years older than Emily.
That was where little Alice, from Johnstown, PA, became "A.J.," became Ajax The Mighty, and soon just Ajax — and the legendary Greek warrior that shares your name never labored so nobly.
You first surfaced in the Baltimore Sun library in 1967 as Mrs. Thomas B. Eastman, Jr., chair of the Junior League's Santa Claus Anonymous Campaign, baking cookies and sharing with readers your old family recipe for Banbury tarts.
"No white gloves?" That is what they joked in 1970 when you showed up representing the League at formative meetings of the first modern, statewide environmental organization, the Maryland Conservation Council.
But the Junior League gave you excellent leadership training, and by 1976 you began the first of your six terms as MCC's president. In addition, for 18 years you edited their legislative newspaper, the Conservation Report, helping readers keep up, week by week, with what legislators were doing to and for nature.
The MCC was spread thinner than you liked to let on, a coalition of numerous "committees," some having only a handful of active members; but each backed the others in representing virtually every environmental issue in Maryland.
The result was that you all became experts — or as expert as most — on everything from nuclear power to beach erosion, and from forest clearcutting to energy conservation.
The MCC was a full-time job for you, and yet not half of all you did. From 1971 until last summer you were a board member of the Maryland Environmental Trust, which has preserved more than 50,000 acres through conservation easements, and is the second largest such trust in the East.
For 13 years, you waged a frustrating campaign for a deposit on beverage bottles to make them returnable. Citizens supported it by as much as 72 percent, but industry lobbyists, as many as 26 in a single legislative session, always defeated it.
The last year of that, 1984, you spearheaded a walk across Maryland to gather support, walking from the West Virginia line to Annapolis.
With four days of rest and "big blisters," you then left for one of six Himalayan treks you have made to Tibet and Nepal with the Mountain Institute of Spruce Knob, WV, where you have led outdoor courses for many years.
The MCC today is not quite so prominent, as groups with professional staffs have blossomed and state agencies have expanded their environmental roles.
This is all to the good, but I know you sometimes felt as if you and the many women who were the backbone of that MCC are the end of an era.
About coming up at a time when women like yourself did not expect paid careers, you have no regrets, except that you'd major in botany instead of art if you could return to the Connecticut College for Women (now co-ed).
Your volunteering was more all-consuming than any paid staffer would put up with for long. Typically, you said,  "all the compensation we got [was]. visiting all the special places we were trying to save."
Such self-indulgence got you a unique award this month. Since 1988,  you co-chaired, with your mentor, Beth Hartline, MCC's Maryland Wildlands Committee.
As part of a state review team, you investigated Maryland's finest remaining natural areas, with an eye to designating as many as possible wildlands, where nature could take its course without interference, even from traditional natural resources management.
In 1996, Governor Glendening and the legislature agreed to nearly triple the state's wildlands, to around 40,000 acres.
A letter from the governor, read at your party, announced that he was renaming a large wildland along the Gunpowder River as the Hartline-Eastman Wildland. Other officials who spoke called you a "state treasure" and "everybody's environmental conscience."
It was a long way, you recalled, from 1969, when state officials assured you, in a briefing before you went to your first national environmental conference, that Maryland's Bay had no fish kills.
You were so pleased; except when you got to the conference, it seemed Maryland was the only state where fish had never died.
The Hartline-Eastman Wildland is a nice legacy. So is Emily, and a thousand pieces of the Bay region that exist only because of the dedication of you and your colleagues.